[From Unsplash]
Good morning,
In Wanting: The Power of Mimetic Desire in Everyday Life, Luke Burgis talks about how the phenomenon of mimetic desire can lead to both good and bad outcomes.
The term mimetic desire goes back to Rene Girard, a historian, literary critic and philosopher who taught at Stanford University. His idea of mimetic desire has found application even in business and investments, prominently by Peter Thiel, who studied under him. In Wanting, Burgis explains that "Girard discovered that most of what we desire is mimetic (mi-met-ik) or imitative, not intrinsic. Humans learn—through imitation—to want the same things other people want, just as they learn how to speak the 'same language and play by the same cultural rules'."
Later in the book, he explains how it works like a flywheel, drawing from the management expert Jim Collins. Burgis writes: "Mimetic desire tends to move in one of two cycles. Cycle 1 is the negative cycle, in which mimetic desire leads to rivalry and conflict. This cycle runs on the false belief that other people have something that we don't have and that there isn't room for fulfillment of both their desires and ours. It comes from a mindset of scarcity, of fear, of anger.
"Cycle 2 is the positive cycle in which mimetic desire unites people in a shared desire for some common good. It comes from a mindset of abundance and mutual giving. This type of cycle transforms the world. People want something that they couldn't imagine wanting before—and they help others go further, too.
"In his book Good to Great: Why Some Companies Make the Leap and Others Don't, Jim Collins uses the example of a giant flywheel to explain how good companies break out and become great.
"Collins asks us to imagine standing in front of 'a massive metal disk mounted horizontally on an axle, about 30 feet in diameter, 2 feet thick, and weighing about 5,000 pounds,' and that our goal is 'to get the flywheel rotating on the axle as fast and as long as possible.' You push for hours, but the disk barely moves. Gravity is working against you. After three hours, you've achieved one full turn. Not discouraged, you continue pushing for a few more hours in the same direction with consistent effort. Suddenly, at an indiscernible point, momentum turns in your favour. The disk's weight is working for you rather than against you. The wheel propels itself forward. Five turns, fifty, one hundred.
"Collins says this is what happens inside great companies when they put a positive, self-fulfilling cycle in motion. There is not a linear process of continuous improvement but a critical transition point at which momentum takes over and the process begins to power itself.
"Mimesis, too, works like the flywheel. It accelerates in a nonlinear way—in both positive and negative cases."
Have a great day, and spread positive mimetic desires!
What cricket lost
Just how media rights to the Indian Premier League (IPL) get sold at Rs 48,390 crore for a five-year period is the subject of many a drawing room conversation. Star paid $3.02 billion for the television rights and Viacom18 forked out $3.05 billion for the digital rights. What does this mean? We're listening to various voices as they pore over the numbers.
As far as business goes, "the video streaming service Disney+ Hotstar could face a significant impact on its 50-million subscriber base," writes Vikas SN on Moneycontrol. The report estimates that the franchise "could potentially lose 15 million subscribers". This is because "The IPL tournament has been one of the major subscriber growth drivers for Disney+ Hotstar and was considered key to the future growth of the streaming service that recently crossed the 50 million paid subscriber mark."
Could this be a blessing in disguise for Disney+, Hotsar's parent company? This has to do with that "Hotstar has been a major drag on Disney+'s overall average revenue per user (ARPU) due to its significantly lower prices. The company made only $0.76 per month from an average Disney+ Hotstar member as compared to $6.32 per month from an average Disney+ customer in the United States or $6.35 per month from an average international customer (excluding Disney+ Hotstar)."
On an altogether different note, Sriram Veera describes these numbers as the loss of an era in The Indian Express. This, he writes, is because the number of people who watch IPL matches on TV is dropping significantly while that of people who prefer to stream it digitally on their personal devices is going up. This was very unlike the past when watching cricket was a communal experience. "The mind goes back to childhood—to a living room in the maternal grandparents' home where uncles, cousins, neighbours, friends would congregate for a cricket game. It was a household in which the choicest abuses flowed freely during matches and viewers, more than the cricketers, were its targets.
"But such experiences have been lost for a while now. The latest broadcasting rights have only sealed the loss. It's been a while since smartphones have taken over. Even at night, with their kid listening to a podcast, husbands and wives are either glued to Netflix or Insta. Cricket was already trapped in the small rectangular screens of our palms."
Dig deeper
The upside of negativity
Josh Wolfe, the co-founder of Lux Capital, is an unconventional man. Back in 2008, he founded the firm and took a contrarian bet—that nuclear waste management has a future. With the benefit of hindsight, he turned out to be prescient. Since then, Lux Capital has gone on to back entrepreneurs and scientists. That is why when some notes based on a conversation with him surfaced on Insecurity Analysis, we read it with much interest.
"Wolfe accepts his hunger for more and dissatisfaction with the status quo as a driving force in his life.
"People always tell me you should have this great, positive energy: I think amazing things happen with negative energy. With dissatisfaction. If you want to change and progress someone has to look at something and say that sucks. And then be motivated to change it. I think that comes from negative energy."
However, this must not be misunderstood as an excuse to be unkind: "You need to find a balance between having a chip on your shoulder and the ambition and then being mindful that every relationship you have and every person that at some point in the future they're going to be a call option and you don't want that to expire. So, be good to people."
Dig deeper
#AllSleepMatters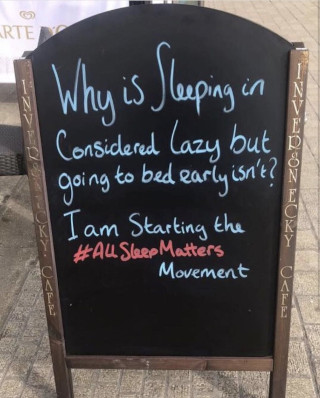 (Via WhatsApp)
Found anything interesting and noteworthy? Send it to us and we will share it through this newsletter.
And if you missed previous editions of this newsletter, they're all archived here.
Warm regards,
Team Founding Fuel