[From Unsplash]
In February this year, in one of his most daring moves, Vladimir Putin invaded Ukraine, and as one of its many consequences, the 44th Chess Olympiad, which was scheduled to be held in Russia, landed squarely in India.
The event kickstarted with fanfare in Chennai on July 28 and will go on till August 10. The city has a long history of nurturing the game. More than a third of all grandmasters that India produced, are from Tamil Nadu, most of them from Chennai. Five-time world champion Vishy Anand is from the city, and so is the latest sensation Rameshbabu Praggnanandhaa.
For the inauguration, designers converted Chennai's iconic Napier Bridge into a mega chess board, AR Rahman released a video song, Vanakkam Chennai, featuring chess superstars, and Prime Minister Narendra Modi landed in Chennai wearing a dhoti, with a border made up of black and white squares.
Since the games started, at Four Points by Sheraton, Mahabalipuram, 60 km from Chennai, the attention turned to the games. There has been extensive coverage in chess sites and newspapers. A number of grandmasters, including Vishy Anand, have pitched in to offer high-quality commentary. Check out: Fide, Chess.com, Sportstar, The Indian Express.
But there is more to chess than following the game. It has been a part of our culture for ages, offered insights, and has evolved over time. Here are five ways to indulge in the spirit of chess.
Chess & Strategy
Chess is often associated with the art of strategy. The game forces players to think several moves ahead. It's a much-needed skill in the increasingly complex world that demands second-order thinking. Here are two books where the authors extract principles from the game that can be applied to the real world.
How Life Imitates Chess: Making the Right Moves, from the Board to the Boardroom, by Garry Kasparov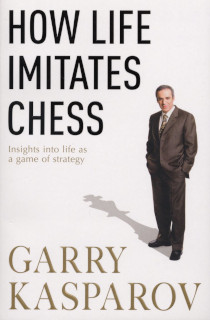 By the time Garry Kasparov wrote this book, he was already deep in politics, and the book is richer for it. It reflects in the lessons he offers. In some places, you might think he is force-fitting chess to real life, but most of the insights are practical. For example, consider this piece of advice, which is relevant for the age of social media. "If critics and competitors can't match your results, they will often denigrate the way you achieve them. Fast, intuitive types are called lazy. Dedicated burners of midnight oil are called obsessed. And while it's obviously not a bad idea to hear and consider the opinions of others, you should be suspicious when these criticisms emerge right on the heels of a success."
Every Move Must Have a Purpose: Strategies from Chess for Business and Life, by Bruce Pandolfini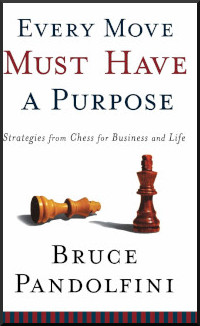 Bruce Pandolfini's book is shorter. He is a professional writer, and therefore it's a lot more readable than Kasparov's book. Each chapter offers a single insight, based on some delightful anecdotes. Interestingly, some of them might challenge the lessons he would have offered in a previous chapter. For example, a recurring theme in the book is the importance of learning the basic principles. But then, you come across a story about a tournament between Bobby Fischer and Robert Byrne. During a game, the grandmasters who were observing the game analysed the positions and concluded that Fischer would resign soon. But, the opposite happened. "Why hadn't keen observers perceived Fischer's plan? Because they were hooked on basic principles and stopped thinking as soon as they'd employed them."
The takeaway: a principle tells you where to look, not what to see.
Chess & Tech
Today, there are raging debates around whether AI will replace jobs. Man Vs Machine is in fact an old theme. Here's a documentary that raises some interesting questions.
Game Over: Kasparov and the Machine, directed by Vikram Jayanthi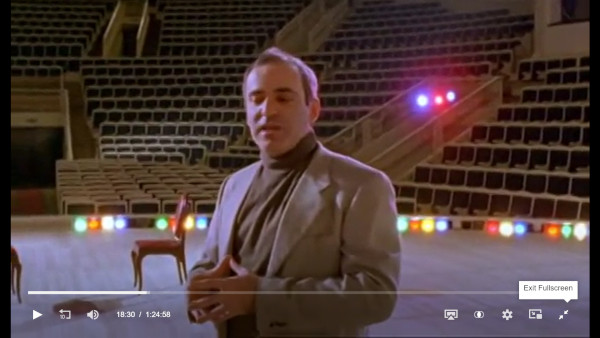 (A still from the documentary)
The documentary came out in 2003, three years after Kasparov, the world champion then, played against Deep Blue, a program running on an IBM supercomputer, and lost. Kasparov didn't quite concede, suggesting that it was not just the program that was playing against him, but it had received help from humans. There were some moves that were too random for a logical machine to come up with. In his book, The Signal and the Noise: Why so Many Predictions Fail—but Some Don't, Nate Silver attributed them to a bug.
There are at least two reasons why we should watch the documentary. One, to appreciate the progress that has taken place in the world of computers since then. A chess app in the smartphones in our pockets can beat Big Blue today. Two, to understand the complicated relationship between human beings and machines, from how Kasparov responded to his loss.
You can watch the full documentary here.
Chess & Art
Chess has been a part of our culture and has inspired artists, novelists, playwrights and filmmakers to weave their work around it. Here are two that you must watch, in case you missed it.
Shatranj Ke Khilari, directed by Satyajit Ray
(Watch a clip)
It's based on Munshi Premchand's short story (you can read the story here). It was made in the 1970s and set in 1856, on the eve of India's first war of independence. There are several reviews online, but these words from Sandi Chaitram's review on BBC capture the essence. "The film is implicitly political and Ray's subtle use of chess as a metaphor parallels the cunning moves by the British to capture the King. While the two men play, their marriages disintegrate. These images are juxtaposed with those of the King who, while flying kites, has one of his poems skilfully dissected by General Outram (Attenborough), thus providing grounds for annexation… The slow pace can make it tedious to watch at times, but for Ray, allowances should be made. It is the work of a master, and therefore demands your full attention."
Watch the film here.
The Queen's Gambit
(Watch the trailer)
The series, based on a novel by Walter Tevis, was a hit on Netflix, and rekindled interest in the game in the US. It's about an orphan who discovers the game in the basement of the orphanage and finds that she has a natural talent, and rises to the top of the chess world. Only, she has also to deal with her addiction to drugs and alcohol. The novel, especially on Audible, is equally good, but you would miss the fantastic performance by Anya Taylor-Joy.
Chess has been a part of the culture for so long that you find it in other places too. Most of us would have listened to the classic chess story, in which the inventor of the game asks the king to give just some grain of rice to him, doubling in each square. One in the first square, two in the second, four in the third, eight in the fourth, and so on. The king, amused by the small price, agrees immediately. But he soon realises that his kingdom would run out of rice before it went halfway through the board.
Recently, artist Maniam Selvan shared a painting by his father, Maniam, published as the cover of a special edition of a leading Tamil magazine, Kalki. It depicts Lord Shiva playing chess with Ganges, reflecting how deep it has seeped into the culture.
A video that was produced to coincide with the Chess Olympiad also beautifully integrates chess with elements of folk dance. It's worth watching.
Life in Chess
Chess can be interesting even without art, and two books—reflecting two completely different personalities—bear witness to that. We would recommend you to read both to get a sense of the range of players who rose to the highest levels. Here are two extracts from the books that highlight the differences.
Mind Master: Winning Lessons from a Champion's Life, by Viswanathan Anand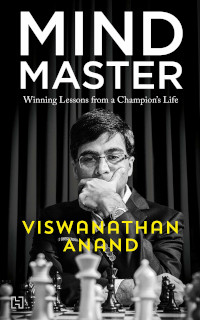 "Emotions tend to get in the way of clear thinking. Whether it's impatience, frustration, fury, self-loathing or even premature elation—allowing these to consume the mind results in a loss of focus and distraction from learning, and keeps you from taking the right decisions and achieving your goal. Training your mind to take a step back at the crucial moment and developing cues to organise your thoughts is more advantageous than making a move while your mind is in turmoil."
Endgame: Bobby Fischer's Remarkable Rise and Fall—From America's Brightest Prodigy to the Edge of Madness, by Frank Brady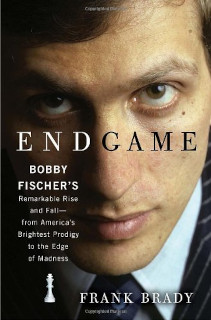 "Once or twice a week in the late afternoon Bobby went to the movies and saw mostly popular American films. He said that he identified with the character played by Jim Carrey in The Truman Show, that he sometimes felt as though he lived in a Kafkaesque world where he—Bobby—like Truman, was the only honest person in the world and everyone else was an actor.
"Back in his hotel room at around eleven p.m., Bobby would read and listen to music and the news on BBC radio. He had decided to write an anti-America book in which he'd present his arguments against the country, tying that in somehow with his distrust of and animosity toward Jews (and his personal enemies, whom he called "Jews" regardless of their religion). He connected all this with the rage he still felt for the loss of personal effects he'd kept for years in a storeroom in California, which had been sold at auction when the storage rent wasn't paid. As preparation for the book, Bobby spent part of his nighttime hours recording on cassette tapes his anti-Semitic and anti-American screeds."
Chess & Learning
In his book How Life Imitates Chess, Kasparov writes, "it's not enough to be talented. It's not enough to work hard and to study late into the night. You must also become intimately aware of the methods you use to reach your decisions."
Earlier this year, Vishy Anand was in conversation with Ranjan Banerjee, dean of BiTSOM, during the ideas festival that Founding Fuel helped curate. He took the audience through important influences in his life and how he adapted himself to stay at the top of the game, even as the world of chess changed irreversibly thanks to computers. One of the habits he formed very early in his career—something that his mother insisted on him doing—was to keep a diary with his impressions of the game. It helped him immensely because he could not only analyse the game rationally—as a computer would—but he was also aware of his emotions during a game.
This is just one of the many insights that emerged from the conversation. Check out the full session here.