[The Lennon Wall]
As a history student, there's much to entice one to a trip to Prague, the capital of the Czech Republic. On my 6-day holiday in June, I was looking forward to connecting with what I'd studied about the Habsburg dynasty, the Renaissance era and my favourite benevolent/enlightened despot, Maria Theresa. Prior to the Habsburg Dynasty, Prague was home to many a Holy Roman emperor. All that history makes it architecturally rich with Roman, Bohemian, Renaissance and Baroque influences.
To my delight, what I also discovered was the way Prague has built something new that coexists with its glorious past.
The city's romantic past—represented by its enchanting castles, churches and palaces—sits comfortably with its several underground movements. It has a vibrant pop culture that my niece Marion introduced me to—that was unique, liberating and loads of fun! And if I may say so, there's a thread of irreverence, non-conformism, freedom and free expression that runs through much of it.
My niece Marion and I spent 6 days criss-crossing the magnificent city, soaking in experiences historic and modern. From all the sights and sounds, I've picked out five distinct experiences, some of which are somewhat off the beaten track. Of course, you'll discover some familiar hangouts for visitors, but equally some not so familiar places that capture a city that's changing—without losing the connection with its past.
1. A free tour of the Old Town
Walking is the best way to get around any European capital if you want to know the nooks and crannies and interesting local stories. The first thing we did was take a free walking tour of the Old Town—it helped us get familiar with the lay of the land.
The tour begins at the Powder Tower, which was used for storing gunpowder back in the day. The tour will take you from the Astronomical Clock in Old Town Square to the Jewish Quarter, to Franz Kafka's home, to the Charles Bridge, and ends at the John Lennon Wall.
The tour takes three hours and you may want to put on your comfortable walking shoes as you will end up walking 10 km over this time. But it is at a leisurely pace with a coffee break, so you won't feel the distance covered. As the name suggests, it is a free tour, but gratuities are paid by all.
I won't delve into the history of any of the sites in Prague, because you can read about it in Lonely Planet, but I will delve into rather interesting stories around some of the city's most popular destinations.
Our tour guide Daniel narrated a story about the astronomer Tycho Brahe who made the most accurate measurements of planets and stars without a telescope back in the 16th century. Daniel said that his school focused mainly on the cause of Brahe's death and not on his astronomical findings, which Daniel learned after becoming a tour guide. "So much for our educational system which only focused on the cause of his death because of a burst bladder," rued Daniel. The astronomer was believed to have died from mercury poisoning, but his body was later exhumed and it was found that he died because his bladder had burst due to an illness.
2. The Lennon Wall
After criss-crossing Old Town, the tour ends below Charles Bridge at the Lennon Wall.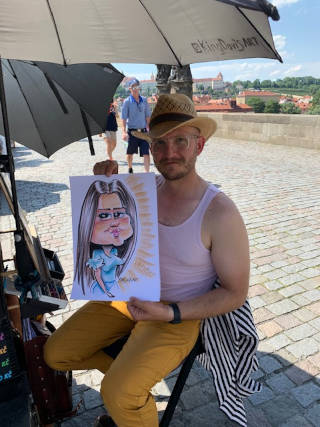 [Get a caricature done on Charles Bridge. This one is by a maverick restaurateur who sold his grill and moved to Prague for art.]
No, the famous Beatle John Lennon never visited Prague but his songs on freedom inspired many during the dark years of the Communist era. After his death in 1980, an unknown artist painted his face and one of his songs on the wall and it has become a place where people express themselves through graffiti. During the dark years of the Communist regime people would paint on the walls as a mark of their protest against the regime. Since then, the wall stands for freedom of expression and people from all over the world express themselves by painting graffiti on the walls and leaving behind poems.
Legend has it that the police in the '80s would whitewash the Lennon wall each day, only to find new paintings and poems on freedom the next day. The wall has seen many clashes between students and the iron curtain regime back in the '80s. The police finally got tired and placed wooden boards on the wall till the country became free from the Communist regime in 1989. The wall continues to push freedom today. The day Russia invaded Ukraine, an artist painted Putin with Hitler's moustache with the banner, "Hands Off Ukraine Putin."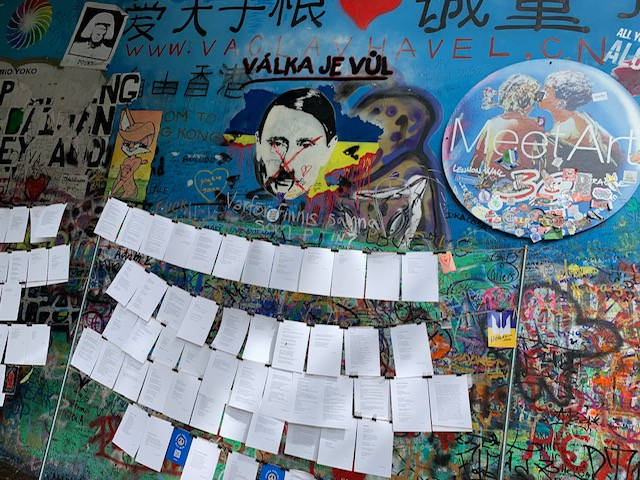 [The Putin graffiti on Lennon Wall]
After paying a visit to the Wall, you can end your tour at any of the street cafes in Old Town, staring at the Vltava River or in Wenceslas Square over a cherry beer or Aperol Spritz and do some people-watching. Aperol Spritz is a must-have. The cocktail is made of one part Aperol (orange liqueur), two parts Prosecco and one part soda. While there's always much to do in any European Capital, nothing beats people-watching and if you are chatty enough, the cafe may offer you a job as I was offered. The Great Resignation has impacted the tourism industry too it seems.
3. Andy Warhol and Banksy exhibitions
Having emerged from the shadows of communism, Prague is still evolving with modern icons of change. One of these is the exhibition of the works of icons like Andy Warhol in a free-thinking post-Communist present. Warhol's family migrated from Czechoslovakia to the US and while the artist famously said that he came from nowhere, his works sit in the Central Gallery, in the House at the White Unicorn, a Renaissance palace in Old Town Square. The pop artist's unique show, called "I am OK" displays some of his most famous works.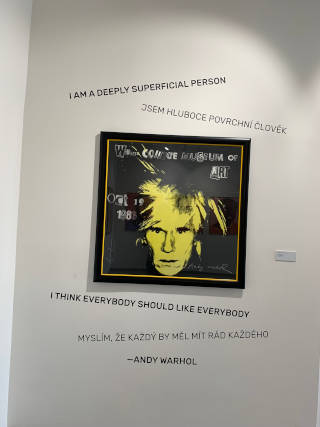 Then there's The World of Banksy, An Immersive Art Exhibition. As beautiful as Prague Castle is, to stumble upon a Hussite church housing the mysterious graffiti artist Banksy's "unauthorised" works and its dark humour made me stand and think.
Those who have seen the film Loving Vincent or the Immersive Art Show in London must watch Banksy's Immersive Art Show in Prague. Banksy is now a renowned street artist who started out by "bombing" the walls in Bristol in England. Bombing here is nothing but using spray cans of paint to decorate the walls with his unique take on society, politics, culture and consumerism. From painting on gritty walls, he has moved on to making films. He has resisted all attempts of the press to uncover his identity. He chose the nickname Banksy for himself and has given graffiti its place in the world as a low-level dissent. From painting Andy Warhol and Queen Elizabeth II as chimpanzees, to printing currency notes with the image of Princess Diana on it, he has challenged the establishment with every work of his.
The works of this reclusive and mysterious graffiti artist, who has portrayed many modern-day themes like poverty, inequality, war, imperialism, individuality and consumerism, can be seen in Prague. To see the exhibition, you need to pay 375 Czech Krone (Rs 1,400) and I promise it is money well spent.
Like Banksy, who has never sought approval before painting on the walls of cities across the globe, this art show is also unauthorised. It seeks to capture and perpetuate the spirit of the graffiti artist, who said "copyright is for losers." The exhibition is housed inside a church where Jan Huss, the famous church reformer used to preach. Huss was a religious reformer who lived in the 15th century between two important periods—Mediaeval and Reformation. He was convicted for heresy and burnt at the stakes. Could there have been a better home for Banksy, who has challenged authority like none other with his subversive and rebellious art?
In its earlier avatar, the church used to be a nightclub and warehouse before it became home to another nonconformist, Banksy. The exhibition is permanent and is still a symbol of reformation.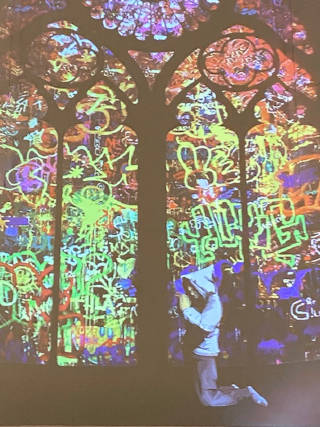 [Forgive Us Our Trespassing, by Banksy]
One of his most famous paintings is a replica of a stained-glass window, commissioned by the Museum of Contemporary Art in Los Angeles. Banksy got young students to come and scribble on unique panels, which was replicated on glass. In St Michaels Church in Prague, this stained-glass window is projected on the glass ceilings. The exhibition has aptly used technology and computer graphics to bring to life an image of Jesus Christ carrying several shopping bags. The most interesting ones are Girl and a Balloon and Sweep It Under the Carpet. His famous and irreverent "Di-Faced" (defaced ten pound note)—which replaced the Queen's face with that of Princess Diana—is also on exhibition.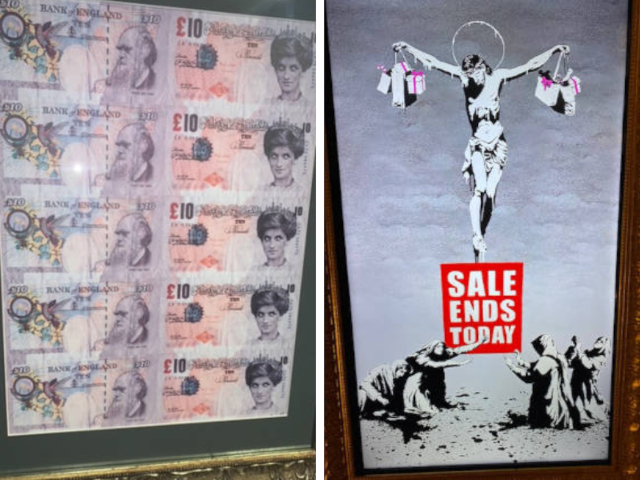 [Di-Faced and Consumer Jesus, by Banksy]
Fun Fact: The Di-Faced ten pound notes were circulated by British people after a wad of such notes were thrown at people during the Notting Hill Carnival in 2004 by the street artist.
4. PiNKBUS concert
A drag concert may not be on the list of regular revellers, but it is a must-do if you are a fan of underground movements and pop art.
The queer scene the world over began as hush-hush events which were by invite only for the LGBTQ community, but they have now become more mainstream and you can buy tickets to these if you search the internet.
Tickets to the PINKBUS show can be bought online. This show was a surprise for me by my lovely niece Marion who believes that the world belongs to those with an open mind. The drag concert was organised by PiNKBUS, which seeks to bring together the best queer performances in Prague, from professionals and newbies alike, for those who love voguing—a stylised, modern house dance that originated in the '80s. It was made popular in the '90s by Madonna's "Vogue". This form of dancing replicates hand movements and facial expressions seen in Vogue models. Responding to the rising drag culture across the globe, creators of PiNKBUS brought it to Prague as well. This is a spicier version of Prague's cabaret and variety performances and it has gone well beyond the LGBTQ community now. In the end, it is about expression of self and one's sexuality among many other things.
Unlike most concerts or dance performances, this show was inside an empty auditorium, where everyone gathers around the stage drinking cocktails. Yes, there is no seating. The atmosphere is that of a dance studio where even the participants hang around the stage, which extends into a runway.
5. Terezin
My fifth recommendation is a circling back to history that ought not to be forgotten.
The walk to Terezin's main complex, a concentration camp 30 miles outside Prague, begins with two mass graves. One is mixed and has some identified names on the grave stones, while the other one only has graves of Jews who died at the camp. The walk through the leafy green meadow sets the tone for what is to come during the three-hour tour through the complex. Sheets of rain lash down from the skies, lamenting the deaths of innocent men and women even 80 years later.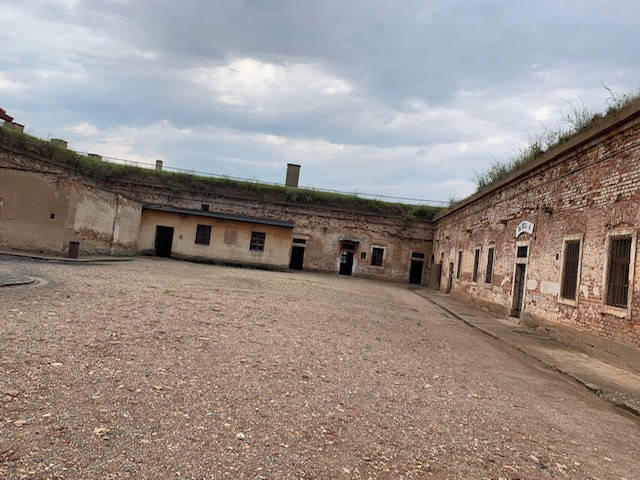 Terezin was briefly home to Gavrilo Princip, the man who triggered the First World War by killing Archduke Franz Ferdinand of Austria. He was sentenced to 20 years but died of tuberculosis caused by the poor living conditions in the prison.
Terezin fortress was built in the late 18th century by Emperor Joseph II in memory of his mother Maria Theresa. The fortress has served many purposes over the centuries—a recreation spot for nobility, a prison, and later a concentration camp during World War II. Terezin is built on a low-lying area and was therefore prone to flooding, which is why it never served the purpose of a fortress and largely remained in disuse. It became a prison prior to World War II and transitioned into a ghetto for jews who were held there before being transported to the gas chambers in Auschwitz.
A walk through what was once the living quarters of the Jewish ghetto still sends chills down the spine and a walk in the trenches below the containment area smells of death as it leads to what is still known as the Death Wall, against which men, women and children were lined up and killed.
[The Wall of Death]
Joining me on the tour was an American lady and her husband. During their vacation in Prague, she found a memorial in a synagogue which showed her grandfather's name and she had come to Terezin to see if she could find his grave. The moment she narrated her reason for the visit, the rest of us fell silent. Here was a woman whose family member had been sent to this dreadful camp where there were public showers, which never had any water as most of it was used to fill a swimming pool for the Gestapo members who ran the camp.
The smell in the living quarters, prisons and crematorium still reek of death and squalor. The shower rooms and living areas were all part of propaganda material that showed families living happily in these camps, but the truth was that 200 people were held in a room with 20 bunks. And the showers and basins had no water in them ever. Every prison cell has a coal-fired heater but they were never used. Decades after the Holocaust, the lingering signs of human perverseness are there for those who believe history can repeat itself.
Trauma was writ large on the American lady's face while we all walked down the prison aisle with cells on both sides. All she knew was that her grandfather had disappeared and when she discovered his name in the list of Terezin victims, she came to see what may have become of him. She dropped out of the tour after seeing the underground trenches, which led to the Wall of Death.
The transit camp was not meant to be a killing machine but it became one because of the squalid living conditions where humans were packed like sardines. More than 33,000 Jews died there and 90,000 were deported to Auschwitz.
They say that only two inmates from Terezin managed to escape, the rest were transported to the gas chambers or died there of malnutrition and diseases.
At the end of my exploration of Prague, ending with this visit to Terezin, I am reminded of the Warhol exhibition—the emotion I'd like to remember is "I am OK".