Whoever told you what truly matters is where you get to in life, lied. The only thing we can be sure of when we're born is that we will die. That is why I often tell myself: How you live before you die matters. Where you die does not.
When looked at from that perspective, the journey is more important than the destination. But when I look around, it pains me. Everybody is too focused on the destination, on those sheet(s) of paper, pieces of metal, hollow designations, and the concrete and brick boxes we live in.
You've got one life. Make it count. Live for yourself, on your terms. Don't be just another brick in the wall. Those who matter are the ones who questioned status quo. They push the limits set by society and experts in it. And I have a lot of stories to tell of such people.
To begin with, allow me to share this note I received from Mark Wooley, one of the most celebrated and recognized ultra marathon runners in Spain, after the latest edition of La Ultra, the cruellest run on Planet Earth—an event I thought up.

Dear Rajat,
You really have created the world's finest masterpiece of ultra running, a canvas 72 hours long and 333 kilometres wide in the Indian Himalayas. Upon this canvas are the runners—the artists who paint their art as they make their way over the most beautiful of majestic mountains.
But I have a problem. I spilt the paint, I was clumsy and the art I left behind on your perfect canvas is flawed. The paint ran over the edges and that just won't do. Art is meant to be perfect and anything less just isn't art. It is a mess. I will have to start this painting again.
Your good friend, Mark"
He missed the 72-hour cut-off time by 54 minutes. He finished 222 km at La Ultra in 2012 and then came back to attempt 333 km in 2014 and 2015. Last year he was leading until 318 km after having fought all kinds of challenges thrown at him both by nature and men like me. He suddenly collapsed. He couldn't move. He just had to cover 15 km in four hours. But he simply couldn't. He'd trained for over six months just for this race, twice a day, running over five-six hours each day.
Think of this man as a gladiator who has been beaten not once, but twice. But he wasn't furious. Instead, the gladiator relooks the opponent with respect. And says, he's going to come back and give it a shot when he is better prepared. Our system calls such people losers. I think of them as high performers. They aren't losers. It's our system that is the loser. So I don't bother to conform to such systems.
And why should I? A 22-year-old wild card entry into the event, Parvez Malik, a rag-picker (or kabaadi-wala as they are called in our country) comes to mind. He had not run ever till six months before this gruelling event.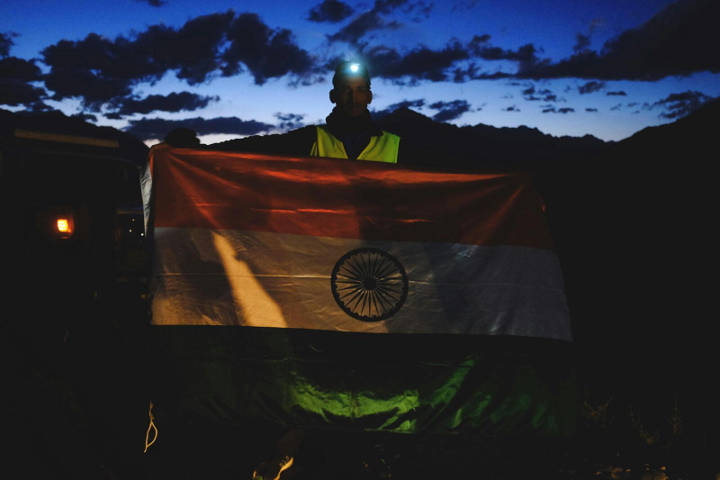 [Parvez Malik holding the Indian flag at the start line of the sixth edition of La Ultra - The High.]
He took to it when he was part of the crew at the Garhwal Runs where he was practically thrown out of the car to walk along with the last participant. What started as a walk morphed into a run until he did 51 km because it was a "lot of fun" for him.
I offered to prepare him for 111 km at the La Ultra if he agreed to follow my programme to the T. One day he could be on Cloud Nine for having run 93 km and the next day I'd ground him because he couldn't manage 90 minutes. This happened because I'd increase the pace to levels he couldn't manage for too long. This was very important in training for a run like La Ultra. Lows follow, much like in life, soon after the highs. He had to learn how to prepare for them.
Eventually, he not only finished running 111 km, but blew away seasoned runners with a good finish time in spite of meeting with a minor accident during the race.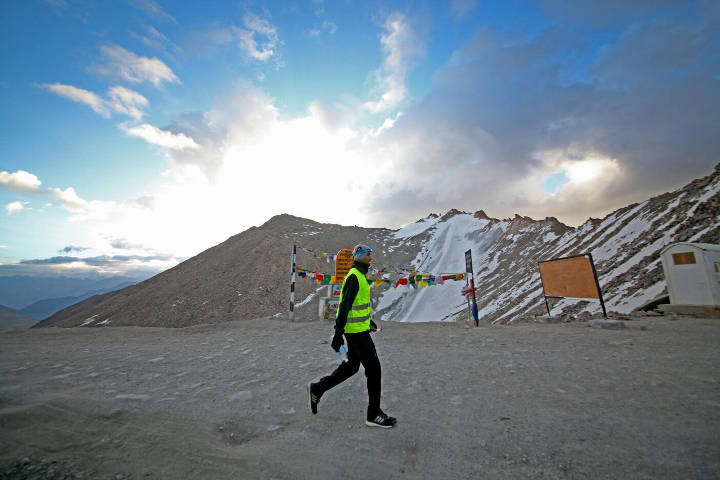 [Parvez Malik reaches Khardung La, the world's highest motorable mountain pass at a height of 17,700 ft, 69 km into his 111 km run]
The game I was playing with him wasn't physical. My concern was he would get carried away easily once he tasted success. It bothers me even more after he finished because he's never been treated so special ever before. He just might lose it. But I'll keep trying to keep him grounded. True champions and leaders can come from practically any background.
To get back to my original point, the journey is more important than the destination alone. Sean Maley from the UK, who eventually came first at La Ultra, followed a simple strategy. He did have plans A, B and C but knew that he couldn't plan for too far ahead. He was just prepared to dig deep and take it as it came. As Mike Tyson once put it: "Everyone has a plan till they get punched in the mouth."
For the same reason, Sean didn't plan. He took the course one bit at a time and relooked at it when he was close to what he had in mind or breached the limit in his head or reached there. He eventually broke the 333-km barrier by making it a series of challenges.
The thing with Sean is, he is a competitive guy. While trekking up to the Stok Kangri basecamp so that we may acclimatize to high altitude, he said, "I don't do such events to just finish. I'm here to win." It reminded me of Arnold Schwarzenegger who once said: "I knew I was a winner back in the late sixties. I knew I was destined for great things. People will say that kind of thinking is totally immodest. I agree. Modesty is not a word that applies to me in any way. I hope it never will."
This would make most of us believe that high performers are competitive people. But it isn't entirely true.
Darek (Dariusz) Zwyciezca from Poland, another veteran runner, met with an accident at age eight and was in coma for two months. He had to relearn how to talk, walk, read and write. Experts didn't think he would ever walk again because his right side was paralyzed and he had lost sight in his right eye. His peers mocked and bullied him for over a decade. He first picked up cycling and then running. Today he runs the most difficult of ultra marathons in the world. He participates in such insane events not to win, but simply to finish, because society gave him no chance of even walking again. For him, it is no longer about others; it's about pushing his boundaries further.
High achievers set their own goals when there is nowhere else to get to. The 52-year-old Hungarian Szőnyi Ferenc struggled to get past the 333-km mark. But even before the pain evaporated, he suggested we plan a 555-km run the next time around. That's exactly what champions are made of. They keep pushing their limits.
There is a link here to the trailer of a movie called Southpaw that I liked very much. If you haven't seen it, please do. The protagonist is a world champion boxer who loses it all. He had to bounce back not to become champion again but to get back the one person that mattered the most to him—his daughter. Most high performers find themselves in a similar space. They keep pushing higher and higher not because they want to win, but because they have intensely personal reasons and stories.
Let's be very clear, an event like La Ultra - The High attracts triple type A personalities who happen to be very grounded as well. They are simply amazing human beings. To play a long innings as high performers in life, these qualities are very important. Any lesser, you either never get there or don't last long enough.