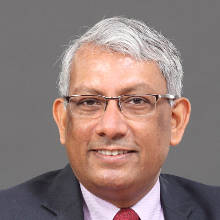 Ravi Venkatesan
Unicef's Special Representative for Young People; Founder, Global Alliance for Mass Entrepreneurship
Ravi is Unicef's Special Representative for Young People and also the founder of the Global Alliance for Mass Entrepreneurship (GAME), a multi-stakeholder coalition which aims to create 10 million entrepreneurs in India and Africa by 2030. He is a Trustee of Rockefeller Foundation and a partner at impact investor Unitus Ventures.
Ravi has served as the Chairman of the Bank of Baroda, Microsoft India, Cummins India and board member and Co-Chairman of Infosys Ltd. He has also served on the boards of AB Volvo, Thermax and Harvard Business School.
Ravi is the founder of Social Venture Partners India, a pan-India network of philanthropists. He was instrumental in creating Microsoft India's Project Shiksha, a computer literacy programme which has trained over 40 million school children in India. He helped establish the Cummins College of Engineering, India's first engineering college for women.
Ravi has a BTech from IIT Bombay, an MS from Purdue University, and an MBA from Harvard Business School where he was a Baker Scholar. He is a recipient of IIT Bombay's Distinguished Alumnus Award and Purdue University's Distinguished Engineering Alumnus Award. He is the author of an acclaimed book Conquering the Chaos: Win in India, Win Everywhere, published by Harvard Business Review. Ravi was voted as one of India's best management thinkers by Thinkers50 and is one of LinkedIn's Global Influencers.