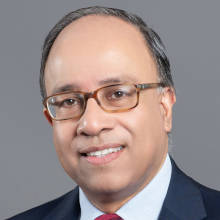 S. Ramakrishna (Rama) Velamuri is Professor and Dean of the newly founded School of Management, Mahindra University. He was previously Chengwei Capital Professor of Entrepreneurship at the China Europe International Business School (CEIBS), on whose faculty he served for nearly 14 years (2007-2021). He has also been on the faculty of IESE Business School in Spain for four years (2003-2007) and has been a Visiting Professor at the Indian School of Business, the Frankfurt School of Finance and Management, Bocconi University, and the International Anti-Corruption Academy Austria.
Dr. Velamuri's research has been published in leading academic and practitioner journals. He served on the 2019 and 2020 Advisory Councils of the CNBC Disruptor 50, to select the 50 most disruptive private companies in the world. He has been a facilitator in executive educations programmes for senior managers of multinational companies as well as for high-growth Chinese and European entrepreneurs.
Dr. Velamuri has experience as an investor, board member and advisor to entrepreneurial companies. He worked for six years (1985-1991) as a manager in a Spanish multinational and eight years (1991-1999) as a full-time consultant based in Madrid, serving US, Indian and Spanish clients.