[Image by athree23 from Pixabay]
Dear friend,
I want to talk to you about something you will hear more often as a valued member of the Founding Fuel community.
Since September this year, we've been experimenting with a video-based learning format with a closed group. We haven't spoken much about it in the public domain because we were still testing it out. On Friday evening, we did our fifth session of the "Masterclass", as it is called.
My colleague and co-founder Charles Assisi anchored an hour-long session on Being Indistractable with Nir Eyal, Israel-born American bestselling author and behavioural consultant. While we're still learning and fine-tuning the end-user experience, we're now confident we can do this well and create strong learning outcomes for everyone. Basis formal and informal feedback coming in, I think we have a winner on our hands.
Watch our promo video for the session with Nir Eyal.
The Net Promoter Scores have been 9/10. In other words, a little more than 90% of participants said they would recommend it to their friends and colleagues.
But it wasn't always like this.
When we organised the first Masterclass at the end of September, everything that could go wrong went wrong. Our London-based speaker was extremely knowledgeable on the future of Brexit—but we couldn't hear him well and the session on Zoom, the US-based software we use to connect everyone, was terribly unstable. I'm glad we didn't abandon the exercise right away.
Instead, our core team put their heads down to make a series of incremental changes. And basis user feedback, paid attention to the tiniest of details.
The result? We're now attracting interest and active participation from a quality audience of smart entrepreneurs, senior executives from blue chip companies, and educators.
You may ask: What's there to learn about running a webinar successfully?
The answer: There are many things that impact the final user experience. From gaining the attention of a discerning audience, figuring out how to communicate the theme of the session, on-boarding interested users, fine-tuning the actual experience, to finally helping a community of learners internalise the lessons. But there's more ground to cover.
For the sake of brevity, allow me to give you a better sense of just a few aspects: We are aware we must steer clear of the noise and shrill conversations on television and social media that has pervaded our lives and create space instead for deeper, reflective conversations. Curating audiences for these live learning sessions is tough too. How might we attract and build a vibrant community of learners?
Given our current levels of distraction, keeping online audiences engaged for a 90-minute session isn't easy. The challenge then is: How might we build user interactivity into the experience?
Framing the theme for the sessions and expectations around it is critical. How might we build context and equip participants adequately, so that the speaker can take off at a higher level is another question we wrestle with. And finally, how might we help the community consolidate the learnings that emerge after a session is done with?
I'm not going to explicitly spell out all the answers. Except to say that we're now ready to have more of you experience our live Masterclasses on Zoom in the future. And on occasion, when you don't have the time, either because you're travelling, plain busy, or something urgent has cropped up, we are ready to offer you curated reading and watch lists—like this one here—along with a recorded version of the Masterclass conversations.
Do join us as we explore exciting new ideas and practices together that promise to change how we live and work.
Best,
Indrajit Gupta
Stills from our masterclasses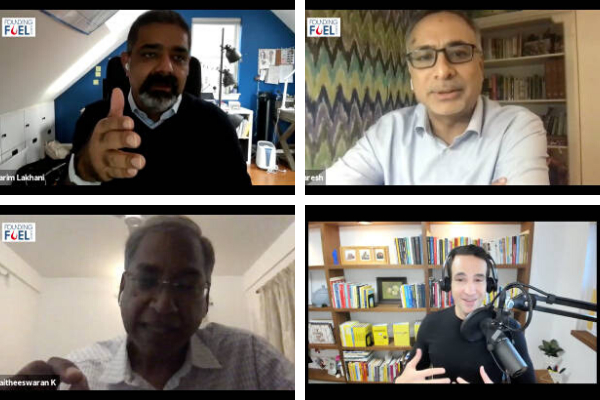 Featured Stories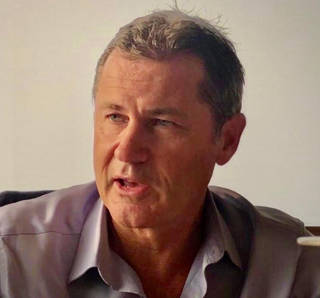 Till he suddenly stepped down in 2012, Simon Taufel was ICC Umpire of the Year for 5 years. His new book Finding the Gaps clearly demonstrates why he reached the top—and stayed there for as long as he wanted. He sat down with Founding Fuel recently to share some amazing life lessons. An exclusive podcast. With a full transcript. (By Indrajit Gupta and Anmol Shrivastava. Play time: 70 mins)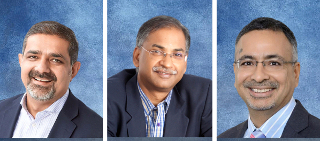 Platforms. data, analytics are not going to go away. The good news for incumbents: they do have strengths they can play to. The bad news: They will need a different mindset and rethink customer experience. (Play Time: 94 mins)
What We Are Reading
It was one of the most arresting viral photos of the year: a horde of climbers clogged atop Mount Everest. But it only begins to capture the deadly realities of what transpired that day at 29,000 feet. These are the untold accounts of the people who were there. (By Joshua Hammer in GQ. Read time: 19 mins)
Racial discrimination by alogorithms or by people is harmful—but that's where the similarities end. (By Sendhil Mullainathan in NYT. Read time: 4 mins)
From Our Archives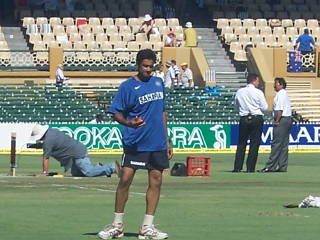 [Anil Kumble, at the four Test series versus Australia at Adelaide Oval in 2007-08. Photograph by Riana under Wikimedia Commons]
The ability to rise to the occasion, have a vision, be decisive, and think about now. And former Australian captain Steve Waugh had it all. (By Rajat Chauhan and Charles Assisi. Read Time: 6 mins)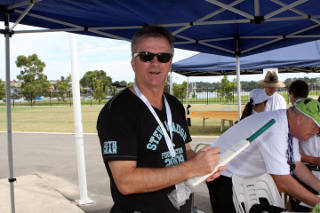 [Photograph of Steve Waugh by Eva Rinaldi under Creative Commons]
Like in sport, in business too a coach can hold the space and engage a star player to sort out his game when going through a rough patch. (By Kavi Arasu. Read time: 7 mins)