[Photo by Mattias Diesel on Unsplash]
Good morning,
A few weeks ago, our colleague NS Ramnath engaged with Tim Harford, also known as 'The Undercover Economist' in Financial Times. They spent time talking about the many strands that emerge from his most recent book How to Make the World Add Up. We'll publish it on Founding Fuel on Wednesday. Until then, here's a snippet from the book that Ramnath suggested all of us read.
"In 2004 and 2005, my Financial Times colleague Gillian Tett highlighted the development of huge financial markets in debt and derivatives, a kind of side-bet on the movements of interest rates, exchange rates or other financial indicators. The world financial system was like an iceberg: above the surface glistened the stock markets, easy to see and to discuss; beneath the waves lurked the debt and derivatives markets, vast and hidden. Stock markets publish numbers continually, including a daily close-of-market update for the evening news. But one of the most important measures of the size of the derivatives market is produced by the Bank for International Settlements once every three years. The pace of information didn't fit the frequency of the financial newspapers, and so it was systematically under-reported. Of course, this was bad news worth being aware of: problems in these markets were at the centre of the catastrophic financial crisis of 2007–08, and Gillian Tett was one of the few people who could honestly say she'd been paying attention beforehand.
"Some commentators argue that the cure for all this is simply to stop reading the newspapers. The author Rolf Dobelli—amusingly, writing in The Guardian newspaper—gives us ten reasons to stop reading the news. Nassim Taleb, author of The Black Swan, puts it succinctly: 'To be completely cured of newspapers, spend a year reading the previous week's newspapers.'"
Interestingly, Harford is rather sympathetic to this view. A few paragraphs down he writes, "Professionally, I can't ignore the news, but I pay less attention to it than many of my colleagues—occasionally to their frustration. Daily news always seems more informative than rolling news; weekly news is typically more informative than daily news. A book is often better still. Even within a daily or a weekly newspaper, I find myself preferring the slower-paced explanation and analysis rather than the breaking news."
His advice is simple: "however much news you choose to read, make sure you spend time looking for longer-term, slower-paced information. You will notice things—good and bad—that others ignore."
It's succinctly captured in his fourth rule: Step back, and enjoy the view.
It's a view we hope you get from following Founding Fuel.
In this issue
How are students and teachers coping with virtual classes?
The curious case of Tarun Tejpal
[Video] Age is just a number
How are students and teachers coping with virtual classes?
That children have been attending classes online is now well documented. But just how are children coping? To find out, the team at Quipper Research led by Piyul Mukherjee dug into the experiences of students and teachers. They spoke with two senior school students—one from Mumbai and the other from Nainital—and a teacher from Jaipur. Their unique stories offer a view into a system that is falling short.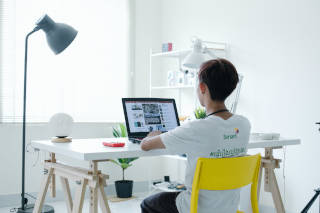 "The system has acutely failed all age groups and classes by investing no real effort in adapting teaching and learning with the new normal in mind."
"In reality a lot of Indian children do not have access to an internet connection. In fact, according to a UNICEF report, only 24% of Indian households have an internet facility to access e-education," the Quipper team writes.
"Even for those who do, the phrase 'we are all in the same storm but not in the same boat' could not be more apt. The plight of school going children now reduced to learning in front of a screen is each different and unique. What is the personal experience of students who find themselves rudely cut-off from any semblance of academic learning and classmates?
"Over the past year, it has become obvious that the pandemic-driven health emergencies and the discriminating digital divide where schools and students are equally ill-equipped to deal with a changing reality, has resulted in an existential crisis for millions of young adults.
"The real culprit appears to be an education and schooling system that has thoughtlessly and lazily, without any creativity and empathy, simply transplanted the traditional mode of physical learning onto the online platform. Students continue to be weighed down by an illogically designed heavy syllabus and rote learning methodology while also having to deal with zero contact with friends and classmates."
Dig deeper
The curious case of Tarun Tejpal
Last week, when a sessions court in Goa acquitted journalist and author Tarun Tejpal of sexual assault charges against a woman colleague, it had us stumped. Back in 2013, when the charges against him made the headlines, we recall his attempts to apologise for his behaviour. His notes are in the public domain.
That is why when the Network of Women in Media, India (NWMI) took a hard look at the verdict, we read it closely. This verdict has a bearing on workplaces across the country because "the Tejpal case is one of the first prominent cases in India to be tried and prosecuted under the Criminal Law Amendment Act, 2013, which marked the culmination of decades of struggle by the country's women's rights movement for an expansion of the legal definitions of the acts that constituted rape and the contexts in which consent is given.
"The entire edifice of the judgement is built on slandering the survivor through a detailed and hostile scrutiny of her personal and professional life."
"The new law recognised that when a person is 'in a position of trust or authority', he has to be held to stricter standards than other individuals while determining whether he had secured consent for a sexual encounter. The reasoning for this is that the power he wields (could) … even destroy her professionally if she antagonises him.
"These new laws, while progressive and sensitive to survivors' concerns on paper, have presented a challenge to survivors, law enforcers, lawyers, the judiciary and activists alike. It has taken activists a long time to get the law to acknowledge that medical evidence is not the primary determining factor in rape and other forms of sexual assault.
"Another core issue, that of sexual harassment at the workplace, has not even been adequately adjudicated, save for a concession that the accused was in a position of power over the survivor. Throughout the eight-year-long process to secure justice, all the odds were stacked against the survivor. There were multiple attempts to slander her, her personal data was obtained, her request to depose through video-conferencing on account of rampant Covid-19 infections was rejected and a warrant was issued for her appearance in the trial in the midst of the pandemic."
Dig deeper
Still curious?
The pandemic is taking its toll on teenagers. Class X and Class XII exams have been cancelled. Many students feel lost and their parents feel conflicted about how to help them. Meeta Sengupta has some pointers for them on how to think about higher education.
Hanumangarh, Vidisha, Rajauri, Pagi or Narayani may not register as places of significance in the minds of people living in urban India. But in the post-Covid world, Piyul Mukherjee discovered that small towns such as these are turning online to attract the migrant workforce.
Age is just a number
This video dates back to 2014 when 80-year-old Paddy and her younger partner Nicko took the stage on Britain's Got Talent and a sceptical (cynical actually) judge asked "What is the nature of your relationship?"
"It is a professional one," Paddy said with a straight face.
Forty seconds after they started to dance, Simon Cowell, one of the judge's, hit the buzzer to indicate he's had enough.
Ten seconds later, the tables turned as the human spirit went on full display.
What's helping you get through these tough times? Send us the song, poem, quote that is your balm now. And we will share it through this newsletter.
And if you missed previous editions of this newsletter, they're all archived here.
Bookmark Founding Fuel's special section on Thriving in Volatile Times. All our stories on how individuals and businesses are responding to the pandemic until now are posted there.
Warm regards,
Team Founding Fuel
(Note: Founding Fuel may earn commissions for purchases made through the Amazon affiliate links in this article.)