[Photo by National Cancer Institute on Unsplash]
By Indrajit Gupta, Anmol Shrivastava and NS Ramnath
After the initial fits and starts, India's vaccination drive—easily the biggest in the world—is finally starting to gather momentum. As many as 2.5 crore Indians have received one of the two vaccines so far. (Of these, about 1.87 crore health and frontline workers got it in the first phase, and about 65,28,000 senior citizens and those between the ages 45 and 60 with comorbidities in the second phase of the vaccination drive.) However, there are many who are still holding out. Some of it is linked to the global phenomenon of vaccine hesitancy, which the World Health Organization defines as the delay in acceptance or refusal of vaccination despite availability of vaccination services. There are many complex and context specific reasons that explain the phenomenon. But now, with reports of cases rising, particularly in Maharashtra and a few other pockets across the country, that hesitancy could well be replaced by vaccine eagerness.
For the moment though, there are umpteen, unanswered questions in people's minds surrounding the entire process of vaccination. And there is no one go-to-place that provides factual, accurate and clear answers that help simplify and reduce the uncertainties. The official government communication, including from its own ministers and senior bureaucrats, often tends to be inconsistent and confusing. The sheer number of rules—totted out in the form of bureaucratic legalese—makes it even harder to decipher how to get the job done. The images of overcrowded vaccination centres in the early days may have made patients wary.
This edition of FF Recommends is meant to lift the fog of confusion. In the last ten days or more, some of us have either been through the vaccination process ourselves, or helped family and friends figure it out. We've also spoken to members of our Founding Fuel community, who have already got themselves vaccinated in the first few days. These are real people with real insights. By synthesizing their experiences, we've come up with a useful cheat sheet that could help you breeze through the process.
Planning the pre-vax phase
Should you delay the vaccination?
We came across many reasons why people want to postpone. Either they are unwell and feel that the vaccination might make it worse. Or they aren't convinced that the vaccines will work—and don't want to expose themselves to risk. Then there are those who prefer to wait for others to go through it and see how it works. Delaying their decision, they reckon, will also allow the system to settle down and become a lot smoother.
The last bit does make sense to some extent. The chaos of the initial few days gave way to a much more organised system. Wait times reduced significantly. There were many more centres. The chinks in the tech backend were ironed out. New ways were found to streamline the crowds.
So is there any risk of waiting for too long? Here's the moot point: The size of the pool of people who will get vaccinated in the third phase will be far larger compared to the second phase. Plus, there is the pressure of people coming in for their second jab from the second phase. It may be better to get it done as early as possible, rather than delaying it, especially if you've overcome the hesitancy. And one simple way to deal with any anxieties is to talk to those who have been through the process.
Given cases are again surging, and with older people and people with comorbidities placed at a higher risk, it is best to be proactive. And reduce risk for the family.
Are you eligible?
The government is planning the vaccination drive in phases, starting with frontline healthcare workers in the first phase. There are two simple ways to determine if you're eligible for vaccination in the current phase, which started on March 1.
You are eligible if:
You are born in 1961 or earlier (which means you can register if you're 59 years old).
You are born in 1976 or earlier and have comorbidities (which means you can register if you are 44, and also have comorbidities).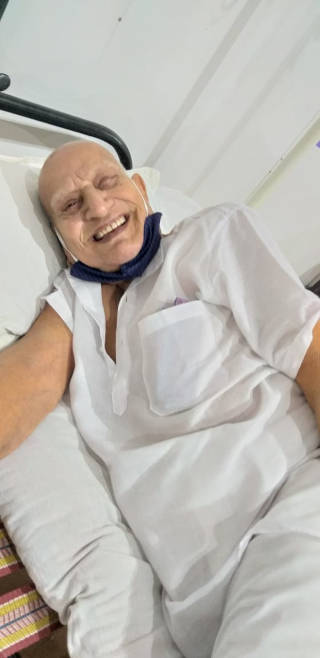 [Rasiklal Nathalal Shah, 92, after he was vaccinated on March 9 at the Dahisar Jumbo Centre in Mumbai. Volunteers at the centre spotted him and helped him jump the queue.]
What are these comorbidities?
The list of comorbidities has been clearly spelt out here.
Now, for instance, there are many who have either diabetes or hypertension. In this round, however, you won't be eligible. And you'll need to produce a doctor's certificate in the prescribed format (See Page 10) before you get vaccinated. (Make sure you share the format with your doctor beforehand. If he doesn't follow the format, it could hinder your chances of a smooth vaccination.)
Sadly, as is wont, there are people who want to jump the queue by gaming the system. A leading cardiologist in Mumbai told us that he had been inundated with calls from patients urging him to issue a certificate, even for a mild case of hypertension. He has steadfastly refused to do so. But then other doctors may not be quite as ethical.
Vaccinating a population of 1.3 billion takes a mammoth effort. So wait patiently for your turn. After all, it may be a matter of a few weeks, before even those above 50 become eligible in the next phase.
Do you need to stop taking any medicines?
If you're engaging with your doctor for the certificate, make sure you remember to ask him if you need to stop or change any of your existing medication. There is no standard answer. An elderly lady in her late 70s we spoke to, said she was asked by her nephew, who is a doctor, to stop taking ecosprin tablets at least two days before the vaccination. On the other hand, when one of us shared our current prescription (largely for cardiac and diabetes related medication) with our doctor, we were advised not to stop any of the medicines. The best thumb rule: when in doubt, ask your doctor and go strictly by their advice.
Also, Covid vaccination cannot be taken on an empty stomach. We received a call the previous evening from a private hospital where we had booked a morning appointment. The lady caller had two simple instructions: have breakfast before arriving at the hospital and take any medicines as per the regular schedule. Even if you don't receive this call, make sure you follow this.
Figuring out the logistics
Should you simply walk into the nearest hospital?
That's exactly what a set of senior citizens did in Gurgaon last week. Just the previous day, the Central health minister had announced that centres would remain open 24X7. So he asked people to simply walk in. When the large group of senior citizens arrived at the nearest vaccination centre in the early hours of the next morning, there was no staff in sight! Clearly, the centres either had not planned for the transition or simply didn't have the wherewithal to do so.
These kinds of unplanned announcements led to chaos on the ground in the first few days, inconveniencing the public and leaving service providers to deal with unseemly crowds. In any case, managing walk-ins is more time-consuming for the centres.
Make sure that you find out the exact timings that your nearest centre is open.
Also, it's best to speak to someone who has recently taken a vaccine at the centres you are considering. Please do the necessary background checks on expected wait time, whether they allow walk-ins, whether they allow a person to accompany you and also offer wheelchair assistance, if needed.
The idea of speaking to someone who had been through the process paid dividends for our team as well. One of us went through the vaccination process on March 5. A couple of days later, one of our colleague's parents was due for an appointment at the same centre. The security guard at the building gate was struggling to locate the names of the patients from a long list of registrants. That ended up causing a long queue to form. All it needed was the serial number that the hospital had assigned (but failed to communicate to patients beforehand.) Since the source of the bottleneck was known, his parents were now better prepared with the requisite information from the hospital and dramatically reduced their wait time outside the OPD building.
Abhijeet Pandit, a senior business leader and a member of our Founding Fuel community, took his ageing parents for vaccination to the nearest public hospital in midtown Mumbai last week. At 9 AM, it was complete chaos. Nearly 400-500 people had gathered at the hospital, with no social distancing whatsoever, he says. "The queue had stretched outside the building. My father had to literally sit on the road. When I requested for a wheelchair for my father, the attendant looked at me as if I was from Mars," he says. Instead of braving the crowds in the mid-day sun, he beat a hasty retreat. And found a slot at the nearby private hospital.
Others have had a smooth walk-in experience, depending on the city and vaccination centre. It is best to check with someone who had experienced it in the previous couple of days.
And if possible, schedule a prior appointment. It will be infinitely smoother, if you do.
Do you need to register yourself beforehand?
If you'd like to schedule an appointment, you will first need to register yourself on the CoWin portal. The process takes barely a few minutes.
We highly recommend using the CoWin portal (https://selfregistration.cowin.gov.in) via the browser and not the Aarogya Setu app. Because the Aarogya Setu in-app experience continues to be sub-optimal. We spent countless hours trying to register using the OTP based login process. And every time, the page in the app would shut down before the registration could be completed. On the other hand, the CoWin portal is a lot easier to use.
Choose one photo ID that you'd like to use. Enter your name exactly as it appears on the official document that you will be carrying as proof. Same spelling, first name, middle name, etc. We saw a few people struggle with this at the hospital. The rest is simple.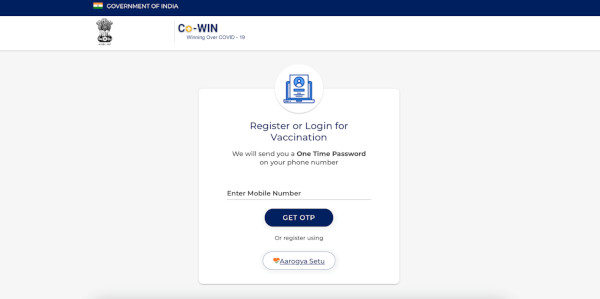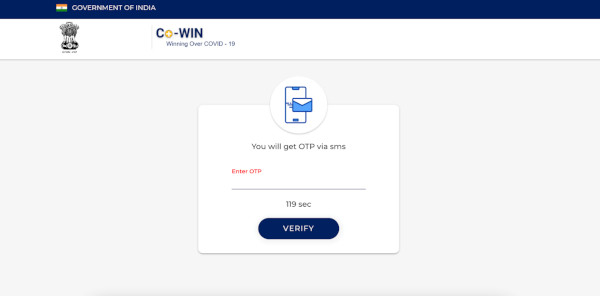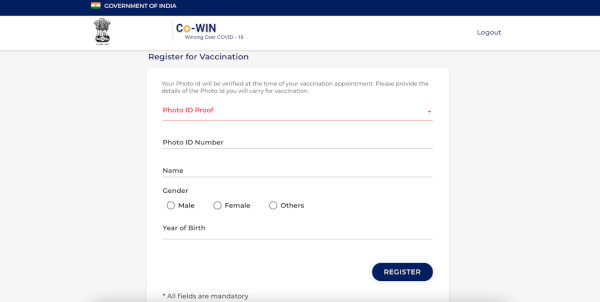 If you find the tech (and the OTP process) intimidating, either find someone young in the family to help you register. Or find someone who is already registered on the CoWin portal. Each person who is registered is allowed to add at least three new people linked to the same mobile number. Asking for help isn't a bad idea.
If it is hard to find help with the online registration process, you could always choose the walk-in option. But remember to carry the relevant papers, wear a mask and be prepared to queue up.
Can one choose between Covishield or Covaxin? How will you know which vaccine is being used?
Indian regulators have officially approved two vaccines—Covishield (developed by Oxford-AstraZeneca and manufactured by Serum Institute) and Covaxin (developed by Bharat Biotech). You can read more about them here.
Now, this is a peculiar issue. You may not know which of the two vaccines—Covishield or Covaxin—is being used, till you reach the vaccination centre. You will be informed by the nurse, just before the vaccination.
That means, technically, the government. isn't offering you the choice to select your vaccine. This is not just in India, but rather a standard practice being followed across the world in most countries, including the US.
That being said, you can still practically choose which vaccine you want to take by selecting the appropriate centre. As of now, each vaccination centre has been provided only one vaccine, which they will administer throughout the campaign.
You can figure out which vaccine is being deployed by speaking to someone who has already gone to the centre before-hand. Based on this information, you can select your centre, if you care about which jab you are getting. In Mumbai, for instance, almost all private hospitals insisted on administering the Covishield vaccine, while most government hospitals were forced to accept consignments of Covaxin, for which the phase three clinical trial data is starting to trickle in only now. In Kolkata, however, the situation is somewhat different, with some private hospitals administering Covaxin.
So how do you find the right hospital?
It is a good idea to stick to your regular hospital that you frequent. You'd be familiar with their process, hospital layout and in some cases, even the staff. In case you don't have a regular hospital, we recommend picking one where some of your neighbours or friends may have been to. Ask them what their experience has been. And what the wait times are.
Base your decision on which hospital to choose on how well they've planned and thought about the user experience. Especially the safety protocols, social distancing norms, the wait times, etc. Sometimes, it may be better to travel a longer distance to make sure you are in safe hands.
One of our friends, after speaking to their neighbour, discovered that the centre in their neighbourhood had long queues and significant jostling with no social distancing. This information led him to pick a hospital which was an hour away by car, but had much lower wait times. His parents were much more comfortable with the drive than standing in long queues.
Besides, most private hospitals are rolling out the red carpet treatment for patients in the hope of making them long-term customers and building goodwill with existing ones. Even if they earn only Rs 250 from administering the jab.
How do you schedule the appointment?
Once you've decided on the hospital, look to schedule an appointment. The CoWin portal will display the list of empanelled hospitals in a certain pincode, along with the slots that are available.
Do remember: If no slots are available in your PIN code, you can search for centres in other nearby PIN codes. Or search again without entering any PIN code to access the list of all centres in your city. As of now, there is no rule that one has to take the vaccine in the same PIN code as their residence, so feel free to explore and select a convenient centre of your choice.
Once you select the centre, it initially offers you a choice of picking the day part: forenoon or afternoon. Now, as they get confident about the system, most centres have started expanding the timings from 7 AM to 8 PM. And soon, hospitals have an option of operating 24X7, if they so choose. (Though it is unclear just how many people would queue up for a jab at the stroke of the midnight hour!).
You can add up to four people on a single registration. If multiple people from your home are looking to get vaccinated, we highly recommend using this feature to schedule everyone's appointment together instead of attempting to register each person separately, one after the other.
A friend who was booking the appointment for his mother and his aunt on the same day and at the same centre forgot to use this feature. And ended up with an appointment in the morning and another in the afternoon. The hospital call centre didn't have the authority to change it. And it needed to be escalated for the issue to be sorted out eventually.
One of us who went through the vaccination process himself had a relatively smooth experience. We were informed by the hospital about the exact time of the appointment and any other instruction through an SMS and a call. Once we received the appointment number from the hospital via SMS, we paid the charges online, so that it obviated the need to queue up at the hospital. Since this was a hospital one was familiar with, it was easy to land up at the right building and the correct floor, without wasting time.
If you are booking for anyone with special needs (such as a wheelchair), first check with hospitals. If it's not offered there, try hospitals specialising in geriatrics, which are likely to have these facilities.
One tip: try to plumb for early morning slots. We picked one at 9 AM for a senior citizen in the family this week. As it turned out, there were just a couple of other patients. But within half an hour, the reception area was buzzing. Earlier the better. However, don't forget to eat before leaving home.
Before you do so, make sure you are carrying the relevant papers. In our case, it included our Aadhaar card which was used as the photo ID, plus the payment receipt and the doctor's certificate.
What happens when you enter the vaccination centre?
We were first taken to the registration booth that had been set up in a comfortable reception area. The documents were scanned and shared on the CoWin portal. And thereafter, a vaccination card and a token number was generated, along with a one page document on the possible side effects and the name of the vaccine to be administered.
The rest of the process was largely smooth. After a short two minute wait at the reception area, we were taken inside the cabin where two nurses were managing the vaccination. We were again informed about the vaccine. And the side effects. A strip of three tablets of Dolo was given to us. The actual vaccination took barely a minute. It was over before we knew it. And one could hardly feel it. We thanked the two nurses on duty and were escorted to a post vaccination observation room. The lady doctor in charge there asked us to be there for 30 minutes. Tea, coffee and water was served on request. We popped a tablet of Dolo at this stage. And struck up a conversation with other folks in the room.
And we were out of there precisely 30 minutes later. And on our way home.
The post vaccination experience
How does one handle the side effects, if any?
Once back home, we informed our cardiologist about the experience. He suggested that we switch from Dolo to Lanol-ER, a long acting paracetamol, to manage any possible side effects.
One did feel the need to have the paracetamol. On the second and third day, one felt feverish and had body ache, both of which were clearly mentioned in the leaflet that we had been given. And Lanol-ER did its job well. By Day 4, we were perfectly fine. We did feel fatigued though for a couple more days, but it wasn't anything to be unduly worried about.
Now, it is easy to drop one's guard and get a tad lax. It takes 15-30 days for the vaccine to start working, according to WHO and other scientific journals. It is, therefore, important to keep following all safety guidelines. Plus, it is still unclear if vaccination prevents you from spreading the disease, so it is best to keep wearing masks and keep taking other precautions for the benefit of others.
As soon as our vaccination was completed, we received an SMS confirming that the certificate was now available for downloading from the CoWin portal. Vaccine certificates will be needed for air travel. And even if it's not mandatory, it will make the check in process simpler (those who are not vaccinated will have to undergo multiple checks and might need to follow quarantine procedures).
Digilocker is one of the best ways to store your vaccine certificates. You can download the Digilocker app here (Android, iOS). Once you have registered yourself on Digilocker, search for the health ministry, click on the icon, you will be taken to a screen with Covid certificate icon. Enter the beneficiary number to download the certificate. It's as good as a physical certificate.
When and how do you plan for a second jab?
India currently follows a 28 day cycle for the second jab. An appointment for the second jab will automatically get scheduled via the CoWin portal. You will receive an SMS. And the same hospital will call you a day earlier to confirm the exact time of the appointment.
Now, here's the moot point: Other countries taking AstraZeneca vaccines have found strong initial evidence of efficacy levels increasing, if the second shot of the vaccine is taken after 12 weeks. Like most things Covid and the vaccines, this is still an on-going debate (the paper is a pre-print for Lancet journal). You will, therefore, need to take your own call, should you so wish, and reschedule the appointment via the CoWin portal.
Useful resources
Register for vaccination: https://selfregistration.cowin.gov.in
Doctor's certificate template: https://www.mohfw.gov.in/pdf/GuidancedocCOWIN2.pdf (see page 10)
Download Digilocker | Android, iOS
Covid-19/vaccination database - https://www.covid19india.org/