[By BagoGames under Creative Commons]
During Satya Nadella's final round of interviews at Microsoft in the early 90s, a panellist asked him what he would do if he found a "baby laying in the street, and the baby is crying." Nadella's answer was quick, as if he instantly analysed the alternatives, consequences and risks. He said, he would call 911, the American emergency number. The answer didn't impress the interviewer. He later told Nadella, "You need some empathy, man. If a baby is laying on a street crying, pick up the baby."
Nadella got the job anyway, but it was not until his son was born with disabilities that he says he learned empathy in a deeply personal way. "Being a husband and a father has taken me on an emotional journey," he writes in his new book, Hit Refresh: The Quest to Rediscover Microsoft's Soul and Imagine a Better Future for Everyone. "It has helped me develop a deeper understanding of people of all abilities and of what love and human ingenuity can accomplish."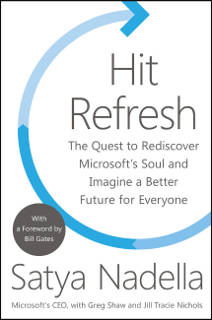 The book can be read as an account of his attempt to instil values such as empathy and a sense of purpose in Microsoft, a largely engineering-focused company. Encouraged by the results there, he makes a broader case for technology as a force for social good, at a time when there is much concern about its impact on jobs and, indeed, the future of humanity. (Elon Musk, for instance, recently tweeted that the third world war could be triggered by artificial intelligence.)
Irrespective of how one sees Microsoft—and for long we have seen it as a ruthless and arrogant monopoly—what strikes one most in the book is Nadella's humility. It's the humility of a learner. In the first video that Microsoft released after announcing his appointment as CEO, he defined himself as a person who "loves to learn". He has since said that he wanted Microsoft to be not a know-it-all organisation, but a learn-it-all organisation. The book tells us how he is going about his job, which is, in a manner of speaking, reshaping the company's culture in his own image.
In October, 2014 Nadella came under fire for telling women not to ask for pay raise. "It's not really about asking for the raise but knowing and having faith that the system will actually give you the right raises as you go along," he said at an event. It caused an instant storm. After all, given the underlying power structures even in developed countries, pay parity wouldn't come from doing nothing. However, it's not what he said there, but what he did next. "A few hours later I shot off an email to everyone in the company. I encouraged them to watch the video, and I was quick to point out that I had answered the question completely wrong," he writes.
People are not defined by the mistakes they make; they are defined by how they respond to it, by what they do next. "A few days later, in my regular all-employee Q&A, I apologised, and explained that I had received this advice from my mentors and had followed it. But this advice underestimated exclusion and bias—conscious and unconscious. Any advice that advocates passivity in the face of bias is wrong. Leaders need to act and shape the culture to root out biases and create an environment where everyone can effectively advocate for themselves," he writes in the book.
Human failings such as bias and exclusion, violence and unrest are not limited to organisations and social structures that we create. Increasingly, they apply to technologies too. There is much discussion on how technology will impact the world, and a lot less on how we shape technology. Nadella narrates a fascinating episode. One of the builds of Cortana, the voice assistant, got angry in response to certain questions. (Remember Eliza?). Seeing that, one employee who had degrees in literature put her foot down, and asked to make its responses consistently "calm, cool, and collected". The anecdote is interesting at many levels. It shows that technology is not neutral; it's shaped by the values of the engineers who create it. We need both 'fuzzies and techies' (as venture capitalist Scott Harley puts it) to get it somewhat right.
One of the principles on which Microsoft builds its AI, Nadella says, is that it should be inclusive and respectful to everyone. It will not be an easy task. Nadella doesn't talk about the company's experiment with "conversational understanding" using an AI chatbot called Tay in the book. But, what happened to it can be instructive. In March 2016, the company launched Tay on Twitter, saying it would learn from real time conversations, and get smarter as it goes along. It took just a day for Twitter to turn it into a racist bigot.
Nadella briefly mentions IndiaStack in his book. "India is leapfrogging from once being an infrastructure-poor country to now leading in digital technology. IndiaStack ushers in a presence-less, cashless, paperless economy for all its citizens," he writes, and talks about a conversation he had with Nandan Nilekani in Bengaluru during a trip earlier this year.
Of greater relevance to India right now are his thoughts on what lawmakers can do to increase societal trust. Not unlike Eric Schmidt and Jared Cohen in their book The New Digital Age, Nadella is more worried about government misuse of technology than about corporate misuse, but his suggestions are worth mulling over.
We need a more efficient system for appropriate, carefully controlled access to data by law enforcement.
We need stronger privacy protection so that the security of user data is not eroded in the name of efficiency.
We need to develop a modern framework for the collection of digital evidence that respects international borders while recognising the global nature of today's information technology.
We in the technology industry need to design for transparency.
We must modernise our laws to reflect the ways in which uses of technology have evolved over time.
We must promote trust through security.
A lot of media attention in India has been on data protection and privacy laws. The Supreme Court recently ruled that privacy is a fundamental right. A committee headed by Justice Srikrishna is looking to draft a data protection law. There is a robust discussion on the policy front. However, it's not just about laws and policies.
Technology itself will play a major role in how we manage data. Nilekani recently made a case for a user getting more control over his data, and his associates presented a technology framework for data sharing. However, one of the most important parts of the puzzle is data literacy. As it is said, India will likely become data rich before it becomes economically rich. But, it has to become data and privacy literate even ahead of that. Nadella's book is a reminder of how fast technology is progressing, and making it work for the poor will involve hard work.
In the end, Nadella does come out as a quintessential tech executive. (I wonder how different a book by Google CEO Sundar Pichai would read.) You will even find these two equations in the book:
E + SV + SR = T/t (i.e., Empathy + Shared values + Safety and Reliability = Trust over time)
∑ (Education + Innovation) × Intensity of Tech Use = Economic Growth
Despite this tech slant, and despite the scepticism that one develops towards big technology companies, one still finds something deeply humanistic about the book.
It's a book about Microsoft and emerging technologies. It's also a book about how environment shapes a person; how tragic experience such as confronting debilitating illness in a child can evolve into empathy; and how empathy, in turn, can turn into a deep desire to shape better technology and a better future.
It's not usual for CEOs to write a book while they are on the job, even less so to write one three years into it. It's almost like redesigning an aeroplane while flying AND writing about it. You can only capture the efforts, not the results.