Good morning,
This week in FF Recommends, we offer you the choicest morsels from the Season 2 of Talkin' 'Bout My Generation (TAMG), a show that explores intergenerational and intercultural trends in consumption, work, entertainment—and many other things that are changing. This season explored a range of topics—food, music, sports, digital life. We picked up extracts that will help us navigate these volatile times better. Each episode in TAMG comes in a package—an essay, an audiogram, a Facebook Live show, and conversations on Slack. There is much to explore. But here are the six lessons we believe you will find useful.
1. Cook at home, cook healthy
For many, the pandemic took away the joys of going out with friends and family to explore new restaurants and new food. At the same time, many rediscovered the thrills of home kitchen adventures. In our first episode of the second season, masterchef and food entrepreneur Sanjeev Kapoor and his daughter Rachita highlighted another benefit of home cooking—healthy food.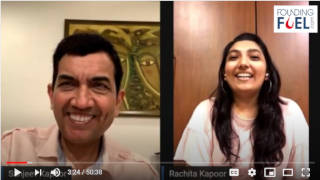 Sanjeev: Covid in a sense was a boon for the coming back of home cooking. Globally, home cooking was losing its sheen. It was dying down. There was a McKinsey report—by 2030, they predicted, home kitchens may not exist in the United States. In many countries kitchens have already vanished. And that would have been disastrous. Because home cooking is equal to healthy cooking.
If you're not cooking at home, that means you are not eating as healthy. And if a whole generation finds home cooking cumbersome and boring, and they start to eat unhealthy food, that's not good.
Rachita: I think a little shift is happening. When we post recipes on your social media platform, on Instagram [which is largely the younger generation], they appreciate it when we post healthy recipes.
Watch the full episode
2. Use social media as a learning tool
Twitter, and social media in general, have come under much criticism, in part because it seems to have amplified the worst elements of society, making the world seem worse than what it probably is. So much so that staying off social media is seen as akin to not eating junk food. The conversation between Haresh Chawla, a leading investor and Founding Fuel columnist known for his incisive commentary on digital transformation, and his son Shiv, an 18-year-old undergraduate student at Brandeis, offered a counterview.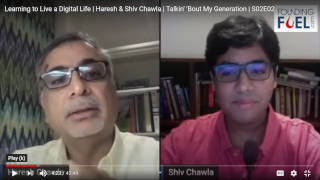 Haresh: Twitter forces you to learn how to communicate well, to put your viewpoint across, to take feedback, to take criticism, and to be able to contextualize what you want to say in a very short space.
It's not about Twitter alone. It's not about tweeting. It's about learning how to express yourself in a concise manner.
Shiv: Why is social media so important in and of itself? Why do we need a social media presence? Because there are still people who are very successful who aren't on social media.
Haresh: The point is not social media, I think it's a vehicle by which you start engaging with the world… The smartphone is a device from which you learn as well. Billions of dollars of R&D is going into building and digitizing this world. Use your smartphone as a place to understand what's happening in businesses. It's a two-way device and it's transformative that you spend time on it, not just to watch Netflix, but to really understand what's going around.
Watch the full episode
3. Demand fresh expertise
In the third episode of TAMG 2, Partha Sinha, President of The Times of India group and his son Atreyo who works for Visa in New York, both diehard Arsenal fans, talked about sports and how it's changing. But, we all know when we talk about sports, we talk about life itself, and the insights can be valuable. Here, they were responding to a question on how to make sports more inclusive.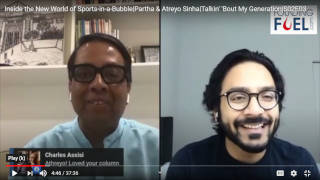 Atreyo: Instead of trying to pander at the actual broadcasting level, try and create content that potentially everybody in the family will like. From a grassroots level actually improve sports, such that you have all sorts of sports that are played well. For example, in India, if we play sports other than cricket really well, you're going to naturally have more people tune in to watch our other athletes do really well in different fields.
Just create better as in sports, which is more inclusive in its own way.
Partha: Also with existing sports, you can add more points of views. And I will give you an example. It happened right in front of our eyes. Typically, experts used to be people who played the game. And then came Harsha Bhogle. He never played cricket. But he [changed] the definition of expert. I saw a reflection of myself in Harsha. I wanted to ask all these questions. There is a guy who was representing me and asking it. Somebody like Harsha would get a lot more people into the game. Similarly, if we can get different points of views, different perspectives, that will get more people into the game.
Watch the full episode
4. Men must change
The fourth episode featured the Mumbai-based writer Sangeeta Mall in conversation with her daughter-in-law Sakshi Katiyar, a technology consultant based out of New York. While exchanging notes on what life looks like for a working woman in 2020 as the pandemic took its toll, they both agreed that they are witnesses to the men around them changing—albeit in subtle ways. And that it is high time men did.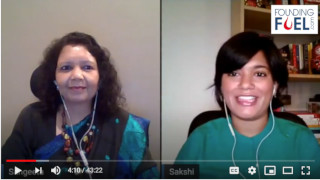 Sangeeta: I have heard several men, who have never washed a spoon in their life, now talk very expertly about vacuum cleaners. A month into the lockdown standing mops became available in our neighbourhood store. And it was the men who were lining up to buy them. But let us be cautiously optimistic. Things haven't completely changed. We have a long way to go to come up even to the West's standards of equity at home. Men are becoming sensitised. But if they are to be housebroken, it's the woman's responsibility also to train them well, accept their mistakes, and become teachers rather than just critics.
Sakshi: The pandemic has introduced the human element into professional lives. If you want to run a domestic errand in the middle of the day, it is acceptable to block your calendar and let your team know you will be unavailable for a couple of hours.
Watch the full episode
5. Take time out. Discover your passion
The mother-son duo Kiran Bir Sethi and Raag Sethi were an easy going bunch and had us eating out of their hands within a few minutes of Episode 5 going live. They had stories to tell, jokes to share and much to laugh about. The overarching message of their conversation was that it's okay to step away from the rat race. Because there is much else to life. Such as, discovering where your passion lies.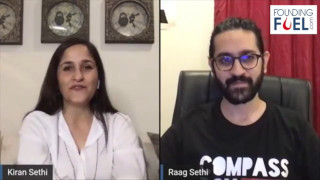 Kiran: The idea of that linear, stereotypical journey that we all embark on—go to school, finish high school, immediately go to college, get a safe job, get married—you have all of these preset milestones.
To break a preset mould you need to feel confident that I am not losing anything. I keep saying it's a gift, and not a gap [year]. 'I don't have to fall into this pressure of conforming to somebody else's view of who I am.'
Raag: When we finally decided which college I was going to go into, I was still not sure what I wanted to major in because I had such varied interests. Fortunately, the American liberal arts college education allows you to go in undecided and figure it out once you're there.
But I remember thinking that I was a year behind everybody else.
Now looking back, I don't see it that way at all.
Watch the full episode
6. Music is a language
When Josy Paul, one of India's finest advertising minds went live with his son Shlok, a doctoral student at New York University, there was no doubt in our minds an intense conversation will emerge on what music means to them. Because that is the tone Shlok had set in an essay he had written in the lead-up to the conversation.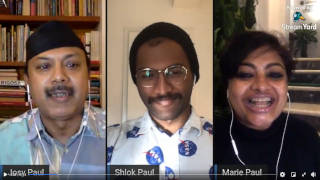 "As a scientist I am far removed from his world of creative advertising and he is far removed from my study of soft matter physics. Still I can share with him a video of Richard Feynman playing the bongos and he can share with me the many ad jingles incorporated into his work. We can comprehend it and share how it made us feel."
That it was intense would be an understatement. The conversation turned out to be enthralling. Because in a surprise to all of us who had logged in, Marie, a well known Gospel and Jazz singer, Shlok's mother and Josy's wife, joined in. To place in perspective what Josey and Shlok were talking about, she came in with the song. There were times we cheered, others when we stayed quiet, and then some when we felt teary eyed. That is when the import of what they mean by "music is a language" started to sink in.
We'll upload the video very soon.
Read Shlok and Josy Paul on music
Wisdom wall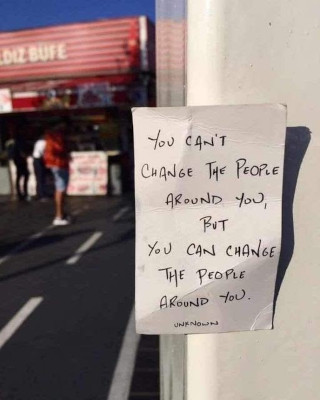 Tell us what you think and find noteworthy. Head over to our our Slack channel.
And if you missed previous editions of this newsletter, they're all archived here.
Bookmark Founding Fuel's special section on Thriving in Volatile Times. All our stories on how individuals and businesses are responding to the pandemic until now are posted there.
Warm regards,
Team Founding Fuel