[Image by Nisha Gill from Pixabay]
Good morning,
In his book, Redesigning the Aeroplane While Flying, Arun Maira makes an important point about the importance of simple rules in managing the complex dynamic systems using a personal anecdote from the 80s.
He writes: "In the early 1980s, some Japanese companies began to invite executives from other countries to study their operations. I was a member of one such delegation that toured leading Japanese companies to discover what was at the heart of their management prowess. We met Prof Ishikawa, who along with Prof Deming is considered to be the father of the Total Quality Movement (TQM) in Japan. We visited many companies, but the visit that made the greatest impression on me was to Toyota. Toyota is credited by Japanese companies to have developed the production system that enabled Japanese companies to perform the miracle that Western managers did not understand at the time. Toyota, and its novel production system, has been rightly described as 'the machine that changed the world' by an MIT study of the automobile industry worldwide.
"So here we were in Toyota's headquarters in Nagoya, listening to their chief of industrial engineering describe the Toyota production system. It was so simple! One simple rule: do not produce anything till it is wanted. In other words, do not produce in anticipation of demand. And there was a simple 'kanban' (or bin card) that moved from machine to machine and assembler to supplier when it was time to produce the next part. No computers. No central production control hierarchy.
"A manager of a European auto company was incredulous. He knew that a multi-product car factory was a very complex system. After all, he ran one. Such a factory has thousands of machines and thousands of people, producing and assembling thousands of different parts. So did Toyota's factory. We knew this because we had just visited it. We had been amazed to see that there was hardly any inventory of parts between machines and assembly stations, in spite of the variety of models produced. High variety, unmatched quality, low costs and low inventories, what an unbeatable combination!
"That is why Toyota was beating his company, the European manager realized. And this Japanese guy was saying they used only simple rules and simple forms! The European turned to us and said in exasperation, 'The Japanese never tell you their real secrets, do they!' He could not understand that something complex could be managed with simple rules. He would find it even harder to believe that Toyota was performing far better than his company because it followed simple rules."
Last Saturday, Maira anchored a learning session with Harish Hande, Magsaysay award winner, social entrepreneur and co-founder Selco India; Mekhala Krishnamurthy, associate professor, Ashoka University and senior fellow, Centre for Policy Research; and M Rajshekhar, author of Despite the State. The session had several such real life examples and profound insights from each of the panellists. We will share the video soon.
In this issue
How to give Indian street food its due
Christine Darden on working in a male dominated culture
Selfie in the age of Clubhouse
Have a great day.
How to give Indian street food its due
Last December, UN's cultural agency Unesco recognized Singapore's hawkers as Intangible Cultural Heritage of Humanity. A story in the South China Morning Post argues how Indian street food can follow suit.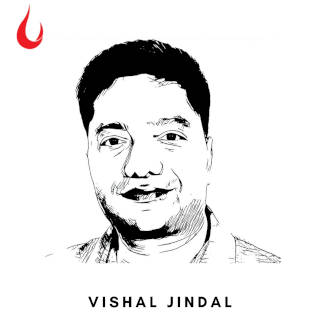 "The industry can be a force multiplier for the economy"
Here's a snippet from the story. "Vishal Jindal, co-founder of Biryani By Kilo, a brand inspired by street food which has a presence in 26 cities, says the informal industry needs more support from the government as it plays a vital role in generating jobs and incomes.
"'This informal sector is a pillar of sustenance for societies, provides livelihoods to millions and feeds the poor. If a template based on training, legalities, hygiene, and preparation is executed by different authorities and street vendors are supported through such initiatives, the industry can be a force multiplier for the economy,' he says.
"Others suggest the government make street cuisine an anchor of its tourism initiative. They say street vendors need more support, especially at a time when the coronavirus has dealt such a blow.
"'Most hawkers are migrant workers from far-flung villages and towns. When the pandemic struck, they couldn't afford to keep living in the city and pay rent with no customers. This forced them to go back home,' says an official from the National Association of Street Vendors of India (Nasvi), an umbrella group that has organisations working with more than 70,000 street vendors to lobby the government to improve their livelihoods."
Dig deeper
Christine Darden on working in a male dominated culture
Quanta Magazine has an interview with Christine Darden who joined Nasa in the 60s when the space agency's engineering department was dominated by men. She was hired as a mathematician, a role she found too limiting. She shifted to the engineering department and helped make supersonic planes quieter. The interview gives a glimpse of what it meant to break the ceilings and walls, and has parallels to the experience WHO chief scientist Soumya Swaminathan had in the medical field (FF Daily #205)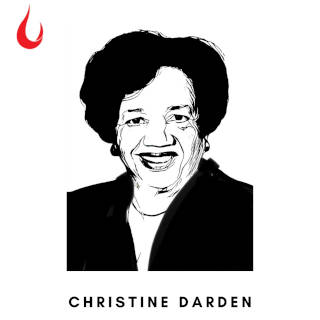 Quanta: What was it like? Did you ever talk with the male engineers in those early years?
Christine Darden: Yes, I often did after getting an assignment. Once, an engineer asked me to complete his work by writing a computer program. It was an interesting assignment. When I finished, he said my program gave incorrect answers. I reviewed and ran it again. He laughed and said, "That's still not right."
I didn't like the laugh. My work wasn't wrong. I looked at the work he had done prior to giving me the assignment and found one sign error. When I corrected his mistake and ran the code again, the numbers looked good.
Quanta: Was he gracious?
Christine Darden: No. But he didn't laugh anymore.
Selfie in the age of Clubhouse
Our colleague Anmol Shrivastava was at the historic Clubhouse chat with Elon Musk, and he shared this 'new kind of selfie' with us.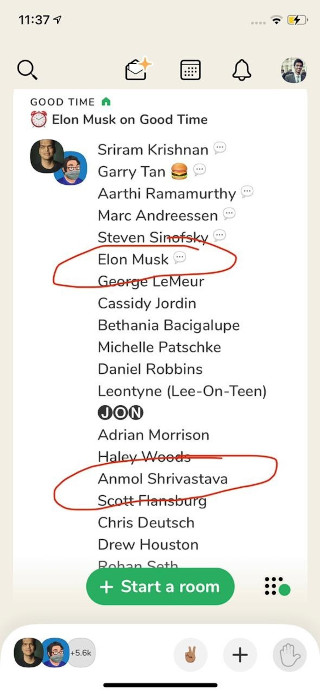 Tell us what you think and find noteworthy. Head over to our our Slack channel.
And if you missed previous editions of this newsletter, they're all archived here.
Bookmark Founding Fuel's special section on Thriving in Volatile Times. All our stories on how individuals and businesses are responding to the pandemic until now are posted there.
Warm regards,
Team Founding Fuel
(Note: Founding Fuel may earn commissions for purchases made through the Amazon affiliate links in this article.)