[Photo by Daniel Lim on Unsplash]
Good morning,
As the second wave tapers down and vaccination rates go up, people in general are getting ready to go out. Many of us will be finding ourselves in airports, waiting to board a plane, and if there are delays, we will probably attribute it to the post pandemic norms. The focus of newspapers, that we pick up from the stands without worrying about the possibility of catching any virus, will turn to GDP, even though the pandemic highlighted the huge inequalities that GDP growth numbers don't capture.
In Numbers Don't Lie: 71 Things You Need to Know About the World, Vaclav Smil offers some interesting perspective on both, while cautioning us against genuflecting before the altar of innovation, which sometimes fails to solve practical, immediate, and consequential problems the world faces today.
He writes: "And commercial flights now take longer to board than during the 1970s despite the fact that we know a number of methods that are faster than the current inefficient favourites. For example, we might be seating people in a reverse pyramid, alternately boarding them at the back and at the front simultaneously (spreading things out to minimize bottlenecks), or simply by abolishing assigned seating.
"And why do we measure the progress of economies by gross domestic product? GDP is simply the total annual value of all goods and services transacted in a country. It rises not only when lives get better and economies progress but also when bad things happen to people or to the environment. Higher alcohol sales, more driving under the influence, more accidents, more emergency-room admissions, more injuries, more people in jail—GDP goes up. More illegal logging in the tropics, more deforestation and biodiversity loss, higher timber sales—again, GDP goes up. We 'know better, but we still worship high annual GDP growth rate, regardless of where it comes from.'
"Human minds have many irrational preferences: we love to speculate about wild and crazy innovations but cannot be bothered to fix common challenges by relying on practical innovation waiting to be implemented. Why do we not improve the boarding of planes rather than delude ourselves with visions of hyperloop trains and eternal life?"
In this issue
Vaccine hesitancy
The space race
Thinking time
Vaccination is picking up, but let's not take vaccine hesitancy lightly
Nearly 30 crore Indians have received at least one shot of vaccine, and 6 crore both the doses. After missteps, India seems to have found some momentum. But, it might be wise not to take anything for granted. Besides the supply issues, there are concerns around demand too. In his recent column in The Indian Express, Himanshu Arora points to The Covid Symptom Survey (CSS) that found significant vaccine hesitancy among Indians. It varies from state to state. He writes, "The proportion of the population hesitant to Covid vaccines is highest in Tamil Nadu (40%), Punjab (33%), Haryana (30%), Gujarat (29%), and Andhra Pradesh (29%).
"The CSS survey further probed the reasons for not taking the vaccine or delaying it among the naysayers. The top five reasons for not taking vaccine includes 'waiting for others to get it first' (42%), 'other people need it more than me' (35%), 'fear of any side-effects' (34%), 'vaccines won't work' (21%) and 'don't believe in the vaccine' (11%). Contrary to popular perception, the proportion of people choosing 'high price of vaccines' and 'religious belief' as reasons to opt-out remains minuscule."
Overcoming vaccine hesitancy might be difficult, but not impossible. In IDR, Dr Sanjana Brahmawar Mohan and Dr Pavitra Mohan, co-founders of Basic HealthCare Services, which provides healthcare to underserved communities in southern Rajasthan, suggest ways to deal with hesitancy. One of them is simple honest communication. They write, "One of the biggest fears among people is that those who receive the vaccine will die within six months. They have heard of people being ill for a month after receiving the shot, and that many are dying. While almost all such news are just rumours, dismissing them outright does not work. We have found that comparing the possible risks caused by the vaccine with those caused by the disease helps to allay fears. We communicate that if one lakh people receive the vaccine, one or two of them may develop a severe reaction or may die. But if one lakh people develop Covid-19, up to 10,000 of them may have severe disease requiring hospitalisation, and up to 2,000 could die."
Dig deeper
The space race
Jeff Bezos's announcement last week that he is planning a trip to space, made newspaper headlines across the world. But to Scott Galloway, business professor and bestselling author, it appeared as a futile billionaire race between men such as Bezos, Elon Musk and Richard Branson among others. And he made no bones about his misgivings on his blog, No Mercy / No Malice.
"Affairs, Teslas, and ayahuasca are the accessories of a life with more money than time."
"Space is exponentially more expensive and dangerous. Nineteen of the 570 people who've ventured into space haven't returned, yielding a mortality rate of 3.3%, vs. 1.3% for climbing Everest and .04% for base jumping. Worse, by American standards, space travel is going to be a shitty business.
"Even with our advanced technology, and a fawning CNBC engaging in a consensual hallucination that these billion-dollar hair plugs are for all mankind, the ROI is suspect… There is 100x the return investing in technologies and systems of cooperation on a planet already perfect for human life, a mere 38.6 million miles from Mars. The billionaire obsession with space fantasy (and our willingness to go along with it) isn't just disappointing, it's nihilistic. Our idolatry of innovators is morphing into phantasmagoria.
"My observation is that men are more focused on deep space, and women near space. Men are more ego driven and obsess about frontiers in business and the solar system. Women are (cue the Twitter hate) more concerned with exploring things near them… My advice to young men, especially those with kids, is to be more focused on near space… Tonight the family ate at a sushi restaurant, and my 10-year-old ordered kakigori, Japan's quintessential summer treat: shaved or crushed ice drizzled with flavored syrup or condensed milk. It's awesome."
Dig deeper
Still curious?
Thinking time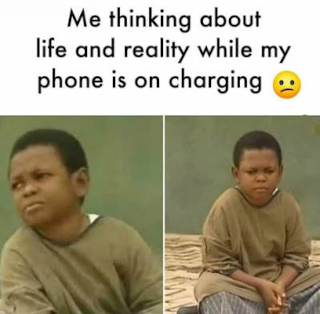 (Via WhatsApp)
Found anything interesting and noteworthy? Send it to us and we will share it through this newsletter.
And if you missed previous editions of this newsletter, they're all archived here.
Bookmark Founding Fuel's special section on Thriving in Volatile Times. All our stories on how individuals and businesses are responding to the pandemic until now are posted there.
Warm regards,
Team Founding Fuel
(Note: Founding Fuel may earn commissions for purchases made through the Amazon affiliate links in this article.)