[Photo by Ivan Diaz on Unsplash]
Good morning,
When news emerged over the weekend that the first Covid-19 vaccine for children above 12 has received emergency approval, we were both delighted and intrigued. The news reports have it this is the world's first DNA vaccine that will be used on humans. Because our understanding basis reading The Code Breaker by Walter Isaacson is that DNA vaccines have some limitations.
"Although no DNA vaccine had ever been approved before the Covid plague, the concept seemed promising. Researchers at Inovio Pharmaceuticals and a handful of other companies in 2020 created a little circle of DNA that coded for parts of the coronavirus spike protein. The idea was that if it could get inside the nucleus of a cell, the DNA could very efficiently churn out many strands of messenger RNA to go forth and oversee the production of the spike protein parts, which serve to stimulate the immune system. DNA is cheap to produce and do not require dealing with live viruses and incubating them in chicken eggs.
"The big challenge facing a DNA vaccine is delivery. How can you get the little ring of engineered DNA not only into a human cell but into the nucleus of the cell? Injecting a lot of the DNA vaccine into a patient's arm will cause some of the DNA to get into cells, but it's not very efficient.
"Some of the developers of DNA vaccines, including Inovio, tried to facilitate the delivery into human cells through a method called electroporation, which delivers electrical shock pulses to the patient at the site of the injection. That opens pores in the cell membranes and allows the DNA to get in. The electric pulse guns have lots of tiny needles and are unnerving to behold. It's not hard to see why this technique is unpopular, especially with those on the receiving end."
As opposed to that, Isaacson points out, "An RNA vaccine has certain advantages over a DNA vaccine. Most notably, the RNA does not need to get into the nucleus of the cell, where DNA is headquartered. The RNA does its work in the outer region of cells, the cytoplasm, which is where proteins are constructed. So an RNA vaccine simply needs to deliver its payload into this outer region."
But there is good news. Indian researchers have figured out how to deliver the vaccine without jabbing recipients. Phase III clinical trials have shown an efficacy rate in excess of 66% and over all else, it appears effective against the mutant delta variant. Now, fingers crossed. Like everyone else, we want this to work.
Stay safe and have a good day!
In this issue,
What's your leadership style?
Monitoring the dispersed
Be firm
What's your leadership style?
In the latest edition of Hustle Fuel, a Founding Fuel series that aims to amplify different portraits of what success can look like, Aparajita (Opu) Bhattacharyya shares six archetypes of leaders. The qualities these archetypes represent are especially important for the post pandemic world.
The Jungle Gym Leader: By swinging left and right as opportunities arise, they cross-pollinate learnings and sharpen peripheral vision across a range of different problems, roles, people and industries.
The Creative Coder: They use technical acumen and user-centric design for transformation.
The Operator-Advisor: They use their experience working inside tech companies to identify promising tech entrepreneurs, invest in them and advise them.
The Superconnector: They have supreme abilities to win friends, influence people, and break the internet and use their skills to dream up big ideas and bring them to fruition by forging partnerships.
The Academic Practitioner: They are in a unique position to merge their deep expertise with industry experience to become innovative leaders.
The Community Builder: They build platforms that help other leaders start and build their own businesses for the future.
Dig deeper
Monitoring the dispersed
As the pandemic prolongs and people continue to work from home, employers are thinking up ways about monitoring their people during work hours. A report in The Washington Post documents the emergence of employee monitoring software providers such as InterGuard. While it may sound creepy, fact is, what they do and how they do it is legal.
"(E)mployers can gather data from your keyboard, like how often you're typing, and even your webcam, if it's in your employment agreement. On corporate Internet connections, your employer probably can see which sites you visit, and it can access the emails you send from company accounts. Those without office jobs get monitored, too. Amazon, for instance, has reportedly deployed tracking technology for both drivers and warehouse workers.
"Business is booming for companies that make software analyzing the data employees generate during the workday. These programs present reports to superiors on how often employees are typing, when they log off and on, and what social media sites they look at," the report points out.
There are numerous examples it cites. "Monitoring tools including Teramind, InterGuard, ActivTrak, Hubstaff and TimeCamp gather data from your keyboard and mouse to see when employees are 'active' and when they've stopped clicking around… Hubstaff can take intermittent screenshots of your desktop to see what you're up to. With Teramind, administrators can even access real-time recordings of employees' desktops. And London-based start-up Sneek takes workers' photos throughout the day and lets people activate video chats with the click of a button, according to its website."
Dig deeper
Be firm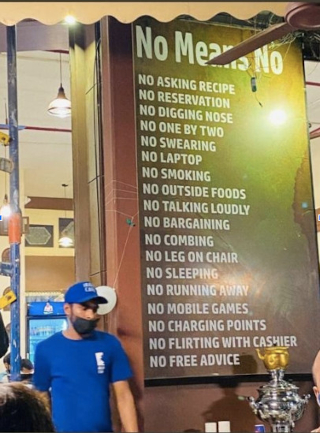 (Via WhatsApp)
Found anything interesting and noteworthy? Send it to us and we will share it through this newsletter.
And if you missed previous editions of this newsletter, they're all archived here.
Bookmark Founding Fuel's special section on Thriving in Volatile Times. All our stories on how individuals and businesses are responding to the pandemic until now are posted there.
Warm regards,
Team Founding Fuel
(Note: Founding Fuel may earn commissions for purchases made through the Amazon affiliate links in this article.)