[Photo by Ilyass SEDDOUG on Unsplash]
Good morning,
We will be in conversation with Vir Sanghvi on Clubhouse tomorrow evening at 7:30 pm. The celebrated editor and television anchor's memoir A Rude Life has just hit the shelves and we totally enjoyed reading it. He brings alive for readers his growing up years, delivers insights on his years in the media, observations on politics, and goes straight into the minds of people most of us may otherwise not have access to.
"For the first episode, we had Amitabh Bachchan who was then down and out after the failure of ABCL. He spoke movingly, I thought, about confronting adversity and about why he had failed to see that ABCL was heading for disaster. (Basically he trusted the wrong people, he said.)
"I thought it was a very revealing and candid interview and viewer response was also positive. But not everyone liked it, of course." Sanghvi goes on to talk about how he was out on dinner when his phone beeped. "It was Amita Malik, in her day the top TV critic (possibly because she was the only one) who was known as a dragon.
"'Vir,' she said. 'I cannot begin to tell you how disappointed I am. Who cares about Amitabh Bachchan? He is finished. Why are you wasting our time interviewing that man?' I said (accurately, as it turned out) that Bachchan had been written off before but had always bounced back.
"Fortunately, the response to Star Talk was uniformly good. Even Amita Malik changed her tone. We got good sponsors, very nice new sets and a gifted producer, Anju Juneja, who stayed with me for the duration of the show and ensured that the production quality was always first rate.
"Once Star Talk had become one of the more popular shows on the channel, we had the budget to fly to other cities or to fly guests down to Delhi. We had started out in small studios which were often cramped though fortunately the guests didn't seem to mind. We shot with Pramod Mahajan at Jain Studios and when he asked to go to the loo, I directed him to the only one that was available.
"He got to the door, looked at the sign and said, 'But it is written ladies?'
"He paused. 'Don't worry,' he decided. 'Even I am only for ladies!'"
Catch you tomorrow evening with Vir Sangvi.
In this issue
How the road to a STEM career could begin with toys
How to disagree
Read the fine print
How the road to a STEM career could begin with toys
In the latest edition of Founding Fuel's series Hustle Fuel, Aparajita Bhattacharyya picks up on the recent launch by Mattel of the line of Barbie dolls to celebrate women scientists as role models; and inspire girls into STEM careers.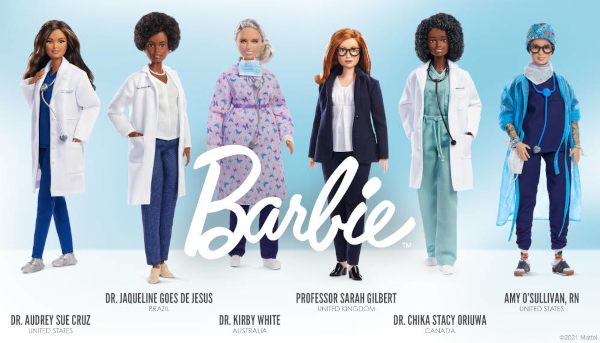 She gives three pointers on how to encourage girls to take up STEM.
Build early connections: One important way in which children develop these daily connections to STEM is through their toys and playtime.
Expose them to role models: The more stories we tell about female scientists and engineers, the more likely girls are to be open to or pursuing a similar career.
Give them opportunities to learn by doing: Cultivating a STEM mindset is about becoming a critical thinker and problem solver, by experimenting and challenging the status quo using technology as a tool.
Dig deeper
How to disagree
In HBR, six Army officers on the team of a senior executive responsible for the daily operations and strategies of the US defense, share insights on how to work with a diverse team during polarised times.
They write, "Our shared goal is to work together to find solutions for complex problems, so all voices are welcome… The idea is to create a psychologically safe, judgement-free zone in which to experiment with ideas."
To do that however, it's important to recognize that there will be disagreements, and indeed, it's important to have disagreements—as Adam Grant points out here.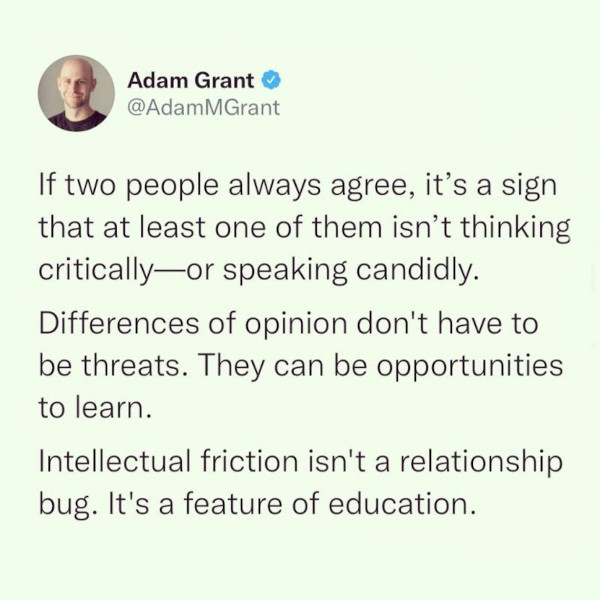 The key is to make it clear that there will be differences of opinion—big and small—which might be offensive to one person or the other. They write: "We explicitly acknowledge that we might offend each other from time to time but agree that we'll deal with such situations by quickly and efficiently addressing and discussing the issue. For example, when one of the team members first encountered an email with pronouns listed in the signature block, he felt perfectly comfortable asking a team member about it without any fear of negative repercussions. Our boss has taught us to frame questions in a non-judgmental way i.e. 'Remember when we were talking about X situation, and you said Y? I interpreted it as Z. Was that right?'
"We make a pact to not just 'do things right' (efficiency) but also 'do the right things' (effective). This seems like a small distinction, but it gives each member license to use their individual experience, talents, and skills to push us in a better direction."
Dig deeper
Read the fine print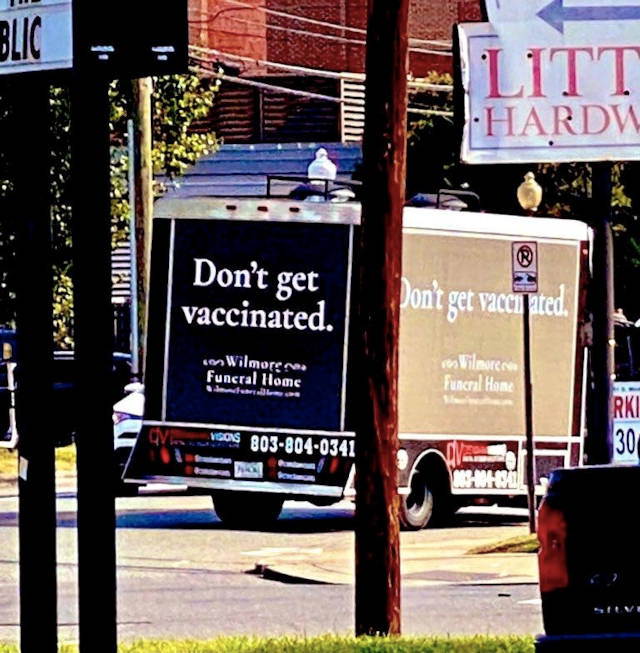 (Via WhatsApp)
Found anything interesting and noteworthy? Send it to us and we will share it through this newsletter.
And if you missed previous editions of this newsletter, they're all archived here.
Bookmark Founding Fuel's special section on Thriving in Volatile Times. All our stories on how individuals and businesses are responding to the pandemic until now are posted there.
Warm regards,
Team Founding Fuel
(Note: Founding Fuel may earn commissions for purchases made through the Amazon affiliate links in this article.)