[From Unsplash]
Good morning,
Why do we stop asking questions? Ian Leslie's research compelled him to write Curious and it has pointers to where answers may lie.
"Success can breed deliberate ignorance. It seems to be a law of business that the more a firm grows, the less it values difficult questions… Precisely because they have become so successful at catering to customers who buy their most profitable products or services, market-leading companies often neglect what is happening at the unglamorous low end of the market. Smaller competitors, providing cheaper alternatives, are driven by necessity to ask fresh questions about the changing needs of customers. That makes them more innovative, and the cheap but effective products they create can disrupt and eventually overturn the dominance of the larger company. Questions are the best weapons of the weak against the strong, but only because the strong unilaterally disarm.
"Michael Marquardt identifies four reasons that we don't ask questions when we ought to. First, because of a desire to protect ourselves from the danger of looking stupid. How many times have you been part of a conversation and had a question nagging away at you but been too scared to ask it in case everyone in the room laughs at you? And then found out that it was a good question, because someone else asks it, to approving murmurs—or even worse, because it goes unasked and unanswered and later explodes into a problem that could have been avoided.
"Second, because we're too busy. Good questions require time to germinate and grow. When we're over-occupied with things to do we focus on action at the expense of thinking and questioning. Third, because the culture discourages questioning. In authoritarian countries, questions that spring from genuine curiosity are discouraged. In organisations that suffer from some form of what Irving Janis termed 'groupthink', people who ask awkward questions can quickly be made to feel unwelcome. Even in cultures that value different opinions, a subtler interdiction can operate; the social trends expert Daniel Yankelovich observed that American culture 'rushes to action'. Often, he says, the only question that gets a hearing is, 'What are we going to do about it?' The fourth reason we don't ask questions, says Marquardt, is that we lack the skills required to ask them.
"Asking good questions stimulates the hunger to know more by opening up exciting new known unknowns."
So, the next time around, don't shy away from asking.
In this issue
Before pay hike, comes the homework
The immediate concerns of climate change
What's in a name?
Before pay hike, comes the homework
In the latest edition of Hustle Fuel, a series that looks at the world of work and entrepreneurship from a woman's lens, Aparajita (Opu) Bhattacharyya turns her attention to salary negotiation. It's well known that across the world there is a significant gender pay gap, and also that women tend not to negotiate for their salaries.
Why is it so? Opu writes, "For one, men pick 'winning a ballgame', while women pick 'going to the dentist' when selecting metaphors for the process of negotiation. The more that women see negotiation as a chore, the less likely they are to negotiate (or do so in ways that lead to the best outcomes)."
One of the ways to turn the odds in your favour is to prepare well. Opu draws from her own professional life. "It is also important to demonstrate that you have considered and understood the whole deal. For instance, when moving from management consulting to the tech industry, it was important for me to demonstrate that I understood how pay structures differed in these two industries. The consulting world, in general, was more skewed in favour of a high base pay with little to no equity upside (until you were at the highest levels of the firm and had skin in the game), whereas compensation increasingly comes in the form of stock as you rise in the tech world. An understanding of how a lower base pay with a piece of the pie of a valuable tech company might equate or represent much more value than a higher upfront cash salary demonstrated that I had thought through not just about how I was willing to be rewarded but also when."
Dig deeper
The immediate concerns of climate change
As COP26, the climate summit, gains momentum at Glasgow, the world leaders, delegates, NGOs are no doubt thinking long term, but the administrators, businesses and residents of the city have to think short term, in fact, of the here and now. It's billed as the biggest event after the Olympics—with 120 world leaders, 30,000 delegates and 100,000 protestors descending on the Scottish city.
A story in BBC and a short video from Channel 4 offers some glimpses.
Summit site has a green zone and a blue zone. "The Blue Zone has become official UN territory for the duration of the conference and will be patrolled by armed UN officers under the highest levels of security. It hosts the negotiations and is only open to those officially involved in the summit."
Many world leaders are reportedly not staying in Glasgow, but in other cities such as St Andrews, Edinburgh and Perthshire.
Accommodation prices have shot up, and almost everyone is charging a huge premium. Some cruise ships have docked nearby to provide additional rooms.
Maintaining law and order is a separate category by itself. "Police Scotland have called it 'the most complex and complicated' event ever staged in Scotland—with 10,000 officers from across the UK being deployed each day," BBC reports.
Dig deeper
What's in a name?
Since the time Facebook went public with the announcement to change its name to Meta, Indian brands have been having a blast on Twitter and it had us hooked.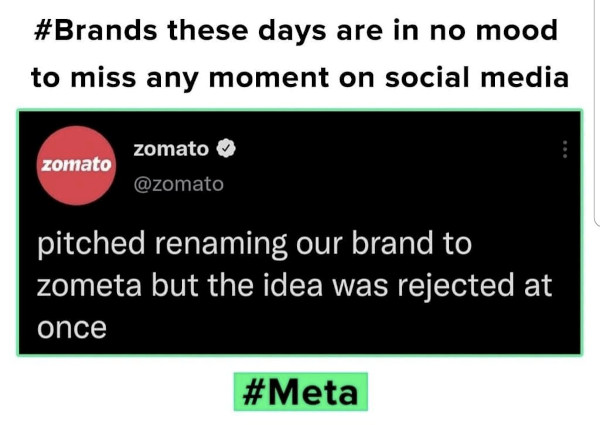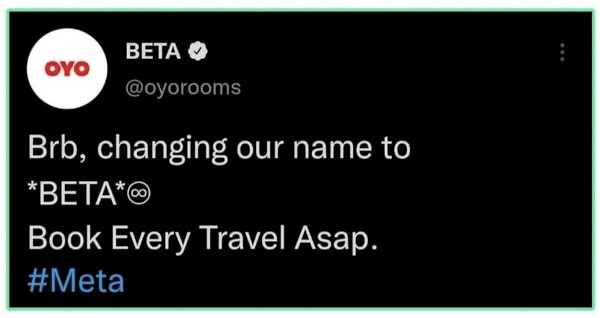 Found anything interesting and noteworthy? Send it to us and we will share it through this newsletter.
And if you missed previous editions of this newsletter, they're all archived here.
Warm regards,
Team Founding Fuel
(Note: Founding Fuel may earn commissions for purchases made through the Amazon affiliate links in this article.)