[From Pixabay]
Good morning,
Towards the end of Thinking in Systems: A Primer, Donella H. Meadows shares some insights from her lifelong work in systems thinking. To be sure, she says she didn't quite expect to pick up what she was expecting to pick up at the start of the journey. "It was something so different from what we had been looking for that we didn't know what to make of it. As we got to know systems thinking better, it turned out to have greater worth than we had thought, but not in the way we had thought."
For one, she thought it was a science of control. It turned out it wasn't. These two extracts give a sense of what she and her fellow travellers in the systems thinking voyage discovered.
~ 1 ~
"Systems thinking has taught me to trust my intuition more and my figuring-out rationality less, to lean on both as much as I can, but still to be prepared for surprises. Working with systems, on the computer, in nature, among people, in organizations, constantly reminds me of how incomplete my mental models are, how complex the world is, and how much I don't know. The thing to do, when you don't know, is not to bluff and not to freeze, but to learn. The way you learn is by experiment—or, as Buckminster Fuller put it, by trial and error, error, error. In a world of complex systems, it is not appropriate to charge forward with rigid, undeviating directives. 'Stay the course' is only a good idea if you're sure you're on course. Pretending you're in control even when you aren't is a recipe not only for mistakes, but for not learning from mistakes. What's appropriate when you're learning is small steps, constant monitoring, and a willingness to change course as you find out more about where it's leading."
~ 2 ~
"Living successfully in a world of complex systems means expanding not only time horizons and thought horizons; above all, it means expanding the horizons of caring. There are moral reasons for doing that, of course. And if moral arguments are not sufficient, then systems thinking provides the practical reasons to back up the moral ones. The real system is interconnected. No part of the human race is separate either from other human beings or from the global ecosystem. It will not be possible in this integrated world for your heart to succeed if your lungs fail, or for your company to succeed if your workers fail, or for the rich in Los Angeles to succeed if the poor in Los Angeles fail, or for Europe to succeed if Africa fails, or for the global economy to succeed if the global environment fails. As with everything else about systems, most people already know about the interconnections that make moral and practical rules turn out to be the same rules. They just have to bring themselves to believe that which they know."
What has been your own learning journey like? Did you end up finding something different, and felt grateful at the end? Let us know.
In this issue
The art of consent
The 4-day work week
The patience prayer
The art of consent [FF Exclusive]
Last month, India launched a new efficient way for customers to share their financial data resting with banks with other financial service providers. The Account Aggregator (AA) framework, which allows them to do it, is a key part of digital public infrastructure starting with Aadhaar and the popular Unified Payment Interface (examples of which are Google Pay and PhonePe). The designers of AA had learnt from the experience, but that doesn't guarantee that things will be smooth for AA, writes NS Ramnath.
"The term 'Account Aggregator' might suggest that an intermediary agency aggregates and stores your data. It doesn't. The tech is designed so that they have no visibility on your data. What it does is manage your consent to pass on information from FIP to FIU. For the role they play, a better term would be 'consent managers'. There is an interesting story behind why it's so named. The engineers behind India Stack have been working on a consent platform right from 2015-2016. Meanwhile RBI was thinking of bringing out a policy to enable sharing of data, and had a working name for it—Account Aggregators. The framework built by the India Stack team turned out to be the right technology for it, but the name stuck.
"The long timeframe also meant they had time to build an ecosystem, first through volunteers from iSpirt, a think tank for the Indian software products industry, and then through Sahamati, a non-profit organisation set up for this purpose. The interactions and the feedback helped. The system we have today has more players in the game, and has undergone more iterations than UPI had when it launched. For example, take the grievance redressal system. Pramod Rao, group general counsel for ICICI Bank, pointed out in a column in Bloomberg Quint, that 'multi-tier dispute resolution process, which keeps pace with technological advances, and makes available speedy, cost-effective resolution processes (including automated dispute resolution process and online dispute resolution), and fosters the use of APIs to facilitate a smooth transition from one tier to the next or in the choice of online dispute resolution institutions.'"
Dig deeper
The 4-day work week
Now that people have started going back to their workplaces, many questions are being raised not just about how people work, but around just how much is ideal work. While the question is an old one and has been the subject of much research, it is now resurfacing.
The New York Times opines that we are working harder than ever. "That doesn't mean we're producing more. There's a point at which we simply cannot squeeze any more useful work out of ourselves, no matter how many more hours we put in. Studies show workers' output falls sharply after about 48 hours a week, and those who put in more than 55 hours a week perform worse than those who put in a typical 9 to 5. Even during the pandemic, as work hours shot up, output stayed flat, which means productivity actually fell."
And a report on BBC WorkLife has it that "One high-profile study in Iceland, conducted from 2015 to 2019, followed more than 2,500 government workers across diverse workplaces that went from 40-hour weeks to either 35 or 36-hour weeks with the same pay. The researchers found that the majority of offices saw productivity either remained the same, or even improved. For example, in the Reykjavik accountancy department, workers processed 6.5% more invoices once they started working fewer hours; at a police station, meanwhile, the shorter workweek didn't negatively affect the number of investigative cases closed…
"In 2017, Swedish researchers found nurses who worked 35 hours a week instead of 40 took fewer sick days, which reduced employer costs. Plus, if burnt-out people quit—something that's becoming more common—the company incurs costs to replace them, and loses the expertise of the person who leaves."
Dig deeper
The patience prayer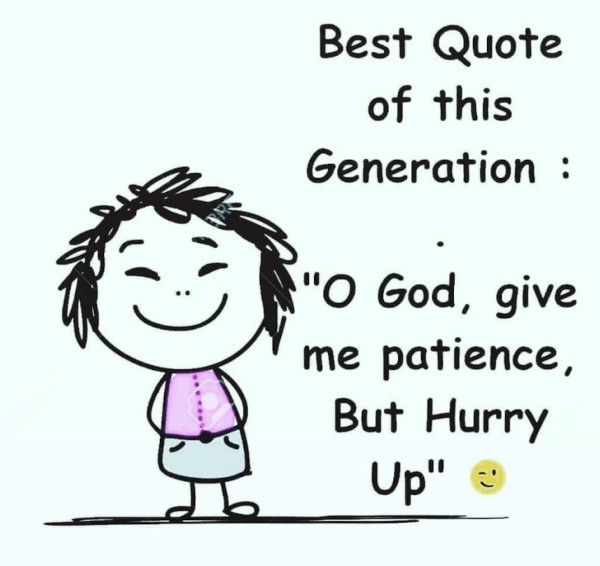 (Via WhatsApp)
Found anything interesting and noteworthy? Send it to us and we will share it through this newsletter.
And if you missed previous editions of this newsletter, they're all archived here.
Warm regards,
Team Founding Fuel
(Note: Founding Fuel may earn commissions for purchases made through the Amazon affiliate links in this article.)