[From Unsplash]
Good morning,
In a world exploding with noise, The Information Diet by Clay Johnson is an important book. It has many practical pointers on how to tune it all out and stay focused.
"Now, we're going to start off slow. Try working in five minute intervals, with a one minute break in which you can do anything, check Facebook, deal with Twitter, or check your phone for text messages, anything you want, except check your email (we'll get to that in a minute). In one hour, try working like this five times, then pause your timer. Get up and stretch or use the restroom for one to two minutes. Remember, sitting kills you.
"Once back at your desk, do another three repetitions of the cycle. By this time, you should have about 10 more minutes left in your hour. Check your email, and respond to the things that you need to respond to.
"Now sometimes this won't work for you, you may want to pay more attention for longer spurts of time. That's fine; this is a framework, not a set of laws. These rules needn't apply all the time. But I will caution you, you're training for endurance, not short bursts of speed. Usain Bolt might be the fastest man in the world at the 100-yard dash, but it's unlikely that will do him much good in a marathon.
"It's likely your mind will beg for you to work on a problem for longer than five minutes. In some cases it might be right, but stick with the programme if you can. Even experienced marathon runners often run less distance than they can, so that they can train up for speed and better endurance; similarly, we're starting off at five minutes to make it easy on you. You need to get used to this pattern of working more than anything else.
"So if you're working on complex problems, and feel that you must work longer than five-minute intervals, initially, then do it. But for a few hours, or even a solid day, give the 5:1 setting a shot. You might find that you get more minutes out of your day in the long term that way. Remember, we're starting off easy so that you don't get discouraged…
"Continue growing your work time as you see fit, at increments that are shorter than noticeable. Do only 15- to 30-second increases, never more than once a day, and try not to go longer than 15 minutes without a small stretch break, at least. Remember: we're building a healthy lifestyle for you."
Cut the clutter. And have a good day.
In this issue,
The say/do gap at COP26
How to think about AI
Why some kids miss school
The say/do gap at COP26
Time magazine's Justin Worland, who is now at Glasgow covering COP26, paints a rather grim picture of where the world is headed. He quotes a report by Climate Action Tracker, released during the summit. He writes:
"The report presents four scenarios: In the most pessimistic, countries basically continue with their current policies, leading to that frightening 2.7°C number. In a middle scenario, where countries implement policies in line with 2030 emissions-reductions commitments, temperatures rise 2.4°C. The most optimistic scenario essentially assumes that countries are either taking emissions-reducing action today that they aren't reporting (which is highly unlikely), or will suddenly move much faster on emissions reduction than they have been up to now (still pretty unlikely). In that case, temperature rise would be limited to 1.8°C.
"Many activists and analysts, however, see those long-term pledges as largely irrelevant. Commitments to eliminate emissions by 2050—or later in the case of countries like China, India and Saudi Arabia—will only keep temperatures from rising to unsafe levels if they drive real action in the next decade. 'There's a massive credibility, action and commitment gap,' says Bill Hare, CEO of Climate Analytics. That is, there is a significant gap between what is pledged—actions that would limit warming to 1.8°C—and what has actually been implemented—actions that would lead to up to 2.7°C of warming."
The key takeaway is that the urgency of the whole situation seems to have missed the negotiator. Jacob Koshy, a journalist, made a wise observation on Friday on Twitter: If COP 26 were happening in Delhi, we'd have a deal yesterday.
Dig deeper
How to think about AI
The popular narrative around artificial intelligence (AI) is that it will eventually replace humans. An essay in Wired Magazine that argued why this narrative is a flawed one had our attention.
"What is new in the current era is that computers can now do more than simply execute lines of code written by a human programmer. Computers are able to learn from data and they can now interact, infer, and intervene in real-world problems, side by side with humans. Instead of viewing this breakthrough as an opportunity to turn machines into silicon versions of human beings, we should focus on how computers can use data and machine learning to create new kinds of markets, new services, and new ways of connecting humans to each other in economically rewarding ways.
"An early example of such economics-aware machine learning is provided by recommendation systems, an innovative form of data analysis that came to prominence in the 1990s in consumer-facing companies such as Amazon ('You may also like') and Netflix ('Top picks for you'). Recommendation systems have since become ubiquitous, and have had a significant impact on productivity. They create value by exploiting the collective wisdom of the crowd to connect individuals to products…
"Early innovators in this space include Airbnb, Uber, YouTube, and Shopify, and the phrase 'creator economy' is being used as the trend gathers steam."
It is a compelling argument.
Dig deeper
Why some kids miss school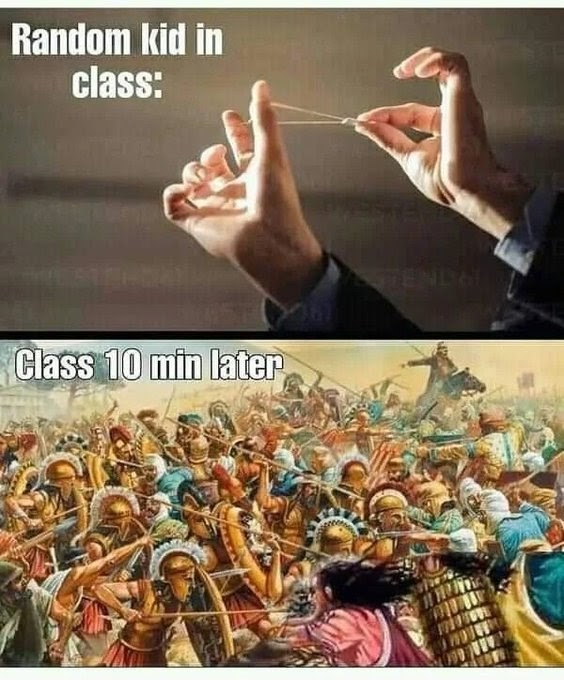 (Via WhatsApp)
Found anything interesting and noteworthy? Send it to us and we will share it through this newsletter.
And if you missed previous editions of this newsletter, they're all archived here.
Warm regards,
Team Founding Fuel
(Note: Founding Fuel may earn commissions for purchases made through the Amazon affiliate links in this article.)