[From Pixabay]
Good morning,
That we live in trying times is now evident. While most narratives have it that in times such as these you must grit the teeth, clench the fist and carry on, there are very few that tell you sometimes the sensible thing to do is to walk away. Just how do you know when to walk away? It's a theme that emerges on the pages of The Signal and the Noise by Nate Silver when he recounts a conversation with David Bowman, a seismologist who spent a good part of his life trying to predict earthquakes.
"'I'm a failed predictor' Bowman told me in 2010. 'I did a bold and stupid thing—I made a testable prediction. That's what we're supposed to do, but it can bite you when you're wrong.' Bowman's idea had been to identify the root causes of earthquakes—stress accumulating along a fault line—and formulate predictions from there. In fact, he wanted to understand how stress was changing and evolving throughout the entire system; his approach was motivated by chaos theory.
"Chaos theory is a demon that can be tamed—weather forecasters did so, at least in part. But weather forecasters have a much better theoretical understanding of the earth's atmosphere than seismologists do of the earth's crust. They know, more or less, how weather works, right down to the molecular level. Seismologists don't have that advantage.
"'It's easy for climate systems,' Bowman reflected. 'If they want to see what's happening in the atmosphere, they just have to look up. We're looking at rock. Most events occur at a depth of fifteen kilometers underground. We don't have a hope of drilling down there, realistically—sci-fi movies aside. That's the fundamental problem. There's no way to directly measure the stress.'
"Without that theoretical understanding, seismologists have to resort to purely statistical methods to predict earthquakes… 'The data set is incredibly noisy,' he says. 'There's not enough to do anything statistically significant in testing hypotheses.'
"What happens in systems with noisy data and underdeveloped theory—like earthquake prediction and parts of economics and political science—is a two-step process. First, people start to mistake the noise for a signal. Second, this noise pollutes journals, blogs, and news accounts with false alarms, undermining good science and setting back our ability to understand how the system really works."
Makes a lot of sense, doesn't it?
In this issue
The new Blackstone
A life in Covid
The year in review
The new Blackstone
Institutional Investor has a fascinating story about Jonathan Gray, the president and COO of Blackstone, to whom the firm's cofounder, chairman, and CEO Stephen Schwarzman has been passing the baton. This smooth transition has elicited some surprise among those who are only too aware of how difficult such events can be. It seems to be going smoothly for Blackstone thanks in part to the role of Schwarzman himself. But Gray is also reshaping the firm in his own image, and that's where the challenge could be.
"Gone are the days when Blackstone pursued only a traditional buy it/fix it/sell it strategy. The firm—like private equity rivals KKR & Co. and the Carlyle Group—still acquires undervalued businesses, chops head count and other costs, and unloads them five to seven years later at handsome profits for Blackstone and its clients.
"But with strong guidance from Gray, deals increasingly involve much longer-term investments. Clients agree to put up capital for indefinite periods while accepting steady, predictable returns for themselves and generous fee-earning income for Blackstone. Those investments range across real estate, entertainment, pharmaceuticals, and numerous other business sectors, with a lot of cross-pollination.
"For example, a tenant leasing space from a Blackstone-owned real estate company may also be developing a breakthrough medicine in which Blackstone has invested. Or studio lots that the firm partly owns could end up producing content for a media company also partly owned by Blackstone."
One of the things that will help Gray through this transition is his reputation—of being tough and at the same time being liked.
"It's hard to find anybody who has unkind words for Gray. Even executives who have engaged him in arduous negotiations volunteer their praise. 'He is very tough-minded and determined,' says John Waldron, Goldman Sachs' president and COO. 'But he communicates and listens well, so he's hard not to like even when you're disagreeing with him.'"
Dig deeper
A life in Covid
We woke up yesterday to a heartbreaking story by Jignasa Sinha in The Indian Express. It describes the life of a young man in Delhi who started life as a hotel management graduate, had worked through the ranks, was reduced to penury during the lockdown, and died last week.
"In many ways, the life of Salil Tripathi told the story of an entire nation's workforce, its moorings lost in wave after wave of an unrelenting pandemic. And in so many ways, his death summed up the tragedy.
"Hailing from UP's Ayodhya, Tripathi had worked in several star hotels before climbing a step up to become a restaurant manager in the heart of Delhi. He was leading a comfortable life at 36, according to his family, settling down in a bustling suburb in the national capital with his wife and their son—and so much more to look forward to.
"Until 2020 dawned, and the first lockdown came. Tripathi lost his job in the first wave, his father in the second. And within a year, this hotel management graduate had become a Zomato delivery executive.
"On Saturday night, the final blow came in the form of an SUV driven by a police constable. The vehicle, police say, knocked him down. The driver, eyewitnesses claim, was allegedly drunk. Tripathi died on the spot, leaving behind his wife and 10-year-old son, and their home in Rohini's Budh Vihar.
"When Tripathi was hit, he was waiting for a food order."
Dig deeper
The year in review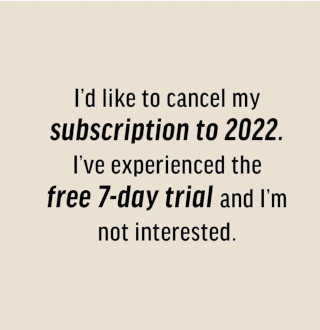 (Via WhatsApp)
Found anything interesting and noteworthy? Send it to us and we will share it through this newsletter.
And if you missed previous editions of this newsletter, they're all archived here.
Warm regards,
Team Founding Fuel
(Note: Founding Fuel may earn commissions for purchases made through the Amazon affiliate links in this article.)