[From Unsplash]
Good morning,
One of the key takeaways for us after reading The Art of Bitfulness by Nandan Nilekani and Tanuj Bhojwani and listening to them discuss their book with us on Twitter Spaces is that boundaries are good. Nilekani and Bhojwani encourage us to draw boundaries (physically, using different devices, or digitally compartmentalising your computer and smartphone) around different modes of working—creating, curating and communicating.
Boundaries are important for personal lives too. In her book, Set Boundaries, Find Peace, therapist Nedra Glover Tawwab writes, "In healthy relationships, it's okay, rational, and safe to state your boundaries. It goes both ways, however. You can have them, and the other party may also have them. For example, your boss may have a boundary that you show up five minutes early to meetings, and you may have one that you don't work on weekends. Respecting other people's limits is a beautiful way to leverage respect for your own."
But such boundaries can get a bit messy online, especially on social media. Tawwab writes, "As a therapist, I've often heard people talk about the downsides of social media: feeling left out, comparing themselves with others, and the pressure to fake it. I was worried about getting sucked in. I also feared contributing in a way that made others feel less than or jealous. But what I've learned is that you can't control the way people respond to what you share.
"Sure, as a therapist, I post with intention, and I try to consider how my posts might be perceived. Nevertheless, someone, somewhere, often finds a way to view my message in a way that wasn't intended. I've learned that their interpretation has little to do with me and everything to do with what's going on in their own life.
"To a large degree, our digital consumption is within our control. When we don't like what we see, we have a choice to continue looking/watching or to move on to something else. The moment we continue to follow something that bothers us, we agree to be bothered."
Play within your circle of influence. Have a great day!
[FF Exclusive] Mission Gati Shakti: A status report
Since the time Prime Minister Narendra Modi announced the launch of Mission Gati Shakti in October last year, all ears perked up. It was pitched as a holistic solution that holds the potential to overhaul the country's infrastructure. Just how is it going? Our co-founder Indrajit Gupta spoke to people who are clued into the ecosystem to get an understanding of where things are. His narrative has it that the highest offices are monitoring the project.
"There are at least 18 ministries—including steel, railways, ports, renewable energy—involved in infrastructure projects. By breaking down the silos, the hope is that it will improve the coordination among these various ministries, at least for the most critical infra projects. The cabinet secretary himself chairs the meeting of the empowered group of secretaries from the key ministries to review the progress. What's more, the Prime Minister's office (PMO) also has visibility on the progress."
Gupta says that while this may expedite progress, on the ground, as things are, "every ministry has its own portal and platform. The trouble is that they don't talk to each other." His conversations suggest other sore issues. Such as, "the troubled nature of Centre-State relations, the lack of coordination between the two is likely to delay projects and stymie implementation." Add to this power struggles between the current administrative services and it becomes obvious why pulling this off appears tough.
But nothing in India is easy.
Dig deeper
Are teams outdated?
An idea we have embraced is that teams and teamwork is not just good, but essential. This is why a counter-intuitive essay in Harvard Business Review that questions the relevance of teams in the post pandemic world got our attention. The authors begin by making the argument that we have ignored the cost of maintaining crossborder teams for a long while. Now that hybrid work is here to stay, the case to revisit the idea of teams is more urgent.
"Research has found that team collaboration has been especially impaired in terms of creative work, visioning, and decision-making outcomes since the pandemic began.
"Remote and hybrid teams are also suffering from a lack of social connection and belonging. We've seen in our own research that global executives are feeling less connected than ever before, despite being on an average of three work teams. In fact, being on a team can make people feel more lonely because it sets up a contrast effect. If employees are expecting to experience strong relationships with their teammates and they do not, they often feel the disappointment and loneliness more acutely.
"New advice for reducing some of those costs and creating more bonded, close-knit teams across remote/office boundaries is emerging—for example, empowering smaller groups to make decisions and fostering psychological safety. If those team intervention steps don't move the needle, it's time to think about team alternatives."
Intrigued? We're thinking about this. After having read the full essay, we'd love to hear what occurs to you.
Dig deeper
Indian relatives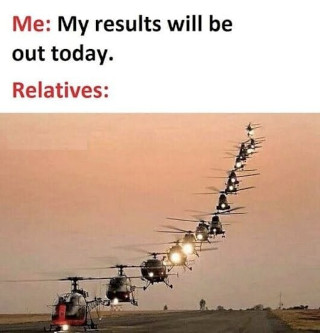 (Via WhatsApp)
Found anything interesting and noteworthy? Send it to us and we will share it through this newsletter.
And if you missed previous editions of this newsletter, they're all archived here.
Warm regards,
Team Founding Fuel