[From Pixabay]
Good morning,
We spent the weekend revisiting the pages of the bestseller Too Soon Old, Too Late Smart by the very wise Dr Gordon Livingston who died in 2016. This bestselling book was translated into 22 languages and it contains what Dr Livingston called "30 bedrock truths." And each time we read it, his wisdom leaves us with much to think about.
"When we think about the things that alter our lives in a moment, nearly all of them are bad: phone calls in the night, accidents, loss of jobs or loved ones, conversations with doctors bearing awful news. In fact, apart from a last-second touchdown, unexpected inheritance, winning the lottery, or a visitation from God, it is hard to imagine sudden good news. Virtually all the happiness-producing processes in our lives take time, usually a long time: learning new things, changing old behaviours, building satisfying relationships, raising children. This is why patience and determination are among life's primary virtues."
But this will not happen. How are we to think about it?
"One of the things that makes us human is the ability to contemplate the future. If we are to bear the awful weight of time with grace or acceptance, we have to come to terms with the losses that life inevitably imposes upon us. Primary among these is the loss of our younger selves. If we feel gradually devalued by becoming older, then our lives become a discouraging process marked by desperate attempts to look and act younger while we disregard the compensations of knowledge and perspective that should result from our accumulated experience.
"Our attention spans are notoriously short. Events move past us with great rapidity. Our memories are consequently limited and we focus on the foreground. We pay attention to a limited number of mostly young, good-looking, and wealthy persons who fill the pages of one of our aptly named magazines: People. If they are the people, who are the rest of us? What does it signify to be obscure in a world preoccupied with fame, however earned or unearned? As long as we measure others and ourselves by what we have and how we look, life is inevitably a discouraging experience, characterised by greed, envy, and a desire to be someone else.
"The process of building has always been slower and more complicated than that of destruction."
Bollywood, you have a problem
The big producers, directors and actors who now rule the current Hindi film industry have lost touch with India and what matters to Indians. That is why many recent releases such as Jersey, 83, Runway 34, Chandigarh kare Aashiqui, Jhund, Bachchan Pandey, Tadap, Attack, Heropanti 2 have flopped at the box office, argues Swati Chaturvedi in The Gulf News.
"Consider this: A film directed by Zoya Akhtar, a good director but, daughter of Javed Akhtar and sister of Farhan Akhtar for Netflix marks the debut of Agastya Bachchan, grandson of Amitabh Bachchan, Suhana Khan, daughter of Shahrukh Khan, Khushi Kapoor (whose sister Jhanvi Kapoor is also an actor), daughter of the late Sridevi and Boney Kapoor.
"Most 'Hindi' film actors read the movie script in Roman, including their dialogues. They are extremely fluent in English off-screen but, struggle to speak in fluent Hindi. As the talent pool gets smaller, these 'Bollywood insiders' trapped in the south Bombay (SOBO) bubble they inhabit, are unable to make films that speak to a cross section of India.
"Directors like Karan Johar and Aditya Chopra, both second-gen directors seem to resonate to billionaire lives in Manhattan and Knightsbridge, not Thane and Dahisar. They make movies about what they know—the life problems of extremely rich, beautiful people."
We think she has a point and the Hindi film industry will do well to introspect.
Dig deeper
The importance of Madhav Gadgil
Later this year, the ecologist Madhav Gadgil will turn 80. He is the founder of Centre for Ecological Sciences, a well-known academic and author, and is revered by students. A tribute to him by the historian Ramchandra Guha in Scroll.in had our attention. It placed in perspective just why Gadgil matters.
"When we first met, in the summer of 1982, he was rapidly moving away from mathematical ecology towards a more field-based approach to his science. He had been studying the behaviour of elephants in the Bandipur National Park and had come to the Forest Research Institute in Dehradun to speak on his research. As it turned out, my father worked in the FRI, and I had returned home from Calcutta (where I was doing my doctorate) for the summer vacations. I attended the visiting professor's talk, and afterwards was introduced to him.
"When one worked with Madhav, one learnt new things all the time. These were not just scholarly or scientific, but also institutional and professional. I had come from doing a PhD in Calcutta where the intellectual culture was then notoriously feudal, with the Marxist professors being the most feudal of all. One had to refer to a scholar even a mere month older than you as 'dada', and one was taught not to question the word of academic seniors. On the other hand, I called Madhav by his first name (although he was a full sixteen years older than me); more importantly, we worked and argued as intellectual equals, with me pushing back against his ideas I thought excessively influenced by evolutionary theory, and he challenging my ideas he thought too dogmatically Marxist.
"Madhav Gadgil is now finishing his own scientific autobiography, to be published next year, which will deal, among other things, with the comprehensive and prescient report on the Western Ghats written by a committee of experts chaired by him… The Gadgil Committee's report was bitterly opposed by the contractor-politician-bureaucrat nexus, but welcomed by a wide cross-section of the public. Had it been implemented, the floods that have ravaged states such as Kerala, Karnataka and Goa in recent years might have been mitigated or prevented."
Dig deeper
A slip of the feet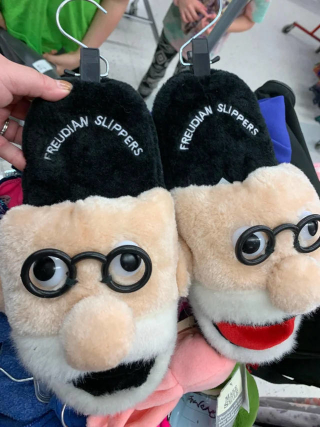 (Via Reddit)
Found anything interesting and noteworthy? Send it to us and we will share it through this newsletter.
And if you missed previous editions of this newsletter, they're all archived here.
Warm regards,
Team Founding Fuel