[By U.S. Air Force photo by Master Sgt. Donald R. Allen, Public Domain]
Good morning,
We've just started reading CEO Excellence: The Six Mindsets That Distinguish the Best Leaders from the Rest, a recently published book written by Carolyn Dewar, Scott Keller and Vikram Malhotra, three senior partners at McKinsey & Co. It attempts to draw enduring leadership lessons from 67 leaders from some of the most successful companies in the world.
Several global CEOs of Indian origin feature in the book, including Piyush Gupta, CEO of DBS Bank, Satya Nadella, chairman and CEO, Microsoft, Shantanu Narayen, chairman & CEO, Adobe, Sundar Pichai, CEO of Alphabet, Ajay Banga, former CEO and chair at Mastercard and now vice chair at General Atlantic, Ivan Menezes, CEO of Diageo, and KV Kamath, former chair and CEO at ICICI Bank.
Among the many stories narrated by the partners, one caught our attention. The theme: how to set a bold vision and direction for the company. After which somehow something would go wrong. The really successful CEOs knew how to take it on the chin—and quickly adapt and respond.
Tune in:
"Marillyn Hewson (former CEO) of Lockheed Martin shared a story about being on a customer visit overseas when then president-elect Donald Trump tweeted about F-35 costs being out of control and that taxpayer dollars would be spent better when he took office. The company's share price tumbled, cutting $4 billion of market cap in a day. Hewson and her team did what anyone would do: they got in front of the press and explained that they were looking after costs. She met with the president and told him, 'I give you my personal guarantee that we will keep costs down.'
"She thought the issue was resolved but, sure enough, another tweet: 'Based on the tremendous cost and cost overruns of the Lockheed Martin F-35, I have asked Boeing to price out a comparable F-18 Super Hornet!' So she got her advisers together and they realized that they had not been looking at the issue through the Trump Administration's lens. 'Is he really attacking the F-35 program, or is he trying to send a message to taxpayers that he is focused on defense and their money will be well spent?' They needed to get on the same page with him in that messaging. Another meeting happened, and the headlines after that said Marillyn Hewson turned from Trump's foe to friend, and the president praised her deal-making capability. That is an example of why the mindset of 'start with the why' is so powerful. Put yourself in the stakeholders' shoes: What are they trying to do?"
Dig deeper:
Listen to this podcast with the authors (supported by a transcript)
A dream gone sour
Until a few months ago, most narratives were all about how venture capital funds are pumping money into start-ups and in the war for talent, salaries are going through the roof. Almost overnight though, the narrative appears to have changed and most indicators have it that a funding winter is here.
"According to data compiled by Moneycontrol, Indian startups have laid off over 13,000 employees since the start of this year. While PE-VC funding rose slightly in the first six months of 2022 on-year, average cheque sizes have fallen almost 13 percent, signalling that growth-stage funding has slowed, forcing startups to resort to mass layoffs.
"While some employees were forced to resign, others were terminated. Some were freshers, others were experienced, high-salaried professionals. Some were contractual staff whose tenure had not ended, others were permanent employees who had worked for these companies for years.
"The common thread is that almost all were caught unawares, forcing them to dip into their savings or lean on other family members to make ends meet."
Just how are they coping? Mansi Verma and Nikhil Patwardhan spoke to 15 people who were laid off over the last six months and attempted to thread their narratives.
Dig deeper
Shattered dreams, humiliation, fight for survival
Inflation and valuation
Just how did things get here? There's an outstanding podcast with Aswath Damodaran, professor of finance at the Stern School of Business, that we tuned in to. He offered much perspective by explaining what inflation really is and how it hurts.
"(I)nflation is described as the tax on the least well off among us, the least powerful among us, because they're the ones who don't have the capacity to hedge it. I mean, it's not as if they have portfolios that they can move around. They're dependent on their income stream keeping up with inflation. If you had concerns about income inequality coming into this process, it's going to get exacerbated by whatever inflation does, at least at the lowest end of the weight spectrum. There's another hidden cost, which we know that is going to break the back of inflation, there's only one path, and it's a painful one, which is you got to put your economy into a deep and long recession. I call this the Volcker scenario.
"Most of the time, people don't have the stomach to sit through that, which is one reason why a lot of countries start in the fight for inflation, but very quickly give up, because an election is coming up and you don't want this to get in the way. But I think the reality is if inflation turns out to be higher than expected and we don't like the results of high inflation, the only way you get out of it is through a recession that's deep and painful, and guess who's hurt by that? Exactly the same people. So, in a sense, you're between a rock and a hard place here. There is no easy pathway out, which is one reason early last year I argued that even if you believe that inflation was transitory, the thing to do was to act as if it was not and act quickly. I've described inflation as the genie in a bottle. As long as it's in the bottle, you can look at it, you can laugh about it, but you let it out of the bottle, getting it back in is really difficult to do."
But just how does inflation get to where it is? What is the ecosystem that enables it? This is where he slams how valuations work.
"You might have seen this in the prospectors of every young company that's gone public.
Uber went public, and said that the total addressable market was $5.2 trillion. You know how they came up with that number? They estimated how much people spent buying cars or buying subway tickets. They added up everything spent on transportation. And there is no way that Uber's actual market is $5.2 trillion. But what they did was they put that number up front and they hoped that it'll dazzle investors so much that they would never ask any of the follow up questions. They said, market is big, therefore Uber must be worth a trillion dollars. It's what I call the Cathie Wood approach to investing. Tell a big macro story and say, therefore, every company has to be worth a lot because it's that big story. I call it the big market delusion, but they get away with it because people listen to their story."
Dig deeper
[Podcast] Making sense of the market with Aswath Damodaran
Wildlife photography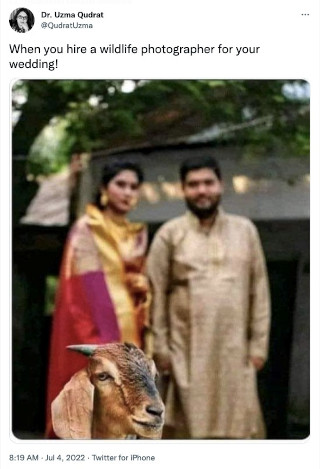 (Via Twitter)
Found anything interesting and noteworthy? Send it to us and we will share it through this newsletter.
And if you missed previous editions of this newsletter, they're all archived here.
Warm regards,
Team Founding Fuel