[By NS Ramnath]
For most of my life, I doodled mindlessly. The main focus would be on some other activity, listening to a speech, or thinking about an unrelated problem. But, as I set aside some time every day for doodling (let's call it conscious doodling) I started noticing a difference. When you are doing it, you are just following your pen on the paper (or your Pencil on the iPad). You are focused. You become mindful.
Mattias Adolfsonn (who runs a course, The Art of Sketching: Transform Your Doodles into Art, in Domestika) says it's a meditative experience for him. I can totally relate.
[Livestream of Mattias Adolfsonn, a Swedish illustrator, sketching a biker]
I also noticed that conscious doodling nudged me to think deeper about ideas I came across. It took me closer to sketch notes, where you use images and words to capture ideas. The format forces you to do two things—you focus only on the most important points, and you see the connections better. Santosh Nair, who has done graphic recording of a few events curated by Founding Fuel, calls it 'connected art'. Doodling sharpens your visual thinking and communication skills, which are important for today's world.
Here are five lessons I picked up so far.
1. Do it consistently and in public
In January this year, I participated in an online challenge called Caricature Resolution 2022. The challenge is to draw one caricature a day through January, from a list published by the International Society of Caricature Artists (ISCA). You don't just draw it, you also post it on social media, in Caricature Resolution's Facebook group, and also tag them on Instagram.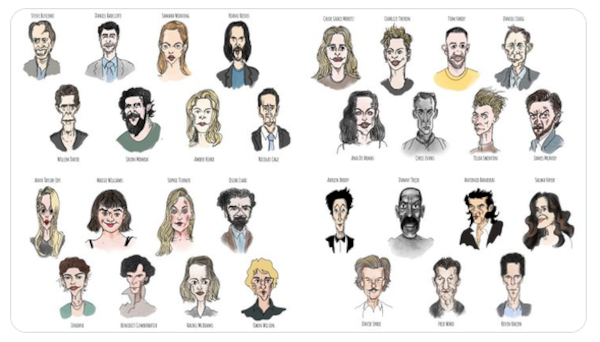 [Caricature Resolution 2022]
Doing it helped me with two things. I became comfortable posting my work to the world, with all its flaws. (Some of my friends had fun pulling my leg.) And I understood the value of consistency. You do something every day of a month, and you end up picking up some lessons.
Looking back, I am glad that it was in January because that month was particularly intense for all of us at Founding Fuel. We were busy organising Beacon, an ideas festival for BITSoM. And if I could do it then, there was no excuse for not setting aside some time for this in any other month.
2. Embrace imperfections
When you are doodling, you are not just 'okay' with imperfections, you embrace them.
Take, Liza Donnely. She is one of my favourite New Yorker cartoonists. Her wit is sharp, and her lines are simple and neat. Here's an example.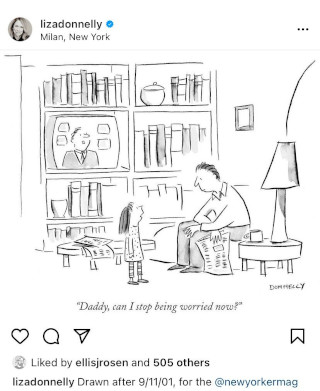 [From Instagram]
Her live sketches on the other hand have a different quality altogether.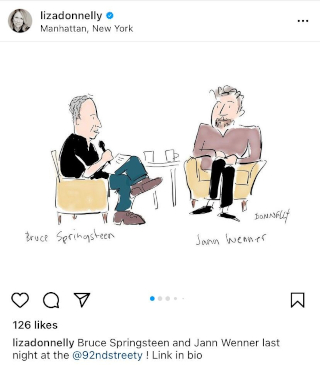 [From Instagram]
And both serve their purpose.
The point is, no one expects to see a 'painting that's as good as a photo'. Most of us carry a smartphone with a camera that can do a better job. In doodles, we look for something else.
In May this year, I doodled a few scenes from a hybrid dance performance by Usha Jey and her team. Here's an exchange that followed.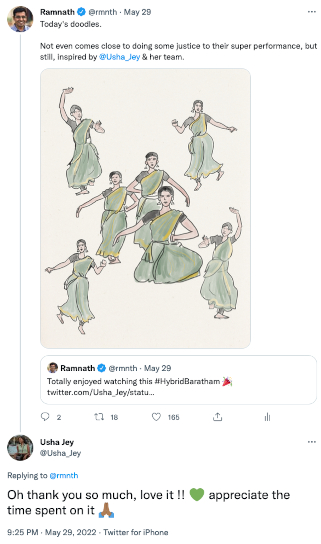 3. Take time to discover your style
One of the biggest differences that I see between my doodles, and the work of those who have been doing it for ages is style. I don't have one. I haven't found one for myself yet. But, I know that shouldn't stop me anyway.
Even celebrated illustrators have had drastic changes in style. For example, take Quentin Blake, the beloved children's book illustrator.
His style is instantly recognisable.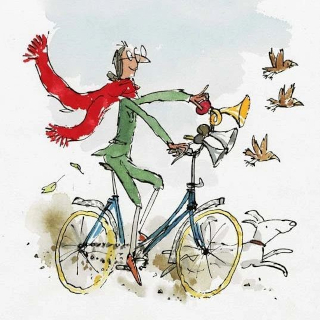 [From Instagram]
Yet, his earlier (published) drawings had a very different style.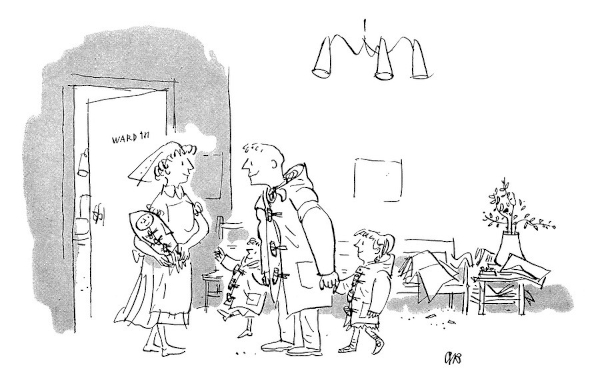 [Quentin Blake in Punch, 1957]
4. Try new tools
One of the best things about doodling is that you don't need anything more than a pen and paper. But, tools can make a huge difference. I am not even sure if I would have taken this with as much sincerity if it were not for an iPad and a Pencil. This is how my set-up looks. (I use my pencil with a grip, because it's more comfortable that way.)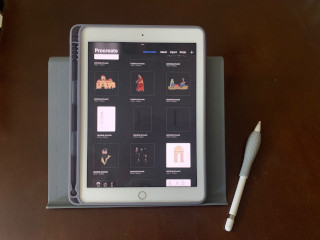 The iPad has some great drawing apps. I use Procreate. I find the layers feature useful, because it addresses one of my biggest weaknesses—getting the proportions right. I managed to overcome that somewhat, by making a silhouette first and doodling on it. Here's a recent example.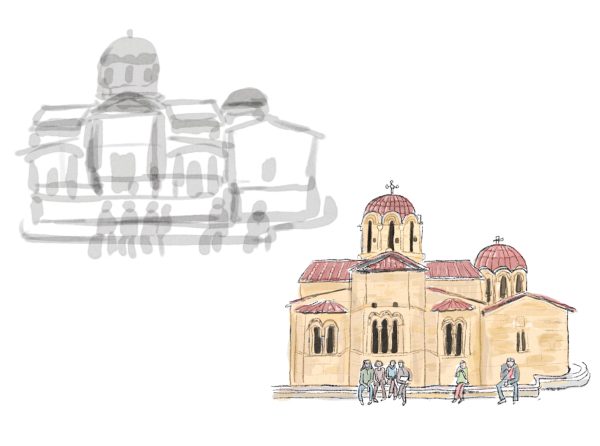 To see a blob of silhouette slowly turning into sharper lines, attracting colours, can be an experience itself.
5. Push your creativity
Doodling is about having fun. So, once in a while I try to push my creativity, seeing connections between things that we don't usually connect.
Here are two: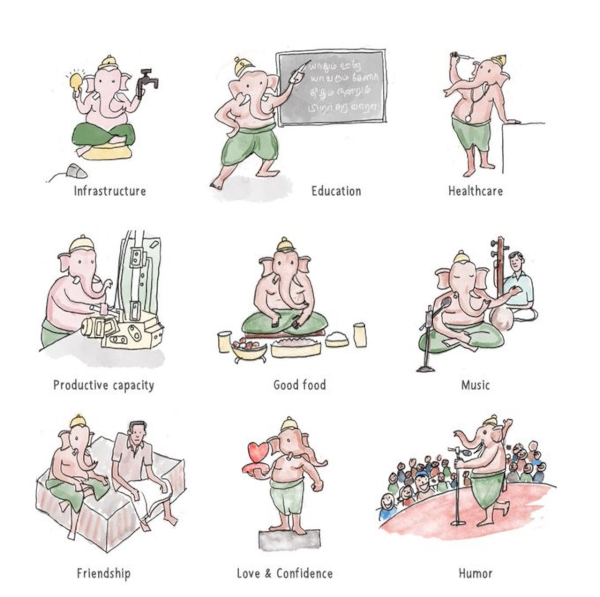 [A Ganesh Chaturti greeting doodle]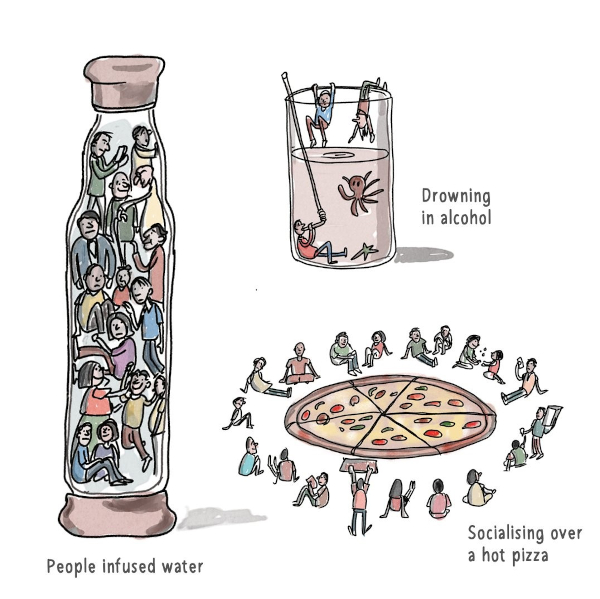 [People - food relations]
When I look back at these two doodles, the ideas didn't come when I was sitting in front of my iPad, but when I was going for a walk. As I walked, I let my imagination run wild, and then, much later, tried giving shape to those ideas. It caught the attention of people whom I admire — standup comedian Alexander Babu, who commented 'wow' to Ganesha doodle, and cartoonist Keshav, who retweeted the food doodle. That's more than what a rookie doodler can hope for!
All of these rubbed off on my work too. This year, I was a part of the Google News Initiative Newsroom Leadership Program run by Columbia Journalism School. My project was to reimagine and relaunch Founding Fuel's technology newsletter, This Week in Disruptive Tech. As a part of the project, I spoke to a number of potential readers/users, and listening to their pain points, it struck me that conveying complex ideas visually could solve some of the problems. The outcome of the project was Smart Briefs, visual notes on ideas that matter.
An image from Smart Briefs: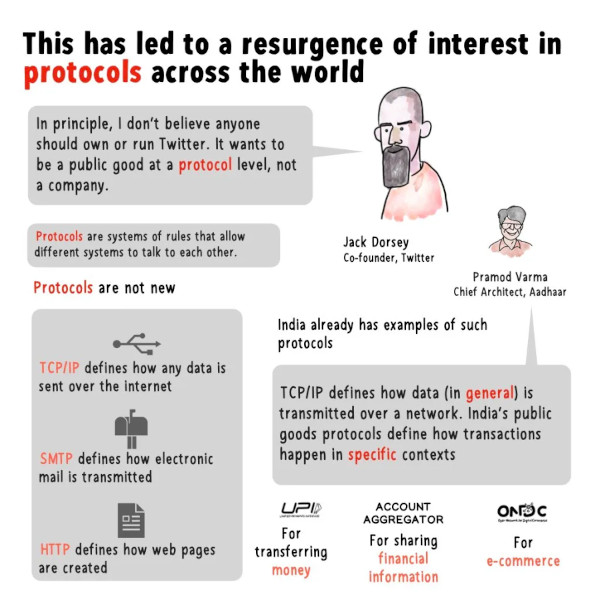 (To subscribe to the newsletter click here. To join the Smart Briefs community, fill out this form)
Like my doodling, Smart Briefs is also at an early stage of development. But I know from my experience so far that each will make the other stronger.
That is the best part of pursuing interests beyond our usual life and work. They can enrich our lives and work in ways we never imagined.