[The mountains call and the soul answers]
It's great to be back. The last few months have been a siege of sorts for the Self. And my ten-day solo trip to Nepal was as transformational—as much an inner journey of self-discovery—as I could have hoped for. Even as I discovered the country beyond Kathmandu, I reconnected with myself.
The pandemic taught me what it meant to be alive, and it also challenged several long-standing beliefs. Life had doled out lessons in gratitude—the family's wellbeing and that I had a job that allowed me work from home. But I discovered, to my utter bewilderment, that contrary to my romantic notions of work-life harmony, WFH brought anxiety and pain. Boundaries between work and home blurred. My own family seemed like intruders. That the sentiment was reciprocal didn't register till much later.
Professionally, things weren't any better. I had transitioned into a new role and it wasn't helping that, with everyone working from home, I had to build bridges with unfamiliar faces on video calls, and decipher non-verbal cues on a 14-inch screen.
I felt like a prisoner, with life closing in on me, suffocating me. Till one day, I realized I no longer recognized the man in the mirror. This wasn't me. Whoever it was, I hated him.
In September, my 50th birthday came and went. A week later, I realised I hadn't given myself enough credit for having lived well thus far.
I put up my papers at work, putting one singularly selfish agenda over all else—self-love.
Thirty days later, I took off on a solo, 10-day trip to the Himalayan Kingdom.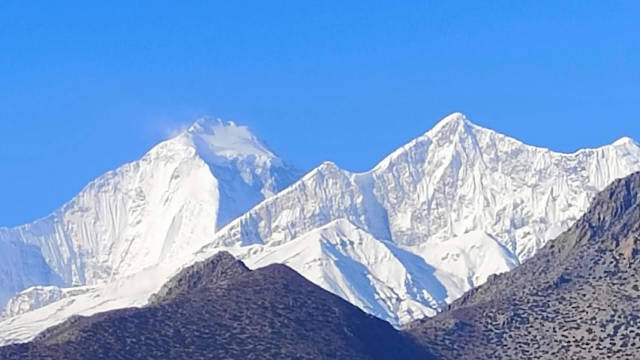 [The Annapurna Range: Summits await those who dare to climb!]
Nepal intrigued me in many ways. Some of it was expected, like the chaos of Kathmandu traffic and its touristy sights, and the buzzing lanes of Thamel, teeming with backpackers, souvenir-hunters and fashionable local youngsters. Other sights like the snowclad mountains lining the horizon were refreshingly different from the cityscapes I was used to.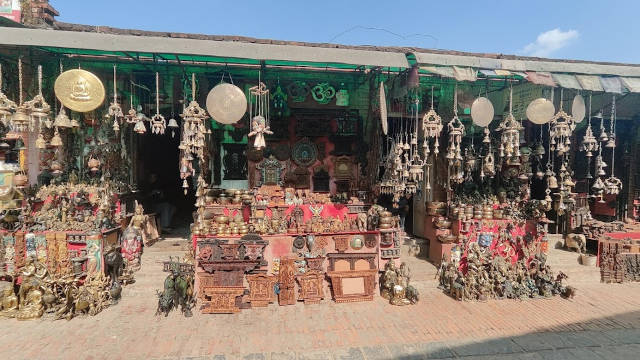 [Thamel: Where art comes to life, one souvenir at a time]
Her charm hit me only when I stepped out of Kathmandu, exploring the wonderful Himalayan vistas, lakes, caves and waterfalls, as well as cultural elements like the temples, monasteries, and pagodas.
From Budhanilkantha Temple with its reclining Lord Vishnu carved out of black basalt stone dating back a millennium, to the two-tiered pagoda style Pashupathinath Temple, the Hindu and Buddhist ways of life stayed nestled in amazing syncretism and harmony. The sights and sounds of the Durbar squares at Lalitpur (formerly Patan) and Bhaktapur, with their intricately carved wooden windows and doors, and red-brick buildings, renovated after the 2015 earthquake (some with Chinese assistance, I couldn't escape noticing!), nicely merged with the chaos of modern city life.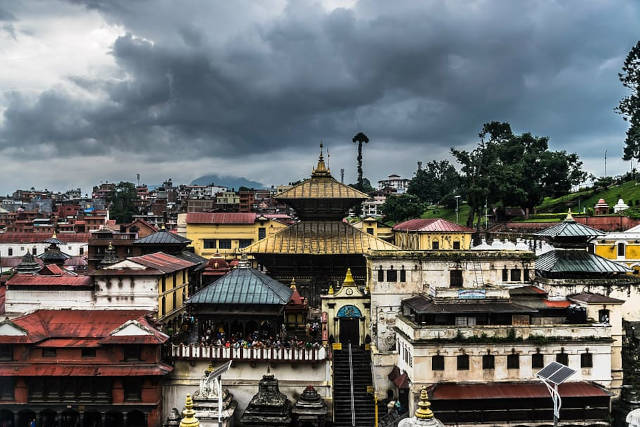 [Pashupathinath: Where the divine meets the devout]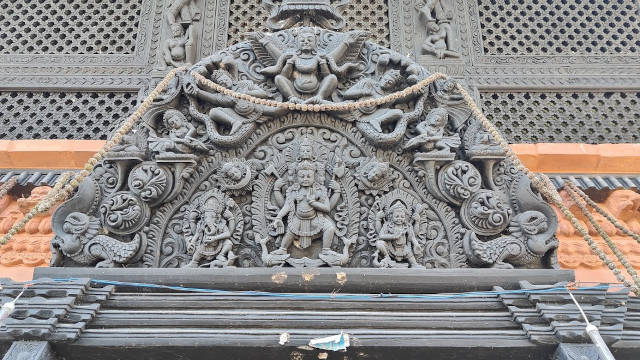 [Mythology and folklore immortalized on wood: Garuda bass relief at the palace on Durbar Square in Patan]
And then at the palace of Kumari Bahal in Kathmandu, I came face to face with a living deity, little seven-year-old Kumari with sparkling eyes and regal splendour, one that befitted her divine status of being an embodiment of the Goddess. The moment, I remember, left me bewildered and awestruck in equal measure, on the power of tradition and faith.
Bharatpur was destination next, a 20-minute flight from Kathmandu. I explored dense forests and grasslands on elephant-back and sighted rhinos and crocodiles in their natural habitat at the Chitwan national park, with the wonderful hospitality of the local Tharu tribe, who, not unlike our very own Siddi community of Gujarat, have learnt to live in harmony with nature.
A scenic five-hour drive from Chitwan, along gushing streams and rivulets, with stunning views of the Himalayas (and on awfully bad roads, if I may add!) took me to Pokhara, where the blue waters of the Phewa lake greeted me at sundown. A more intimate town than Kathmandu, Pokhara is every bit the Nepali beauty untouched by the big city vibes, just discovering her charm. My high points in the city were at 7,000 feet over the Phewa lake with only a few nylon cables for support—my first paragliding experience. This was followed with a boat ride with young school kids for company, who blew me with their enthusiasm and unbridled joy.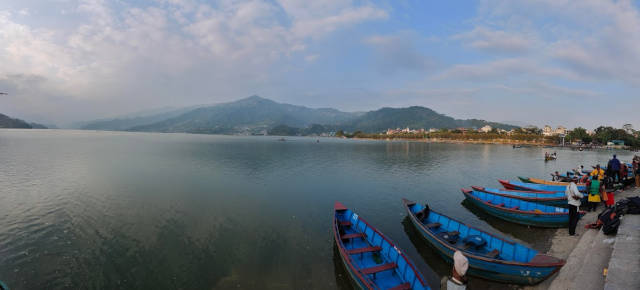 [Phewa lake: Nature's canvas painted with hues of joy]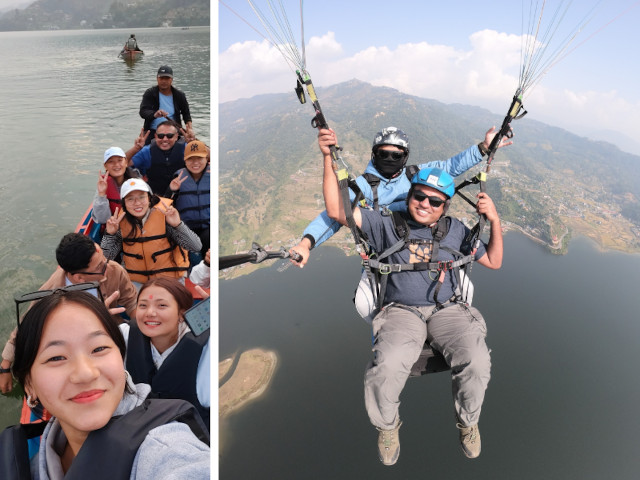 [Left: Finding joy in simple things; Soaring with the birds: Paragliding over Phewa lake]
Pokhara was also my gateway to Jomsom, a quaint town in Mustang district, nestled between the Dhaulagiri and Nilgiri ranges. Jomsom, a one-street town, with its teahouse accommodations and the odd grocery shop, offers glorious views of clear blue skies with snow-capped peaks at what feels like a stone's throw, stunningly contrasted by barren, desert like terrain.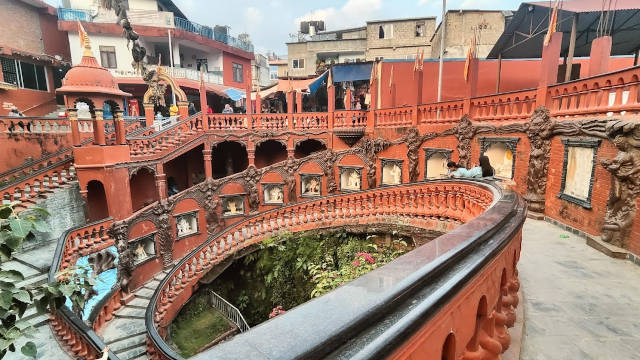 [Stairways to Spirituality: Gupteshwar Mahadev cave temple in Pokhara]
The journey to Jomsom and onward to Muktinath temple—by jeep and a trek—will be etched in my mind forever and remains my best experience on any trip, anywhere, till date.
The flight from Pokhara to Jomsom, among the most picturesque (and dangerous!) airports in the world, in a teeny weeny 15-seater aircraft, is a once-in-a-lifetime must-do trip. The landscape is simply breath-taking. As the aircraft meandered over the Kali Gandaki gorge, I felt I could stretch my arm and touch the golden peaks at dawn, even as winds blew the powdery snow off.
A warm welcome at the tea house, and a sumptuous puri-sabzi-chai breakfast later, the rickety jeep ride from Jomsom kicked off, hugging the turquoise river. It's almost a Martian landscape—only way more beautiful, dotted with monasteries and suspension bridges on one side and rocky cliffs standing as sentinels to the divinity that beckons, on the other.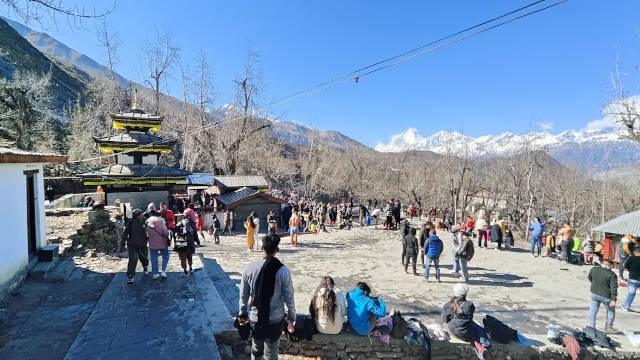 [At Muktinath: The abode of the Gods]
At Muktinath, Lord Vishnu and his consort stand atop a mountain ridge at over 12,000 ft, over 6 km from the last motorable point. At minus six degrees, I found myself gasping and it wasn't just from the physical exertion. This divine abode of the Gods, sacred to both, Hindus and Buddhists, is ethereal. The icy cold wind is fragrant with the cloying bouquet of incense. The sub-zero waters of the temple pool didn't seem to matter to the faithful, as they took a holy dip.
My mesmerisation was complete, and I lost all sense of the past, present and future, as I stood dumbstruck, peering at the tiny nub of a bluish flame that has danced in the dark in a little grotto at the adjacent Jwala Mayi shrine for over 2000 years.
As I sat on a rock to recover my breath, gulping water from the temple stream and fighting the acute mountain sickness (AMS) triggered by the rarefied air and the altitude, I could feel the cold air slice through my innards. Someone had just dug in their fingers and torn my body open. Much like we do to those rugs, comforters, and mattresses at the first sight of the warm sun after a cold winter.
The rest of the trip—my return flight to Pokhara and then a day later to Bhairwaha, and then the road journey across the Sunauli border into Gorakhpur and then Ayodhya in Uttar Pradesh, is a haze. Ayodhya was in a class of her own—but that's for another story.
The ten days spent with myself was fun. Long periods of doing nothing, waiting for the sun to go down behind the hills at dusk against a canvas of magnificent golden hues, gazing at the sky to discover a million stars, or observing a hundred faces with a thousand different expressions.
Truly a healing experience. Transformational.
Nepal was like a sumptuous thali meal, throwing in a zesty array of flavours—adventure, spirituality, wildlife, city life. You name it.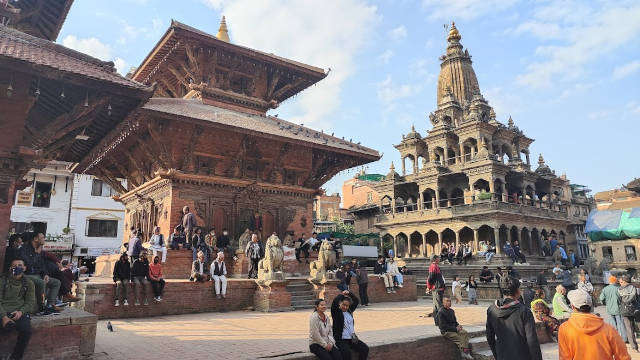 [Nepal—where artistry and craftsmanship come together to create marvels in stone and wood: The Durbar Square at Patan]
Many wins to my credit.
I managed to turn it off — the emails, the workplace clutter, the unwanted chatter. I got away and still stayed connected to what mattered. Met some interesting people with widely different perspectives and attitude to life. Trekkers, pilgrims, couples, solo travellers from across the globe—each painted the canvas of my life with refreshing colours.
Now, as I try and sculpt my experience into words, there's yet another interesting parallel I discover.
What is IN HERE was actually OUT THERE. If the crowds of Thamel mirrored the chaos within me, the serenity of the mountains at Jomsom reflected my dreams, and the wilderness of the forests, reminded me that there is, after all, an untamed side to us all.
But if I have to put my finger on THE singular takeaway from this trip, I have to confess that it was this gentleman I met. The man gave me company through the silent mountains as well as in the walks; showed me sights and sounds of the markets, as well as pushed me to high-five the Gods, to the chants and clangs of the temple bells. I've fallen head over heels in love with him.
Truly. Completely. Hopelessly.
Bravo Zulu, he tells me. Tango Mike is all I respond, as I look into the mirror.
Travel Tips
Basecamptours.com: These guys helped me put the itinerary together, including helping me with hotel/air bookings. They were pretty seamless in their execution and gave excellent advice as well, along the way. They have a very interesting blog section as well, where personal stories are shared, to help aid planning. It's best to plan through a travel agent in case you are venturing out for the first time, although they can inflate costs by about 40% compared to what you can do on your own. The advantage is that the travel agency would invariably have a backup plan ready, for flight cancellations (a regular feature in the hills) or other weather-related disruptions. They are also the familiar go-to face in an otherwise alien land.
AMS: Acclimatization is the best way to prevent acute mountain sickness (AMS) and the secret is to stay hydrated and ascend slowly. A brief period of rest in between spurts of activity helps. However physically fit you are, it doesn't insulate you from AMS. Avoid strenuous activity in the first 24 hours at high altitude and alcohol is a no-no, as it enhances dehydration. There is also OTC medication commonly taken for temporary relief and for minor levels of AMS. This is a comprehensive repository of information on AMS.