Since the pandemic started, kids' screen-time has zoomed. All their education, social interactions and time-out is now on screen. How do parents deal with it? We threw the question to the Founding Fuel network. And boy, have they been busy learning and having fun with their kids! (The replies are still coming in, so we've decided to take #UnlockMinds on Twitter all day on Sunday, 26 July 2020.)
Swarna V and Ramki Sreenivasan: We consciously raised our boy, who's eight, with extremely limited screen time—half an hour a week was the max. His school too is a big proponent of students kept away from screens and gadgets, as much as possible. However, with the lockdown our entire philosophy and understanding of the screen and its negative aspects have been questioned, as all learning has now moved online—be it school, music, art, even physical training!
But we've made peace with it. We told ourselves this is but a temporary phase of his life and that learning cannot stop. At the same time, we make extra effort daily to engage him with activities that don't require a screen—cooking, cleaning, feeding the pets, Lego, cycling, waveboarding, constructing with waste materials, building stuff with DIY kits like Smartivity, reading books aloud, playing cricket / badminton/ football inside the house and in the corridors.
And a bonus: Covid-19 has allowed more time for watching birds from the balcony.
Amrita and Sumit Chowdhury: It's been fascinating to see our daughter Aishani's journey over the past four months since the lockdown started—from a student worried about the postponement of exams to a confident young baker-turned-entrepreneur, who is effectively balancing school work, co-curricular enrichment activities, along with her passion for baking.
I always recall Sumit's fascination with the movie Life is Beautiful and how the protagonist had turned an extremely adverse life situation into a game with his child, and I can say, as an up-close onlooker, that he has been able to help Aishani transform the pandemic—and its uncertainties, challenges and downtime—into an enriching experience.
[Click to view the slideshow]
Aishani has been baking since Grade 4. Sumit has been making breads every Sunday since the past year. They launched their brand "Dough & Batter" at the start of the lockdown.
The change in Aishani has been very apparent—she has risen early and happily spent long hours baking and decorating. But the experience has been much more transformative than that. Given that Dough & Batter is a registered MSME cloud kitchen and bakery, she has learned first-hand the principles of business, finance, schedule management, production planning, order delivery, product planning, pricing, packaging, customer engagement, marketing, and much more. She has become a calmer person. Baking is her mood lifter and her meditation, and the lessons from baking—of planning, patience, diligence—are reflecting into other areas as well.
Lulu Raghavan: The lockdown has sparked a creative renaissance in my household. It started with my birthday in April. The highlight of the day was in the afternoon when my younger daughter, Riva, organized a painting session for her and me on the terrace. She set up a picnic station along with all the art material—and lemonade that she made for the occasion. It was so exhilarating to take in the fresh air and play with colours, enjoying Riva's commentary on what art means to her.
[Click to view the slideshow]
This seems to have really stirred her creativity. She then wrote and produced a play with other children in the building with the help of one of our neighbours, Gauri, who is amazing with kids. I enjoyed giving her feedback while she rewrote the script a few times. I was pleasantly surprised at how open she was to feedback!
Both my girls have really gotten interested in cooking. We tried making pizza from scratch a few months ago. They loved cooking with their dad for Father's Day—an awesome way to spend that Sunday morning.
Most recently, my elder daughter Ruhi had to create art from newspapers. It was so much fun to help her make newspaper tubes and create a pencil holder.
Dinesh Narayanan: We have a game going where I ask him a random trivia unexpectedly. When did Vasco da Gama land on the Kerala coast? 1498. Where? Kappad beach. Or, what's an equinox?
The fun part is that there is no structure. It is like Calvinball. We make up the rules as we go along.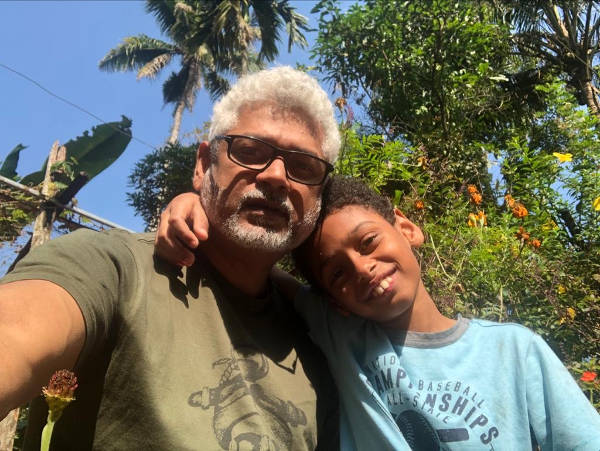 I've noticed that it has helped him think of concepts at odd times. Such as prime numbers. It helps retain in memory and kind of keeps the mind sharp, I suppose. It's easy for fatigue to set in and get distracted in these times. An unexpected question jerks you back from a distraction and helps quickly focus.
I'll repeat the same quiz randomly. Sometimes after several days. Sometimes when he is in the middle of blasting rivals in Fortnite. Now he says he can answer in his sleep. And he wants to visit Kappad beach. Hopefully soon.
Rupinder Bhinder: We too consciously wanted to keep our 10-year-old son away from gadgets.
We dabbled with cooking and baking together as a family, but it fizzled out. Being fitness enthusiasts, we put an exercise routine in place—thankfully, that has become a ritual. My high was when I saw my son making his superheroes do planks.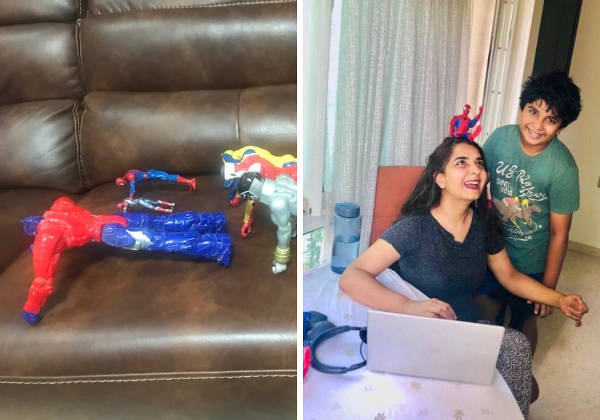 We also ensured his interest was maintained in art class (now virtual though), coding and we enrolled him for learning a new language. While the class is one aspect, practising what he has been learning has been the key. I ensure I spend time with him to practise. We doodle mandala art together, try new codes and share small successes, conversing in the new language he learnt. As the days and months have gone by, we have somehow managed to make sure that we spend time with each other in-between his breaks and my calls. Screen time is surely avoided when not needed. From my experience, I can say that, as parents, we need to be role models. Kids pick up what they see us do. Screen time is just one such thing!
The one thing that has been difficult has been to get them to read books for fun. My solution? I have been reading to them every night before they go to bed. This has been a great way to digest books together! Currently we are reading Horrid High written by a dear school friend, Payal Kapadia.
Saikat Chaudhuri: We play with and take care of the new dog we got, create an organic vegetable garden, and learn cooking!
[Click to view the slideshow]
Anirudha Dutta: I must say it has been an experience like never before. After the initial worries, our son arrived back from the US just before Mumbai went into a lockdown. While we were relieved, our nine-year-old daughter was totally thrilled to have her dada home. She was also thrilled to get time on the screen and was the fastest to pick up how to have a background screen on Zoom. Her navigation capabilities on Zoom, Google and the internet in general have improved.
Be that as it may, like most parents I was distressed by the amount of time she was spending on screens—the iPhone or iPad in bed, the PC for study, and the large TV screen!
So, my daughter Avantika and I started playing Dumb Charades one evening. We now do it fairly regularly in the evenings—half an hour or an hour a couple of times every week. Then Avantika started exercising with her brother.
And then thanks to some videos on YouTube, she picked up an interest in baking. Now my wife Shom can bake and I haven't even ever ventured anywhere close to baking. But Avantika decided that she wanted to bake with me. And bake we did. It started with strawberry tarts one evening. And guess what? They tasted like strawberry tarts. After that there was no looking back. Our soaring ambitions have resulted in cookies that turned out to be awesome (even Shom said so!) and red velvet cake for Shom's birthday (with a messy kitchen but a perfect outcome).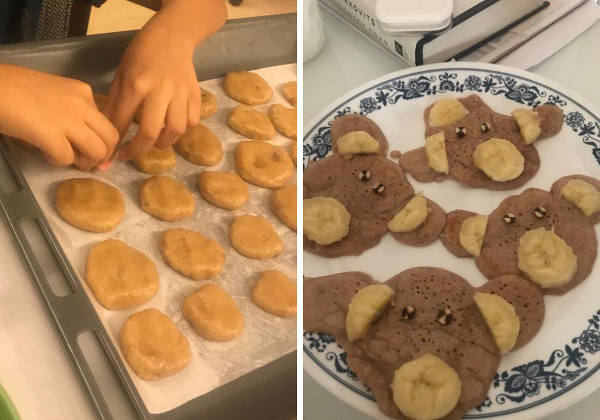 It has been an adventure and also learning for both of us. And it's precious time together. I can't honestly say that screen time has reduced since all the recipes were searched on YouTube, but we learnt the importance of perfectly measuring all ingredients, sequencing what should go first and what should go later and working together. Most of all we had lots of fun!
Abhijeet Pandit: My wife Priya and I have limited our son Sid's phone usage to an allotted time, and we've unsubscribed Netflix. We read with Sid a few times a week. We have helped him keep a diary—he makes his own notes about what he reads, the difficult words, etc. We also encourage him to interact with other kids during his daily outdoor playtime, which is a must. Latest research explains the correlation between physical activity and development of the child's brain. Yes, outdoor is limited currently, but we try and make the most of what we can. He goes cycling.
Joydeep Sarkar: We can see the impact (of being cooped up indoors) on my son who is into soccer big time. Last Monday onwards I have started walking with him for 30-45 minutes. On the second day he didn't want to go on the pretence that he felt weak. This from an otherwise outdoorsy kid! Now we've made it a discipline. We talk while we walk. I hope he gets back to his normal self. We are also cutting down his recreational screen time by small portions.
Santosh Nair: I gave up the idea of trying to limit screen time for my girls. Having subverted a lot of restrictions when I was their age, I knew they would find workarounds!
Instead, I have tried to work with their strengths or interests.
My elder daughter is an introvert and a voracious reader. Usually, I restrict the number of books I get for her in a month. But during the lockdown, I ordered all the books she wanted. What I was not too happy about was that she was reading the typical teenage stuff. She loves history. But she finds the books in my collection a bit heavy. So I got her HG Wells' A Short History of the World. She reads one chapter a day and explains it to me. That way I could get to increase my knowledge and by explaining it to me, her understanding of the subject too is improving.
My younger one is the outgoing type—good with people, and simply hates books. She is 12. Thankfully, she is crazy about cooking. On her own, she enrolled for a few online cooking classes for children. I played sous-chef to her by ensuring that the vegetables were peeled and chopped.
She loves to experiment, and both I and my wife let her do that to her heart's content. On the flip side, we ran out of our stock of oil by the 20th of the month.
I engage with her by helping her with her studies once in a while—not for her to score better, but to encourage her to ask questions. I also try to introduce a subject not part of the syllabus and have a discussion on that. I leave her with a few unanswered questions and ask her to find it out herself.
She became interested in learning Malayalam. So, twice a week, we watch a Malayalam movie together, without the subtitles. We pause the movie every 5-10 minutes and go over the dialogues. Yes, this is screen time, but it allows me to engage with her.
Share your stories of how you and you children are bonding during the times of the pandemic. Share them on Twitter using #UnlockMinds.