[From miniso.com]
By Tom Nunlist
"The rise of the internet is killing physical retail," so goes the popular narrative. That idea certainly has merit and evidence to back it up—some types of retailers, such as traditional malls and shopping centers, have faced huge challenges. But perhaps it would be more correct to say that it is forcing change. Another truism that has become popular in recent years states, more or less, that the presence of constraints, as opposed to complete freedom, often better stimulates creativity and leads to better end results. This seems to be the case with the variety retailer MINISO.
MINISO was founded in 2013 by Chinese entrepreneur Ye Guofu and Japanese designer Miyake Junya. In just a short time, their company has exploded to an emerging business empire with 1,800 stores in 40 countries, delivering an eclectic collection of affordable, curated goods, challenging the physical retail naysayers. China alone has more than one thousand stores, stocking items like cups and socks typically around RMB 15 ($2). And as Ye explains in this interview, MINISO is a brick-and-mortar-only business model built around the reality of a world with e-commerce. Through careful consideration of the customer and a unique aesthetic, it manages to do what online stores cannot: Deliver an experience.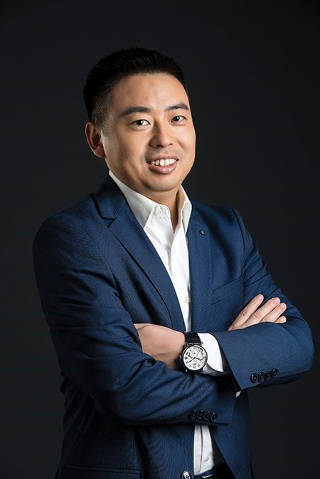 [Miniso founder Ye Guofu]
Q. What were your initial goals starting out, and did you imagine that you would become successful so quickly?
A. At the time we founded MINISO, the physical economy was in a decline due to the rise of e-commerce. Before that, the physical economy had exerted a monopolistic influence on the market, relying on its sales channel advantage. Although retail product prices soared because of the many distribution layers, far surpassing actual value, consumers had no other choice but to accept it. But when e-commerce emerged, the physical economy met a [great challenge]. The public was also pessimistic about the future of the physical economy and thought that e-commerce would undoubtedly [take over]. E-commerce swept the market full-force while the traditional retailers still clung firmly to the old model, unwilling to let go of the huge profits brought by the distribution system… As an insider in the physical economy for more than ten years, the situation [frustrates me]. But I firmly believe that it is the physical economy that will dominate the future as long as the exposed problems can be solved and it can refocus on the products.
So we hope to establish a new business model to break the price inflation of traditional retailing and make the price truly match the actual value of the products, and we also focus more on quality improvement. Moreover, as a consumer myself, I deeply understand that consumers all desire a combination of high quality and low price, instead of low price and poor quality. And after going around Europe, America, Japan and South Korea and learning from their retailing expertise, we established MINISO.
The success of MINISO, even though quite large, is still within our expectations because this model both meets the trends of economic development and the true needs of consumers. So since the foundation, we have foreseen that MINISO will enter into different markets around the world and be widely recognised. However, we didn't predict that it would happen in such short time—1,800 stores have been opened in the world within three years. Such speed is far beyond our original expectations. But it also proves that the market is in bad need of such retailing brands like MINISO to break and rewrite the industry rules.
Q. What was your inspiration for the store?
A. Many factors together inspired our brand. During that initial start-up period, we travelled to different places around the world hoping to find an ideal model to revive the retail business of the physical economy. We were inspired by the 100-yen shops popular on Japan's streets, and the harmonious co-existence of physical economy and e-commerce in Europe and America's markets. Also, that period also witnessed the rise of minimalism, which was quickly accepted by consumers from different backgrounds. It meant that after fully experiencing sophisticated design, consumers are now longing for simply styled and quality products to adorn their lives. This [gave] us the right direction. And so MINISO was established by combining these factors into our stores' furnishings, product design, business model, and so on.
Q. How did you meet the chief designer, Miyake Junya, and what was the process like creating the concept and feel of MINISO together with him?
A. [We met] by coincidence and also by destiny. Our acquaintance is indeed a reflection of an old saying in China: Everything is predestined. At the time, [the team] only had a very general concept of our store. There was still much room for improvement and many things to be deeply considered. It happened that one of my friends introduced Miyake Junya to me. Since he entered the field of design, he has cast doubt on the overly complicated and exaggerated designs that prevail in the [consumer retail] industry. These were also our thoughts—if only we had met earlier! This consistency of concept laid the foundation for our further cooperation. And so after some discussion, we reached an official partnership that perfectly helps us solve the problems [we saw] in product design.
Q. MINISO stocks some 4,000 products. How do you design and curate such an enormous number of products so that they all feel like they belong in the store?
A. We established a product centre to be in charge of the research and development work of all the products. The 200 staff in the team are all professional buyers, and they all travel around the world, to all the fashionable cities, to discover the most promising trendsetting products and ideas. Then, taking into consideration our target consumers' demands and the deliverability of MINISO, they put forward development proposals for new products. After receiving the proposals, we will decide their feasibility according to our database. Being approved, the proposals will be delivered to Miyake and his international design team to do the design work. This team is composed of elite designers from all around the world, but especially Sweden, Denmark, Norway and Japan. Their designs favour the simple, pure and unadorned characteristics of Northern Europe and Japan. This is what establishes the unity of our product designs.
Q. What is the balance between ensuring products conform to a certain aesthetic, and preserving the 'treasure hunt' feel of going to a variety store?
A. It is indeed the art of display. As a designer brand of fast fashion, our products are large in quantity and we also update rapidly. MINISO demands a product turnover of 21 days, with products updating every seven days so as to keep the feeling of novelty for consumers and give them a new surprise every time they come to the store. Therefore, we pay much attention to the product displays… It may sound easy, but it is really complicated in practice. What's the difference in number of columns when different items are displayed on the same shelf? How to create the best visual effect? What's the most proper height of the shelf so that the consumers can most easily reach the items? And so on. The display itself is creative work that demands the spirit of exploration. Once the standard is set, we will apply it to all MINISO stores around the world. But we also encourage our staff to understand and flexibly apply these standards.
Q. You talked a bit about e-commerce already, but what precisely about MINISO makes it so successful in the face of online retail?
A. In fact, e-commerce is not so threatening as imagined. The public says that e-commerce has inflicted a fatal blow to the physical economy, but you see some enterprises like Uniqlo not only survive but even thrive.
The key to our success is that we have established a unique business model. With our remarkable product design, affordability and excellent shopping experience, we have created a "New Retail." As mentioned before, we have a professional international design team. They don't create things out of thin air, but instead probe into the supply chain and participate in the research and development work. They study the feedback from back-end data and design the products to have simple and smart characteristics that integrate texture with practicability. Meanwhile, we strictly select quality global suppliers as our partners, including some big names in the industry, such as Intercos and Givaudan, in order to guarantee the quality of our products from the origin. Meanwhile, bulk purchasing and 100% buyout helps us push our production costs to the lowest possible. Plus with our low gross margin of 8%, our products can really realise "high quality and low price." Furthermore, we pay much attention to store decorations and services because these two factors give consumers the most direct impression. Normally, we will spend about RMB 400,000 decorating a store of 200 square metres. We promise to make our customers feel comfortable with every detail. In the aspect of services, we believe "the best service is no service" (meaning customers are not disturbed by the staff). We hope our customers can freely select the products in the most relaxing way possible. Consumers are very smart, and they know where to buy the [best products] at the best price. When MINISO meets their every demand, they will naturally choose us.
Q. What is the balance between your physical and online presence?
A. We just have physical stores. We don't sell online. Now we have strategic partners in over 40 countries and regions around the world… We predict to enter over 100 countries in the coming year and open 4,000 more stores. We believe physical sale is the future and we will keep focusing on improving our stores.
Q. Is there a great deal of localisation at your international stores, or do you find that customers everywhere enjoy the variety store experience?
A. Before MINISO enters a new country, we first do many tasks such as carrying out intensive surveys to understand local policies and regulations, cultures and traditions. After entering the market, we will also make proper adjustments in aspects like the product variety according to local demands. However, we will never change our service goal and location selection principles. No matter how consumption patterns change, consumption needs are always there, and consumers will never tire of shopping in stores. When we truly realise our dream of offering high-quality, low-cost products, and give consumers a relaxing shopping experience, they will definitely welcome our stores.
Q. It seems that the most challenging market has, ironically, been Japan, which still only has a few MINISO stores. What has been the challenge there?
A. The Japanese market is not like Chinese market or other overseas markets. The 100-yen shop concept originated from Japan and has become a very mature model after several decades' development. Some tycoons have monopolised the market as well. As a new brand, it's hard for us to enter this well-divided market, much harder than entering the Chinese and other markets. At the same time, as a developed country, Japan has a very mature consumer market generally. From department stores, KA hypermarket to online shopping, they have already passed the stage of fierce competition. Every channel possesses its own stable customer groups. So there is a high degree of consumer loyalty that won't be easily influenced by others. Nevertheless we will continue to try to grow our market share there.
Q. What is in store for MINISO in the next few years?
A. After several years' development, MINISO has basically completed its strategic layout in China. 2016 witnessed the start of MINISO's march into international markets. In the coming years, the speed and ratio of our overseas expansion will far surpass that in China's market. We estimate that by 2020, we will have completed the target to open 6,000 stores worldwide. And we will stick to our mission—"Let consumers around the whole world buy better quality products at lower prices"—and make MINISO a world-class retailing enterprise.
[This article has been reproduced with permission from CKGSB Knowledge, the online research journal of the Cheung Kong Graduate School of Business (CKGSB), China's leading independent business school. For more articles on China business strategy, please visit CKGSB Knowledge.]