[From Unsplash]
Good morning and a happy Christmas!
In the last few days, as we sat back and took stock of our work through the year, some trends came into sharp relief.
It showed us continuing global issues, where the year was dominated by conflict (the Ukraine war, US-China standoff, the threat of nuclear war…) and concerns about climate change, but also hope.
On the domestic front, we analysed the Adani-NDTV takeover saga; consumer-tech developments like 10-minute delivery and superapp Tata Neu; the state of the nation through conversations around the road to the 2024 elections and India@100; leadership lessons from a contrarian entrepreneur in the SaaS space (Sridhar Vembu) and TAS (Tata Administrative Service); and the debate on moonlighting.
As we take our customary year end break till January 2, 2023, we urge you to explore these stories over the holidays.
This is part 1 of our best work—a list of 14 articles and conversations.
On Monday, December 26, we will share part 2—the best of FF Life.
And on December 30, a curated commentary from a diverse set of experts on The World in 2022—that covers a range of themes from geopolitics, energy, the virtual collapse of FAANG (and Twitter), gender justice, and much more.
Have a great holiday!
Team Founding Fuel
1. US-China standoff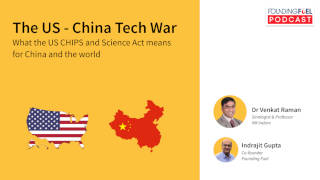 The US CHIPS and Science Act opens another chapter in the tussle for supremacy between the two countries. Sinologist and professor at IIM Indore, G Venkat Raman, unpacks the many dimensions to this latest US policy thrust, where the US is pushing American and non-American high-tech firms to throttle supplies to China's tech sectors.
Here's one: "It might seem that only Chinese firms will be majorly hit—like SMTC or major automobile manufacturers like Geely and BYD. But this is going to have implications for American firms, non-American and non-Chinese firms as well."
2. Conflict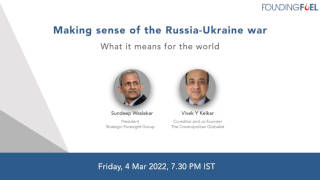 Russia's invasion of Ukraine in February is perhaps the biggest conventional military action since WWII. The implications for global order are staggering, say Sundeep Waslekar, president, Strategic Foresight Group, and Vivek Y Kelkar, co-editor and co-founder, The Cosmopolitan Globalist.
Consider these two possibilities:
"I don't know what might be left of Ukraine in terms of modern civilization, if this war goes on for several months… Will the heritage sites in Ukraine be protected?"
"The closer the China-Russia cooperation is, the more the world will be bi-polar."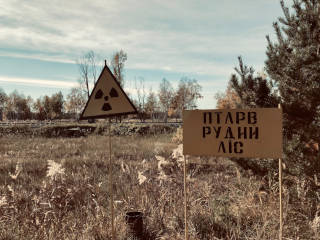 Nuclear annihilation is just a spark away, writes Sundeep Waslekar. "It is not only the war in Ukraine which poses a threat of nuclear annihilation. A potential spark between the US and China in the Taiwan Strait or an unexpected turn of events in the Korean Peninsula can also inadvertently push the world towards collective suicide."
3. India's neighbourhood

What is Xi Jinping's China really like? And why should China's internal political intrigue matter to outsiders, especially India? The Communist Party of China's 20th party congress in October provides the clues to, among other things, the direction the Chinese economy is headed, what can we expect from China on the international stage, and what should India be watching out for.
Two aspects that stood out for us:
"China has been pretty active in India's neighbourhood—by integrating India's neighbours more closely with China's economy. Today we have to worry about China's presence in Sri Lanka, Myanmar and Nepal.
India is critical to China's gameplan. For the first time in 250 years you have three significant powers on the Eurasian mainland again—Russia, China and India. Two of them are certainly rising and the third, while declining, will take a long while to decline. The Indian Ocean region returns to the geo-economic relevance it had before the 18th Century.
4. Climate change and energy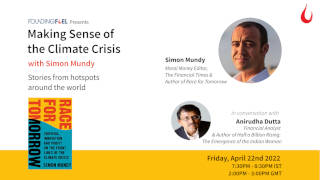 Simon Mundy, the Moral Money Editor at the Financial Times, and the author of Race for Tomorrow, talks about how the crisis and the experiments to avert it are reshaping our world.
He says, in India you see many of the key angles of the climate struggle in sharp relief.
For example the scale of the need for energy. India is also in the firing line of some of the worst effects of climate changes—cyclones, droughts, floods in the mountains.
He goes on to talk about the changes brought by the accelerated melting of Arctic ice; how the move to a low carbon economy is now core business strategy; the humanitarian aspects of "green" tech—like the rush for cobalt and other rare earth metals for EVs and the forced labour in the solar industry; and climate refugees.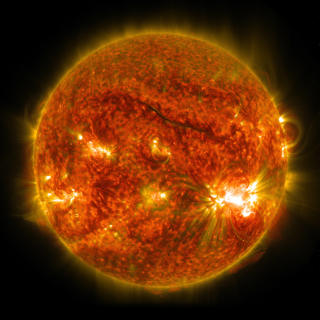 Then there is the recent breakthrough in nuclear fusion that could help tackle climate change by generating cheap, clean, and nearly limitless energy. Earlier in December, scientists at the Lawrence Livermore National Laboratory in California were able to generate more energy than is used in the experiment—the holy grail of fusion research.
In this explainer written before this breakthrough, Samuel Pepys writes, "Fusion, as a scientific concept, has been proven since the 1950s but has eluded an engineering design that could make it a useful technology in real life." Of the many small breakthroughs, he writes, "They are the result of decades of patient research carried out in obscurity, amid financial constraints and derision from fellow scientists who said the whole thing was a waste of time."
5. Leadership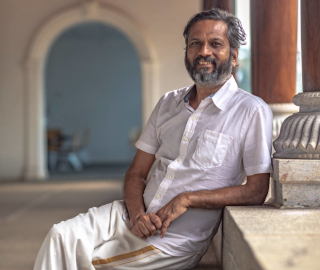 Sridhar Vembu built Zoho by questioning the conventional wisdom. For the longest time, no one took much notice. But now people are curious about what makes him—and Zoho—tick.
NS Ramnath writes: "Sridhar is not yet another rich guy holding forth on various topics post-retirement. As Zoho's CEO, he is very much "in the arena". His business—making software products for the cloud—is in one of the hottest segments right now. The Indian SaaS industry is set to cross $100 billion in revenues by 2026, according to Zinnov, a consulting firm. Zoho is not only a leading player in the sector, its alums went on to start up other companies, most prominently Girish Mathrubootham who founded Freshdesk and listed it on Nasdaq last year. Sridhar himself never took venture money nor has any plans for an IPO, which has made him a cult figure among entrepreneurs who want to bootstrap….
"Now, as valuations of tech companies take a hit, and a funding winter descends on the startup world, an increasingly greater number of people see value in Sridhar's approach."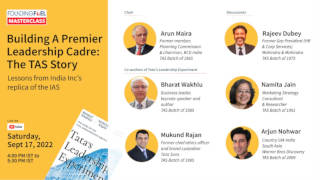 TAS (Tata Administrative Service) is one of the oldest leadership development programmes, and the most well known.
"There was no programme as diversified as TAS in terms of giving you exposure across industries and functions. Programmes at several other Fortune 50 companies operated within the sector and framework of that particular industry…. Many TAS officers transformed the businesses they were a part of, because they thought of themselves as entrepreneurs, as owners of that business. [But] dissonance came in when the opportunity to do that began to shrink."
6. India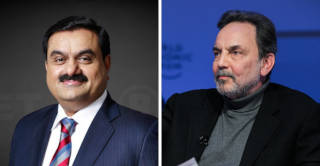 Indrajit Gupta has been following the takeover drama since October when the news first broke out, looking through the jumble of legalese to bring us a clearer picture of what was happening and its implications.
The drama reached its climax in early December and Gupta explains how the end game is likely to pan out.
He writes: "FT published an interview with Gautam Adani, where he spoke about his responsibility to maintain NDTV's editorial integrity. And more importantly, he also stated he had invited Dr Prannoy Roy to stay on as chair of NDTV…
"For Adani, this move signals an attempt to play down any public concerns around a hostile takeover of a big media entity. For Roy to stay on as chairman of NDTV, even while the operating reins pass on to Adani, may not be an acceptable arrangement. Unless there are clear commercial benefits for the Roys in doing so."
"In any case, as soon as the warrant conversion goes through, the Roys no longer have to worry about the outstanding interest-free loan of Rs 403 crore in RRPR, since the ownership of the holding company will now lie with the Adanis. Plus, they don't need to worry any more about the shares that are attached with the Income Tax authorities either."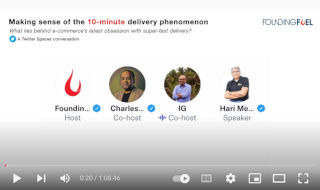 Hari Menon, co-founder & CEO, BigBasket, deconstructs e-commerce's latest obsession with superfast delivery.
He gives a sense of how Big Basket looks at this and the use case for online grocery and quick commerce. And what explains VC money flowing into quick commerce.
He says, he'd never set up a standalone business which is only quick commerce, if it's going to serve only 10-15% of the market. His reason? "For unit economics to work, three parts have to work together: last mile delivery at low cost; gross margins, which depend on the price you are selling the product at; and your ability to charge for delivery.
"The quick commerce business drives a fairly low average order value of about Rs 400. To increase that you have to increase the range and have larger store sizes. To have larger store sizes, you have to service a larger area. And when you service a larger area, the time to deliver keeps increasing."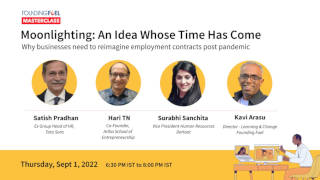 Satish Pradhan, TN Hari, Surabhi Sanchita and Kavi Arasu unpack the undercurrents and how leaders are thinking about it.
One thought that emerged: "Using your core skills for other gigs—what else can an employee do? It's very difficult to identify whether those core skills have been paid for enough to expect somebody not to use those anywhere else and your unlimited time is available for deploying those skills only with the current employer, is a bit vague."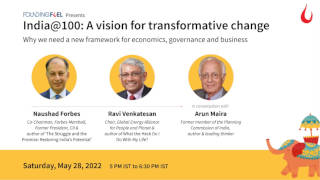 In the 75 years since Independence, how progressive is India? And how ought we even define progress?
The next 25 years to 2047 when Independent India will be 100, is yet another opportunity to take stock of where we are, where do we want to go as a nation, and what will take us there. Arun Maira, Ravi Venkatesan and Naushad Forbes discuss what we need to learn and what we need to unlearn. Because the shape of economics, governance and business must change to fulfil our tryst with destiny.
One takeaway: "We add roughly 10 million people to our population every year. And will continue to do so for the next 15 years till population peaks and starts tapering off.
Self-employment alone will not create really good livelihoods for 10-15 million people a year. You need good jobs at a large scale—from manufacturing, more formal services, and more informal services but with much greater protection built-in (basic health and unemployment insurance etc)."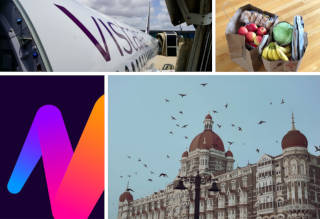 Harsh Vardhan, a loyalty business veteran, dissects the challenges and complexities the Tatas—and customers—will have to grapple with. One of them: "Experience, value associations, etc across Tata brands vary vastly. The 'Tata Trust' factor too may not be the same across companies. My associative value with the Taj hotels is vastly different than that of Croma. The two cannot be put in the same bucket at all."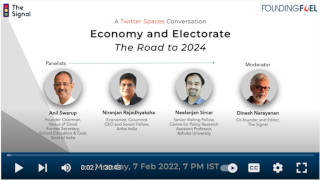 Early in the year, we took a long view on what the next many months might signal for the Indian economy and politics—and how the electorate will be groomed for 2024.
On one point of debate, whether economic issues will sway voter sentiment: "In India it is inflation rather than joblessness that till now was the primary trigger for electoral action…. Because people don't have inflation adjusted salaries, inflation is the deadly economic parameter that changes political preferences."