[Photograph by Ian Gratton under Creative Commons]
There is an invisible armada of a few hundred thousand Indian workers trawling the Web and making a living out of it. How to describe them depends which side of the fence you are on. The charitable call them micro-entrepreneurs. Others call them an invisible mass that will scrape any bottom to earn in the region of $1 to $5 for a task. To that extent, the New Economy is passé. The Gig Economy it is - or the atomization of work - if you will. And Shraddha Patil, who visits my office to clean it every day, is part of this revolution. I will talk more about her in a bit.
In trying to figure out how this economy functions, I stumbled on what is now a mighty firm - Fiverr, an Israeli start-up. The way it works is simple. If you think there is a service you can offer for $5, advertise it on Fiverr. If potential buyers lurking there think what you have on offer meets their requirement, they place an order for your "gig" as Fiverr likes to call the tasks. When you are done with the gig, you get to keep $4 and Fiverr keeps $1 as part of its fee.
When I last checked, an astonishing 1.5 million tasks can be accomplished on this platform. More interesting still is when I checked on Alexa, an Internet analytics firm, 20% of all people active on this platform originate from India. The US accounts for a little over 16%. And guess what? Fiverr is the 176th most popular site for Indians.
So what is it that Indians offer and why are they the largest population that has latched on to it? The answers swing from the ingeniously weird to the palpably competent.
Allow me point to a few gigs on offer that provide glimpses of what is on offer.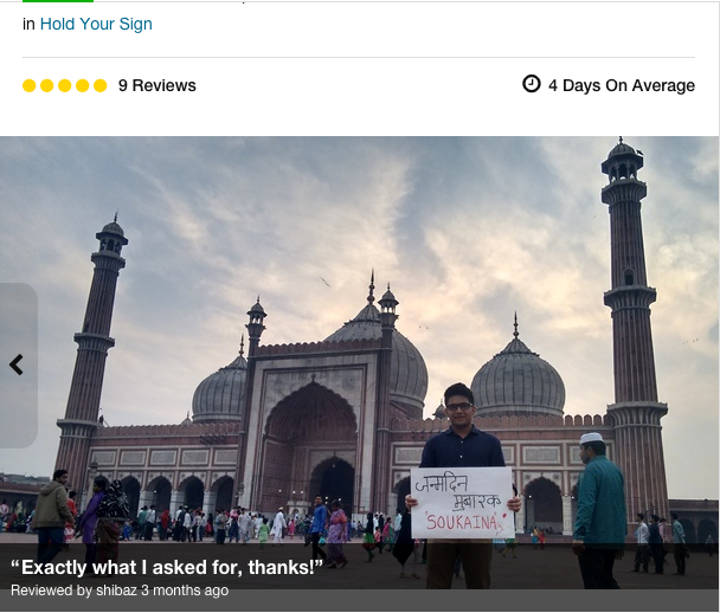 A user who goes by the name "itsmechetan" from Delhi "will advertise your company, website or anything by holding your message at Jama Masjid" for $5. His bio claims he is an electronics and communications engineer. He claims he can teach you the basics of Java, translate 300 words from Hindi to English and speed-draw your logo in 24 hours among other things.
Then there is "Sweetsporty_gal", who will give you three Indian chicken recipes.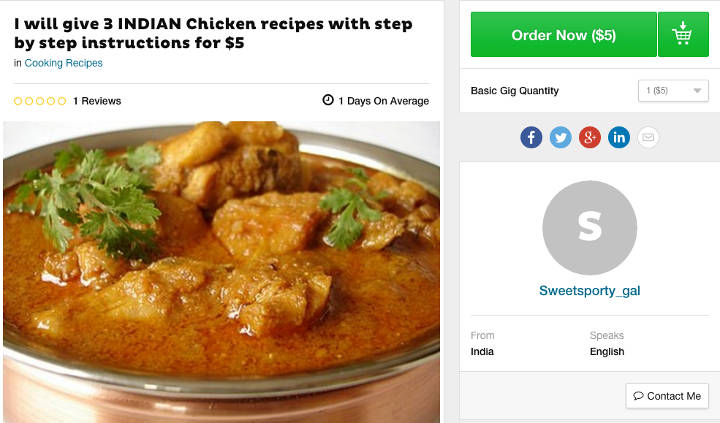 Needless to add, there aren't too many takers for this gig.
There are others who make tangible promises. Like this one below who claims to be a professional voice-over artiste.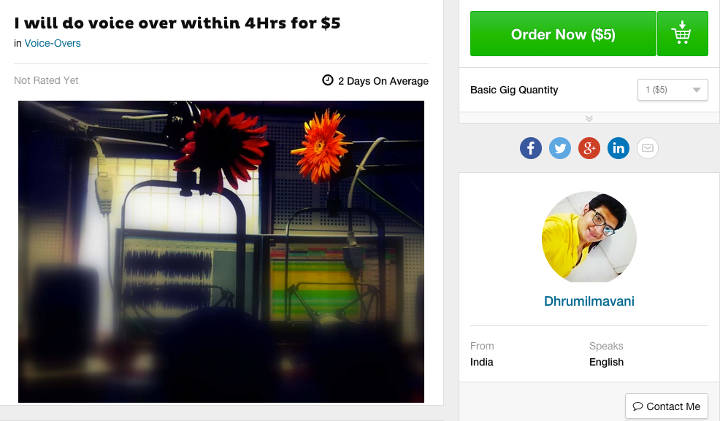 Or this one, who claims he can offer advice on Indian legal and compliance matters.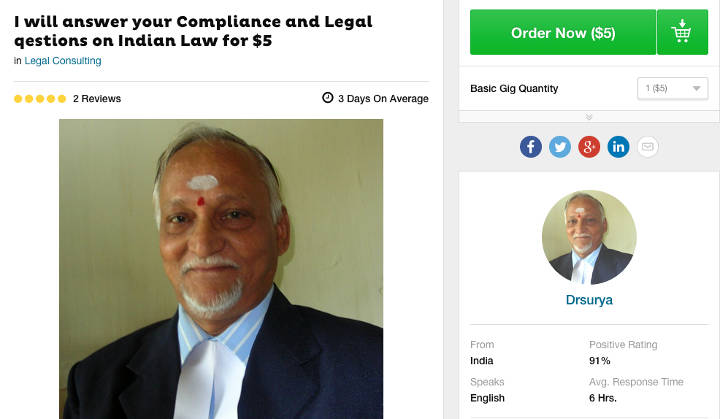 So how does the math work?
Techblogger reckons it is entirely possible to make anywhere in the region of $500-1,000, if not more, on the back of creative gigs. The weirder ones, of the kind I described earlier, don't get too much traction. But if you persist with it, study the market for what services are on demand, deliver on time and earn favourable reviews, then there is no stopping how much you can earn. So much so that it is entirely possible you can quit your day job and earn more than a mid-level IT professional.
A hack that the smarter ones deploy is to play the role of arbitrators. They frequent marketplaces like Upwork or Elance. These are places where you bid for jobs that people are looking for freelancers to accomplish. Assume for a moment you snag a job on either of these sites for $30. You take this order, then visit Fiverr (or any one of its clones) and hunt somebody down who is willing to do the same job for $5. You pocket $25 and move on. In the gig economy, it isn't considered unethical by any stretch.
While Fiverr is the largest of its kind in the world right now, clones exist that get jobs done for as little as $1. In one of my earlier columns in this series on how to buy a Twitter fan following, after having paid $10 to acquire 1,000 followers, I paid $1 to get the same job done on www.onedollarr.com. Just for the record, I now have in excess of 75,000 followers on my Twitter handle, most of who are fake and were acquired on the back of smart coders that I discovered at marketplaces like these.
I haven't come across any relevant Indian statistics. But studies conducted by agencies like the US Bureau of Labour Statistics, and anecdotal evidence like traffic on Fiverr, clearly indicates the millennial generation has emerged as the largest workforce this year. Fifteen years from now, they will comprise 75% of the total workforce.
This generation thinks differently about how to earn a living. Uber-connected on the backs of smartphones they carry, they would much rather do work they are interested in and prefer flexibility as opposed to stability. That is why the opportunities the Gig Economy presents suit them well. But that is when viewed from a Western lens.
When looked at from an Indian perspective though, millennials apart, these are the kinds of platforms Shraddha Patil needs. Impeccably turned out and polite to a fault, in an earlier avatar, she was a checkout clerk at the retail chain D-Mart. The monies weren't good enough for her and she thought it better to eke out a living as a domestic help. To that extent, she is part of the informal workforce. My office included, she works at 15 places every day. On average, she earns Rs2,000 from each of this place, which adds up to a monthly take home of Rs30,000.
She surprised me the other day when she picked up a discarded book on computing lying around my place. Shraddha flipped through the pages and asked me if she could take it. I said sure. Curiosity compelled me to ask her if she is computer literate. She said that she is and if she has to get out of what she is doing or not go back to the drudgery of being a checkout clerk, she needs to learn how to code. Which is why she thought this book important. I have no doubts in my mind that it is only a matter of time before she learns basic coding. I have no reason to doubt either that she will not be in housekeeping or work as a domestic help for too long.
Imagine for a moment this 30-odd-year-old lady gets into the Gig Economy. That she has it in her to work her backside off is obvious. That is also why I am pretty damn sure that in this economy, she can give the best in the business a run for their money. When I spoke to her of Fiverr and its ilk as an opportunity, her eyes lit up. I suspect her mind is made up. It is only a matter of time before she comes up with more compelling propositions than holding up a placard at Jama Masjid or offering chicken recipes for $5.
[This article was first published in Mint. Reproduced with permission]