[Photograph by Ramank257 (Own work) (CC BY-SA 4.0), via Wikimedia Commons]
Finance minister Arun Jaitley, in his budget on February 1, mentioned the term Aadhaar seven times. None of them were pegged to any big bang announcement, or even to new initiatives. However, the budget contained small steps that would eventually strengthen India's digital payments infrastructure. Here are the three that you should take a look at.
BHIM App promotion
In his budget speech, Jaitley said the government will launch a referral scheme for individuals and cash back scheme for merchants to promote the Unified Payment Interface (UPI)-based BHIM app. UPI, developed by National Payments Corporation of India (NPCI), makes money transfer easy on smartphones. Over 30 banks have launched UPI-based apps. Interest in such apps went up during demonetisation, and to provide further boost, NPCI launched its own app. Named BHIM (short for Bharat Interface for Money, and in honour of Dr BR Ambedkar), it was built as a reference app that the government could promote without being seen as favouring a specific bank. That seems to have worked. According to Jaitley, over 125 lakh people use the app already. The referral and cash back schemes will push that number up.
Interestingly, this comes amidst rumours that NPCI may pull the plug on it by the end of this year, and urge users to move on. The rumours may be true, and NPCI might decide to stick to backend infrastructure. In any case, given the trust a large number of people have in the state, a government-promoted app like BHIM is likely to nudge more people into trying digital transactions.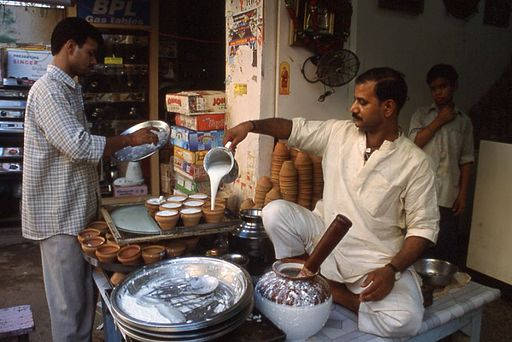 [Photograph by Aotearoa (Own work) (CC-BY-SA-3.0), via Wikimedia Commons]
Aadhaar Pay rollout
Jaitley announced that Aadhaar Pay, a merchant version of Aadhar Enabled Payment System, will be launched shortly. In fact, Aadhaar Pay has been around for a few weeks already (it was launched in December by IDFC Bank, the Unique Identification Authority of India or UIDAI and NPCI). To understand why it is an important tool for financial inclusion, it might be useful to check the chapter on demonetisation in the Economic Survey released a day before the budget. Specifically, this paragraph:
"Digitalisation can broadly impact three sections of society: the poor, who are largely outside the digital economy; the less affluent, who are becoming part of the digital economy having acquired Jan Dhan accounts and RuPay cards; and the affluent, who are fully digitally integrated via credit cards. One simple measure that illustrates the size of these three categories is cell phone ownership. There are approximately 350 million people without cellphones (the digitally excluded); 350 million with regular 'feature' phones, and 250 million with smartphones."
What Aadhaar Pay essentially does is to give an option to the 350 million people without cellphones to do digital transactions, using their Aadhaar number and biometric authentication. Of course, it's not that the option will be available to all the 350 million people straightaway. Despite Dhan Jan Yojana, not all have bank accounts, and not all bank accounts are connected to Aadhaar. But even for those who have Aadhaar-seeded bank accounts, one big constraint is the speed at which merchants adopt point of sale (POS) terminals. On top of it, there are authentication failures. Some studies paint a dismal picture, pointing out that the failure rates are as high as 50%. Most of these are weaknesses that pertain to operations rather than the idea itself. The idea of digital transactions has its own set of critics—who have concerns about digital security and privacy. There is a lot of ground to cover. It will be interesting to see what the next steps are.
Credit to merchants
Bytes can potentially replace atoms
One of the biggest problems that small merchants and other micro entrepreneurs face is the lack of access to formal credit. Despite the efforts by the government over the years to make banking more inclusive, the formal banking system is still struggling to find a way to address the needs of those who have no assets to offer as collateral. Data can fill that void; bytes can potentially replace atoms. With a reliable record of their financial transactions, small merchants can demonstrate their credit worthiness to lenders and borrow money at a lower rate of interest. That's what the government hopes to achieve. Jaitley said, the government would encourage Small Industries Development Bank of india (Sidbi), a financial institution that was set up to help small and medium enterprises, to refinance credit institutions for such loans.
***
Besides these three, Jaitley also said the government would strengthen the infrastructure for digital payments, and consider making digital mandatory for most payments to government. The announcement on Aadhaar-enabled smart card, with medical information for senior citizens, sounded interesting when he announced it. One can imagine several instances where such a card would be useful. It would also expand Aadhaar usage—primarily in government subsidies and financial services today—to healthcare in the near future. However, the problem is with the electronic medical records. India is not even close to having a system that would be interoperable, that is, work across healthcare providers. (And there are few examples abroad.) If at all, it should only be taken as a hint about the direction the government wants to take.