By NS Ramnath and Anmol Shrivastava
During the early days of the pandemic, Tim Harford, who writes the popular Undercover Economist column for Financial Times, and most recently, the author of How to Make the World Add Up, lost the man who persuaded him to become an economist. Peter Sinclair, who taught Harford and many others including former UK Prime Minister James Cameron at Oxford University, succumbed to Covid-19 in March 2020. To Harford, it was a reminder that, "while we're all by ourselves, and focused on ourselves, we need to think about what's happening to other people and the tremendous cost of this."
Throughout his career, Harford has been in the business of making sense of what's happening to people, when they make various personal, business and policy decisions—using tools of economics, statistics and social sciences in general. He has shared those insights through his columns, podcasts and books. In a conversation with Founding Fuel, Harford drew from those insights to help us understand how to make sense of the world, and how to effectively tell those stories.
Bafflingly complex
The world is complex. The pandemic, during which things changed drastically for billions of people, amplified the complexity. It was hard to understand what was going on, because so many things were happening simultaneously. In India, even as the second wave seems to be receding, there are debates on why it was so much more devastating than the first—the virus itself, policy decisions, individual actions, or a mix of all these. Economics first principles might not have an answer. Here, Harford talks about the UK's experience.
Watch this 2.30-minute video
Dispelling the clouds of ignorance
The problem with complexity is that we can lull ourselves into not pursuing truth by saying, it's all too complex. To say 'I don't know' is often seen as a sign of humility. But there is also another side to it. Harford says, we have to recognize that sometimes ignorance itself is a choice. Like, as an individual I don't know, because I didn't put in the effort to find out. I didn't read a good newspaper article. But also as a society, we don't know certain things because we haven't collected the data that's really important to recognize.
Watch this 8-minute video
Simple rules to make sense of numbers
Harford's latest book How to Make the World Add Up (The Data Detective in the US and Canada) offers ten simple rules to make sense of numbers. But, the book really is not about teaching you how to find correlation, etc. It's a call for taking more responsibility. Demanding more of ourselves and of course of the government. For example, check out Rule No 7 and Rule No 8, and ponder over these lines from a recent report in FT.
"Gautam Menon, professor of physics and biology at Ashoka University, says New Delhi is also sitting on vast data sets with useful information on vaccine effectiveness, and the prevalence of reinfections. However, he says, the data is 'completely unavailable to anyone outside the government system', though the expertise to analyse it lies largely in academic settings.
"Rather than lead to more transparency, the Covid-19 surge is likely to reinforce New Delhi's penchant for secrecy and spin. Ministers now claim all Indians will be vaccinated by December, though they have not offered any credible road map."
Scroll through:
Feelings matter
Of all the rules listed above, Harford says the Golden Rule is the most important, because it summarises the ten rules. Among the ten rules, his favourite is the very first. Search your feelings. When you see something on Twitter, and feel inclined to like it or retweet it, Harford says, take a pause, count one to ten, or at least count one to three.
Watch this 2-minute video
Focus / refocus
When Harford published his Logic of Life, which argued that many decisions people make are surprisingly logical, Dan Ariely published his book Predictably Irrational, which seemed to make quite the opposite argument. "You could say, I'm looking for the variation that we can explain here, and Dan is looking at the variation that is harder to explain, or at least, you can't explain with standard economic incentives. There's plenty of room in the world for looking at focusing on different things and different aspects of behavior," Harford says. His own intellectual journey has moved from focussing on the logical side of human behaviour to what is irrational. "What else is going on?"
Watch this 4:20-minute video
Writing is hard, important and a learnable skill
Harford took one year to write the first chapter of his book The Undercover Economist, and just a single month each for the subsequent chapters. It indicates that writing perhaps gets easier as you gain experience. But there is more.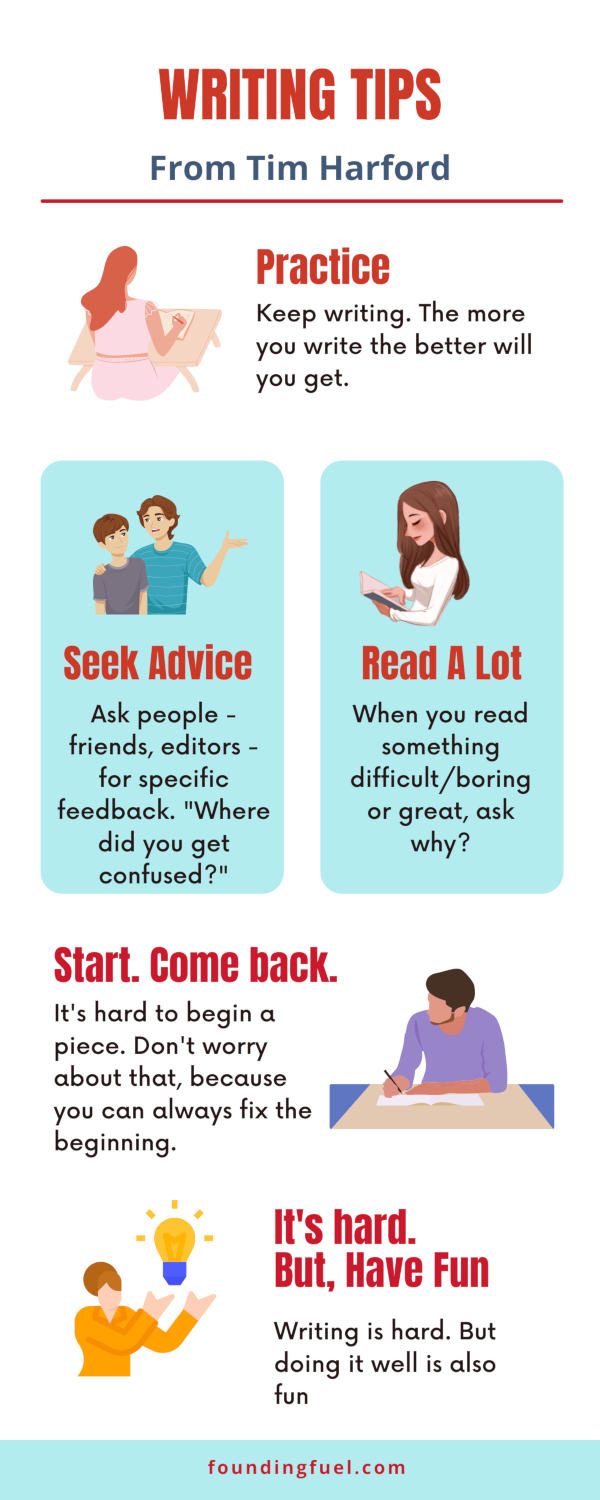 Watch this 7.20-minute video
Being curious
Curiosity is a habit that says not what can I find out that will prove someone else wrong, but instead to say what can I find out that will make me smarter, that will help show this amazing world more clearly.
Watch this 1.50-minute video
Tim Harford: A short reading list