[Photo by Maia Habegger on Unsplash]
Good morning,
In The Fifth Discipline: The Art and Practice of the Learning Organization, Peter M. Senge says, a vision is what a vision does. It can change the way we look at things. For example, the way we look at failure.
"Mastery of creative tension transforms the way one views 'failure'. Failure is, simply, a shortfall, evidence of the gap between vision and current reality. Failure is an opportunity for learning—about inaccurate pictures of current reality, about strategies that didn't work as expected, about the clarity of the vision. Failures are not about our unworthiness or powerlessness."
In this issue
FF Recommends: How to find good books
A mathematician who built an institution
How to integrate history into a functional design
Have a great Sunday!
FF Recommends | How to find good books
This newsletter begins with a nugget from a book, which sets the tone for the rest of the newsletter. Over 118 editions, we've listed as many titles. How do we find them? How do we decide what's worth our time reading? NS Ramnath, who curates this newsletter, lists his sources for finding good books. And Charles Assisi talks about his filter mechanisms.
NS Ramnath: Often, at the end of his speeches, venture capitalist John Doerr gives his email ID away, requesting his audience to send him the titles of three of their favourite books, with a promise that he'll send his list in return. I have taken up his offer because I've heard his speeches only on YouTube. However, it told me something about why it's important to go beyond the traditional ways we come to know about books.
Traditionally, we have found interesting new books by asking our friends, visiting bookshops or libraries, going through the books sections in newspapers and magazines, the best sellers list and book reviews, and of course through Amazon, Goodreads, or simply by Googling. Beyond these I found three new ways to get amazing book recommendations.
What Should I Read Next is simple to use. You enter a name of a book, and the site gives a list of books you might like. Its results are different from Amazon. For Salman Rushdie's Midnight's Children Amazon shows Arundathi Roy's God of Small Things as the first choice. This site suggested I read JM Coetzee's The Life and Times of Michael K. For The Fifth Discipline, Amazon had Start With Why, And WSIRN had Charles Handy's The Age of Unreason.
Good Books takes a very different approach. If you like to follow what successful people read—some of them, like Bill Gates, regularly share the list of books they read and liked; some, like Peter Thiel, are more reticent and wait for an interviewer to draw them out—Good Books is a great platform. It has organised them all, and you can browse by subjects or people. One of the books that Thiel recommends is Tom Wolfe's The Right Stuff (a fascinating account of man's trip to the moon). But what I also discovered is that it's also recommended by Richard Branson. These connections make book discovery even more interesting.
Five Books is my most favourite platform among the three. It contains thousands of recommendations by hundreds of experts, who not only recommend five books each, but also explain why they are recommending them. We all know Ramachandra Guha has written a fantastic book on Gandhi. But what are Guha's favourite books on Gandhi? This is a good place to discover that. The recommendations are often eclectic. Here are five books recommended by Mark Tully on India: Kim by Rudyard Kipling, The Argumentative Indian by Amartya Sen, Bhowani Junction by John Masters, Raag Darbari by Shrilal Shukla (translated by Gillian Wright) and The English Teacher by RK Narayan
Charles Assisi: While writing is difficult, reading the right way is tougher. A good writer can write nonsense in pretty words.
But it takes an intelligent reader to interrogate a book, the writer, and the thinking, to go past the obvious and form an independent opinion. So, what if the writer is widely thought of as an expert on a theme?
That is why, I now don't place a premium on reading more. Instead, I read slowly, and deliberately. My routine now includes three broad strategies.
Strategy #1: Try Inspectional Reading. This includes inspecting the preface that places a writer's intent in context; the table of contents helps understand the structure; and the index allows me to scrutinize the breadth and depth of an author's research. If the index is sparse or skewed towards any ideology, that's a red flag for me.
Strategy #2: This is Superficial reading. It is deployed to scan the pages of a book for words or passages that stand out. While online, it doesn't work well on Amazon because a limited number of pages are on display. That is why I prefer Google's Play Store, which allows readers to browse through a significantly higher number of pages.
Strategy #3: When it's time to read, I put my phone on do not disturb and read in uninterrupted chunks of at least 50-60 minutes. Because this is Analytical Reading time mode. I've pretty much stopped physical purchases of books, unless digital versions are unavailable. This is because it's easier to highlight parts that appeal to me on the Kindle edition, raise questions, and argue with the author. I can jot all of these as "notes" and export all of it right away to my note-taking software of choice, Evernote.
Incidentally, the algorithms that power Evernote cross-link all this content to other notes in my library. Over time, I see patterns and networks emerge that may otherwise not have been obvious to me.
By way of example, the notes I made while reading Chapters 1 and 2 of The Snowball by Warren Buffett, the thoughts embedded there are linked to other clips that already exist in my archives that I have saved over the years. A TED talk by Daniel Wolpert from 2011 on The real reason for brains, a profile of technology expert Jaron Lanier who dislikes how technology has evolved and a few useful mental tools from Richard Feynman.
Interesting, isn't it?
A mathematician who built an institution
CS Seshadri, distinguished mathematician and educator, passed away in Chennai on Friday. He began his career at Tata Institute of Fundamental Research, Mumbai, where he helped build its School of Mathematics, before moving to Chennai. He was the fourth Indian mathematician to be awarded the Fellowship of the Royal Society (after Srinivasa Ramanujan, Harish Chandra and CR Rao) in 1988.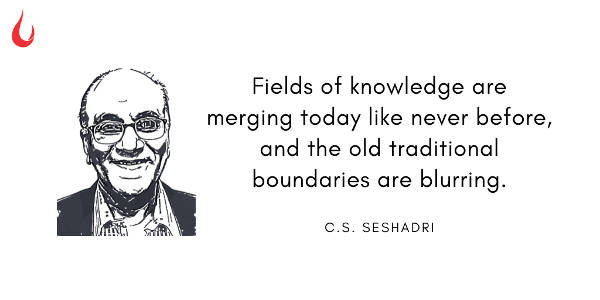 In 1989, he set up the Chennai Mathematical Institute (then called the School of Mathematics, SPIC Science Foundation) and shaped it into a globally reputed institution that integrated mathematical research and teaching even at the undergraduate level. He was as passionate about music as he was about mathematics.
Here's a paragraph from an interview he gave to Bhavana, a magazine focused on mathematics. "Fields of knowledge are merging today like never before, and the old traditional boundaries are blurring. New connections have come up in completely unexpected places. All this poses the need for an undergraduate education which provides a basic broad-based theoretical minimum, and exposure to applications. In fact I am of the belief that even in science education, there is a definite place for the humanities–-like music, literature, history."
Dig deeper
How to integrate history into a functional design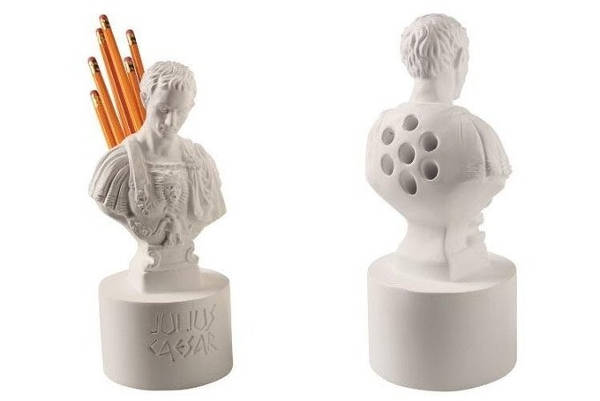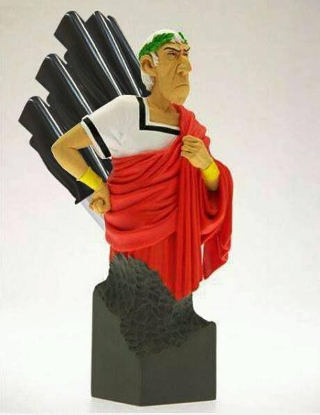 Julius Caesar pencil and knife holders. (Via Twitter 1 & 2)
How do you keep with the past? Mail it to us (our address is below), or share it on Twitter, tagging @foundingf. Or head to our Slack channel.
And if you missed previous editions of this newsletter, they're all archived here.
Bookmark Founding Fuel's special section on Thriving in Volatile Times. All our stories on how individuals and businesses are responding to the pandemic until now are posted there.
Warm regards,
Team Founding Fuel