[Photo by Marten Bjork on Unsplash]
Good Morning,
Stories about what it takes to create great journalism often go untold. That is why the legendary American journalist Robert Caro's book Working is a must-read. The slim volume talks of the effort he invested over a lifetime and lessons he learnt along the way from reporting and investigating politics.
Consider this snippet on how he goes about interviewing people.
"Interviews: silence is the weapon, silence and people's need to fill it—as long as the person isn't you, the interviewer. Two of fiction's greatest interviewers—Georges Simenon's Inspector Maigret and John le Carré's George Smiley—have little devices they use to keep themselves from talking, and let silence do its work. Maigret cleans his ever-present pipe, tapping it gently on his desk and then scraping it out until the witness breaks down and talks. Smiley takes off his eyeglasses and polishes them with the thick end of his necktie. As for myself, I have less class. When I'm waiting for the person I'm interviewing to break a silence by giving me a piece of information I want, I write 'SU' (for Shut Up!) in my notebook. If anyone were ever to look through my notebooks, he would find a lot of 'SUs' there."
Deploy silence well. And enjoy your Sunday.
In this issue
FF Recommends: 30 Twitter handles to follow
Our biggest fears
FF Recommends: 30 Twitter handles to follow
If you follow what's trending and allow algorithms to dominate what you see, Twitter can be an ugly place.
But if you set rules on how to engage with the platform, it can morph into a personal knowledge management (PKM) system. And how are we to do that? Harold Jarche had offered us some pointers.
On Twitter, identify themes you're interested in and create lists. It's the equivalent of creating folders on your computer.
Now, zero in on people or entities you're interested in and place them into lists. Some people can fit into multiple lists.
So, the next time you log into Twitter, ignore the algorithms and head to your lists instead. The timelines of people there will have material that matters, minus the noise. In turn, they'll take you to places you may otherwise not have discovered.
To create this list, we placed a few constraints.
Each category must contain no more than five people (except the last category where five more could be included).
The list must not include anyone from the team.
Everyone on the list must have an opinion on India.
While superstars cannot be excluded, follower count cannot be used as a metric of influence.
Most importantly, Founding Fuel's audience must relate to each person on the list. Else, they don't fit in. Much debate later, here's what we came up with.
Investing & Entrepreneurship
Prashant (@prashanth_krish) An eclectic analyst who examines stock market fundamentals and has a funny-bone to boot.
Deepak Shenoy (@deepakshenoy) Well-known now for being ahead of the curve and spotting trends ahead of time.
Nithin Kamath (@Nithin0dha) Built up ZeroDha.in ground up and offers no-nonsense advice.
Aloke Bajpai (@alokebajpai) What may the airline business, travel look like? How do investors look at the ecosystem? Follow him.
Sajith Pai (@sajithpai) An early-stage investor with a broad range of interests whose commentary at the intersection of business, technology and culture make for a compelling read.
Current Affairs
Ashok Pal Singh (@PalsAshok) A career IAS officer who retired recently, his commentary on contemporary themes has been sharp. While his Twitter timeline has been subdued until now, this is one handle to watch out for.
Raju Narisetti (@raju) Now with McKinsey, the former editor many journalists look up to, has a knack of spotting what matters most across the world, particularly in the US and India. Sensitive to diversity and known to call a spade a spade.
Sree Srinivasan (@sree) An influential Indian-American and widely applauded as a thought leader in the social digital ecosystems, his daily conversations with experts on Covid-19 are a "must-keep-track-of".
Rukmini S (@rukmini) Data journalist based in Chennai, she has her finger on the pulse of India.
Kaushik Basu (@kaushikcbasu) Now at Cornell, former chief economist at the World Bank, his TL is as good as any global daily newspaper, with an Indian POV.
Business & Tech
Rahul Matthan (@matthan) One of the finest legal minds around, thinks second order outcomes, has an eye on the future.
Amit Ranjan (@amitranjan) Bridges the gap between India & Silicon Valley, can see what India needs.
Sriram Krishnan (@sriramk) Former Twitter employee, now angel investor, brings analysis plus a Silicon Valley world view.
Azeem Azhar (@azeem) His London-base plus humour gives a unique perspective & has strong fundamentals.
Arvind Narayanan (@random_walker) The Princeton-based academic has a fan following for his original research and commentary at the intersection of business and technology.
Foreign Policy
Anuj Chopra (@anujchopra) One among the few Indian journalists who has worked all across the subcontinent, now based in Riyadh. His understanding of the region is important from an Indian perspective.
Srinath Raghavan (@srinathraghava3) Understands history, politics and strategy. Possesses the intellectual heft to question both the establishment and dogma.
Tharman (@tharman_s) A senior minister in Singapore. He is of Indian origin, is erudite and articulate. How India appears to the rest of Asia and what options India must take are themes he touches upon in his talks and writings.
Tenzing Lamsang (@tenzingLamsang) Based in Bhutan, he wishes India well and does not mince his words.
C Raja Mohan (@MohanCRaja) In his current avatar, he is director of South Asian Studies at NUS and a columnist at the Indian Express.
Others we love
R Sriram (@rsriram9) Originally a curator of books, now purveyor of the finest tweets every day.
Saket Gokhale (@SaketGokhale) Has been using Twitter to push the boundaries of mis-information and showing how to deploy RTI.
Sankarshan Thakur (@SankarshanT) Among the finest political journalists, understands North India and to be followed given that assembly elections in Bihar are due this year and it is a state he understands particularly well.
Pratik Sinha (@free_thinker) Co-founder at Alt News, he has been the face of busting fake news since it raised its head on social media.
Dushyant (@atti_cus) Activist, columnist, and now known as a crusader who speaks up for the underdog.
Ritesh Banglani (@banglani) An investor whose commentary on India's technology and business landscape, infused with some humour and personal remarks once a while, makes him compelling.
Live Law (@livelawindia) No-nonsense reporting of the happenings in the Supreme Court, as it happens.
Ajai Shukla (@ajaishukla) The veteran journalist reports what the mainstream ignores; until it hits the mainstream.
Nilanjana Roy (@nilanjanaroy) The go-to person on Twitter for books and all else that matters.
Manjul (@manjultoons) The cartoonist whose sketches are nothing short of subversive.
Agree? Disagree? Either which way, we're keen to hear.
Our biggest fears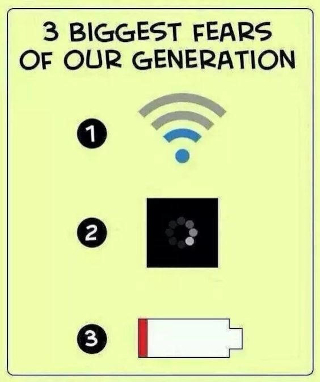 (Via WhatsApp)
What is it that you fear? Let us know on our Slack channel. Or tag us on our Twitter handle @foundingf.
And if you missed previous editions of this newsletter, they're all archived here.
Bookmark Founding Fuel's special section on Thriving in Volatile Times. All our stories on how individuals and businesses are responding to the pandemic until now are posted there.
Warm regards,
Team Founding Fuel