[Photo by Jake Ingle on Unsplash]
Good morning,
"And welcome to WFH Daily."
That line means much to us on the team. The first time we greeted you with it was 200 days ago, on the morning of March 24, 2020.
How were we to know on that day so many of you would write back in the days to come and stay engaged as friends? How were we to know on that day a tightly knit community will bind together on the Slack channels? How were we to know that evening Prime Minister Narendra Modi will announce a nationwide lockdown? What we did know is that we must go daily because accounts from other parts of the world suggested it was inevitable a lockdown will be imposed; and that we wrap our heads around the "Work From Home" (WFH) life. That was why we felt compelled to create a newsletter that sifts past the noise and emerges as a curator of all things that matter to hit your inbox, every morning, at 8 am.
We've stayed at it. Relentlessly. One principle has guided us: Less is more. This expression is embedded in all that the architect Ludwig Mies van der Rohe created—simplicity is superior to elaborate embellishment.
In keeping with that principle, this edition is a good milestone to announce a change in our frequency.
The daily newsletter will now hit your inbox from Monday to Saturday. The specials that used to reach you on Sunday morning will now get to you on Saturday morning.
Like we articulated earlier, we didn't take any breaks because we thought it was important to stay connected, every day, all the time. Beginning today though, we will take time out on all important national holidays. Of course, we will keep you informed about it.
So, while the volume may go down, our commitment to deliver relevance and cut past the clutter stands.
Then there's a question on the back of our minds: 200 editions ago, all of us were shifting to the WFH home life. That is why these notes were called the WFH Daily. Since then, basis your feedback and the questions you asked us to tackle, the scope of these notes have increased.
Is there merit, then, in changing the name of this newsletter to FF Daily from WFH Daily?
Will you let us know by replying to this email? You've helped shape this narrative until now. Stay with us and help us shape the future.
In this issue
Are you a stadium person or a TV person?
Why Twitter is not just about Twitter
Have you finished your novel yet?
Have a good day!
Are you a stadium person or a TV person?
When the pandemic struck and almost all sports were suspended, fans were left with a void. In the next episode of TAMG (Talkin' 'Bout My Generation, an intergenerational conversation on interesting trends), we have Atreyo Sinha, an analyst at Visa's consulting team based out of New York City, and his dad Partha, president at The Times of India Group discuss sports. They talk about how it is making them rethink their relationship with sports—especially when sports returned on TV with empty stadiums and simulated crowd noises.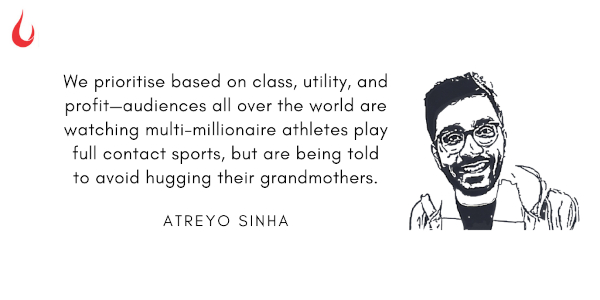 Here's Atreyo on how his own generation is different from his dad's when it came to enjoying sports.
In a column preceding the show, he writes: "Like any other facet of life, the pandemic has made us (just like all fans) rethink our relationship with sports. What it has also done, is reinforce some of the fundamental differences between the two generations. For my father and his friends, watching cricket always meant a trip to Eden Gardens. As TVs became more commonplace, some traded their tickets for brand new screens, but the core idea never changed: you watch the game at the local ground. On the other hand, as much as I love a stadium visit, watching sports remains a TV activity at its core for me. In fact, when I'm not watching a game on TV, I'm playing FIFA or NBA 2k—so when sports returned on TV with empty stadiums and simulated crowd noises, I wasn't particularly bothered. But for my dad, and many his age, the game is an epic battle in an arena. He finds the new iteration of the game unwatchable, and his discomfort is echoed by several commentators who claim their work is that much harder without a crowd's emotions to draw from."
Make sure you listen to Partha's counter in the audiogram right below the essay.
Atreyo and Partha will continue this conversation in a Facebook Live session on Saturday, October 10, 7:30 PM to 8 PM. Share the event details with your friends, colleagues and family members. Check out this short video on Twitter.
If you haven't registered to watch the show already, you can do so here: https://bit.ly/FFTAMG
Dig Deeper
Why Twitter is not just about Twitter
Last Saturday, the second episode of TAMG featured Haresh Chawla, who has a big fan following (23K-strong as of now) on Twitter, and his 18-year-old son Shiv, who prefers paper to screen, discussing how to live a digital life. One of the topics they explored was Twitter itself.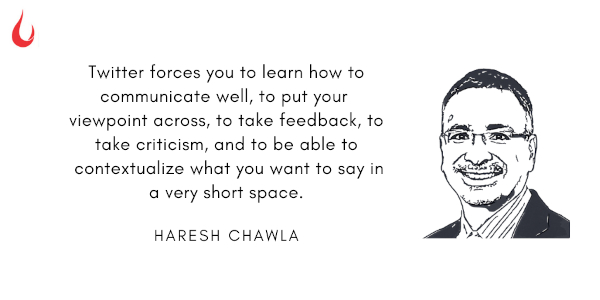 Haresh was responding to a question by Shiv on why one should even bother about social media, given that there are so many people who are successful in the real world, and have zero presence on social media. This was Haresh's reply:
"The point is not social media, I think it's a vehicle by which you start engaging with the world.
"Look at the smartphone. One role it plays is, it broadcasts you into the world. Only when you broadcast out in the world, the chances of your serendipity goes up, that you'll get discovered. Remember, connections are made online, people will probably look up your profile, look up your digital trail, before offering you a job or promotion. My sense is companies actually will start hiring people who are digital natives. Because companies themselves are not digital, and they want digital natives to help propel them forward.
"Second, the smartphone is a device from which you learn as well. Billions of dollars of R&D is going into building and digitizing this world. Use your smartphone as a place to understand what's happening in businesses.
"It's a two-way device and it's transformative that you spend time on it, not just to watch Netflix, but to really understand what's going around."
Dig Deeper
Have you finished your novel yet?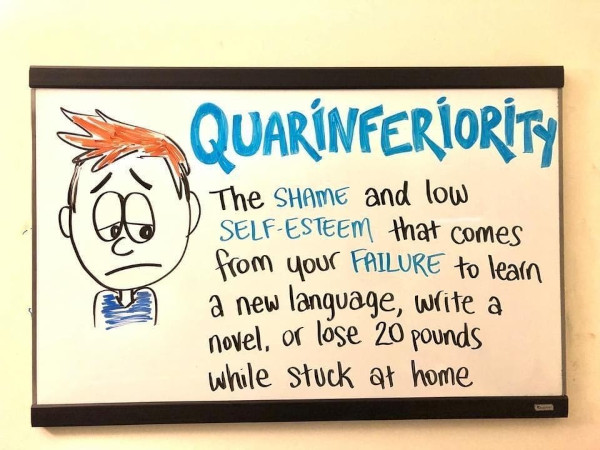 We are joking. We haven't yet met anyone who is not swamped by work to even finish reading a novel, forget writing one.
Have you? Tell us about it. Head to our Slack channel.
And if you missed previous editions of this newsletter, they're all archived here.
Bookmark Founding Fuel's special section on Thriving in Volatile Times. All our stories on how individuals and businesses are responding to the pandemic until now are posted there.
Warm regards,
Team Founding Fuel