[Image by Pete Linforth from Pixabay]
Good morning,
Former McKinsey managing director Dominic Barton likes to tell this story about the CEO of Liberty Mutual, an insurance company based in Boston. Barton asked the CEO what he wished he had learned earlier. This is how the conversation went.
CEO: I wish I'd learned how to compartmentalise things.
Barton: What does that mean? How does that work?
CEO: Being calm when things are going bad.
Barton: I know that. But what does compartmentalise mean?
CEO: Well if I'd seen you on my first day as a CEO I actually would have kicked you out within five minutes
Barton: That typically happens. So what's unusual?
CEO: The reason is that just before you would have come in to see me my general counsel had come to me and said: 'We are being sued for six billion dollars.' That completely shattered my concentration. I couldn't think about anything else except 'oh Jesus, how is this gonna work? What are we gonna do?' I'm talking to you right now, this is 10 years as being a CEO, I have six of those going on right now behind my head. You can't see them but they're like plate-spinning. But I'm focused on you. I want to know what you are talking about Latin America. So it's the ability to be able to absorb a pile of crap that's going on, serious stuff that can de-focus you but you stay very focused.
Barton: Where do you learn that? I have not seen that in my background.
CEO: The only place I actually have seen where this is built-into the training is at West Point.
Barton: Really? What do they do?
CEO: One of the things they do, they will say to these people "here's an engineering problem. You have to basically repair a bridge. It's a mathematical thing because a river has blown out the bridge, and you've got 30 minutes to do it and oh by the way when you solve that problem you're gonna be crawling on your belly under barbed wire, which is one foot above your head with live machine-gun fire and it'll probably take you 30 minutes to get to the other side, so you have to solve a problem while not getting your head blown off.
These days it's easy to empathise with West Point cadets—with multiple calamities hitting us. After the entire pandemic is over, we might have learned to compartmentalise better. After all, there is no better teacher than experience.
But the question is how do we do it now? In a recent conversation with Andrew Yang, Twitter CEO Jack Dorsey, who has enough and more bullets flying around him, pointed to meditation. He said he meditates to "hone his skills of observation," and that he has structured most of his work on "how do I focus more on one thing." He held up his iPhone to say that most of his day is spent on that because "there is only one app open at a time."
There's another interesting conversation between a politician and a businessman that we came across. More on that later.
Wish you a great day!
Here are three things we wanted to share today.
Learn the right skillsets for Unlock #1
As India Inc begins implementing Unlock #1, there are two kinds of workplaces that are emerging. One, those that have shifted effortlessly to work from home—and are taking it slow and easy in deciding whether to allow employees to return to the office. Or better still, many of them are giving employees the flexibility to decide what works best for them.
Then there is the other kind: firms that are insisting their employees come into office. Direct supervisors want them to attend office because they are concerned about productivity and clocking the 8-hour shift. When asked, HR departments are offering employees two options: leave without pay or come back to the office.
Kavi Arasu has been closely tracking this issue. And this is what he says:
"What's required are a new set of skillsets and mindsets that managers will need so that they can redesign work and loosely couple the bond between work and office. These are skillsets and mindsets that will help in assessing performance and outcomes when it does not happen in the office. This is not easy, but it is necessary."
There's a lot more. In this audiogram, Kavi explores why a set of leaders are waving the red card at employees who prefer the safety and flexibility of WFH. Listen in.
Treat people with dignity
Rahul Gandhi has been holding a series of conversations with academicians, experts and business leaders around the coronavirus pandemic. His most recent one was with Rajiv Bajaj, managing director of Bajaj Auto. In that Bajaj, known to never mince his words, spoke about the importance of transparency and the wisdom of choosing the middle path. He also told this powerful story of his conversation with Pune police commissioner, Dr K Venkatesham.
"I said to him Dr sahib, my dissonance is that for the 50 years that I have lived in Pune and I am particularly sensitive to the fact that India is the capital of the world when it comes to fatalities from road accidents. Whatever be the cause, that is the net result. But maine aaj tak kabhi aisa nahi dekha jab log 30-40-50 tak ke log bina helmet ke riding karte hain, toh police waley kya karte hain. 99.9% of the time kuch nahi kartien hain. On the other hand, kisi ne agar mask nahi pehna or someone steps out for a morning walk you are caning them, making them do exercises in the middle of the road to humiliate them. Aapne unke haat mein board laga diya ki main deshdrohi hoon , main gaddar hoon etc. Where is the proportion in the way we are treating our own people? You (Rahul Gandhi) talked about compassion. I'm talking about examples that I have seen with my own eyes here. I have seen senior citizens being caned for simply stepping out to get some fresh air."
Watch the full interview
Flatten the curve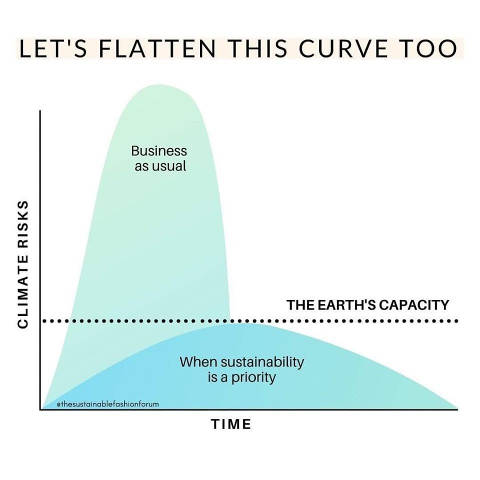 (Via WhatsApp)
What's the best way to flatten this curve? Share your ideas with us. Or post on Twitter, and tag us @foundingf. Or join our Slack channel and post it there. If you aren't there already, here is the invite code.
And if you missed previous editions of this newsletter, they're all archived here.
Bookmark Founding Fuel's special section on Thriving in Volatile Times. All our stories on how individuals and businesses are responding to the pandemic until now are posted there.
Warm regards,
Team Founding Fuel