[Photo by Ashwini Chaudhary on Unsplash]
Note: Welcome to This Week in Disruptive Tech, a weekly column and newsletter that focuses on the intersection between tech and society. If you like it, please do share it with your friends and colleagues. If you have any feedback or comments, please add to the Comments section below. If you haven't subscribed already, you can subscribe here. It will hit your inbox every Wednesday sharp at 7 AM.
Will the ban on Chinese apps kickstart a change in global technology power balance?
India has banned 59 Chinese apps. It's a big move. It's not just the Chinese-manufactured phones, Chinese apps are also popular in India. Of the ten top non-gaming apps downloaded in India, six are from China and only one is Indian.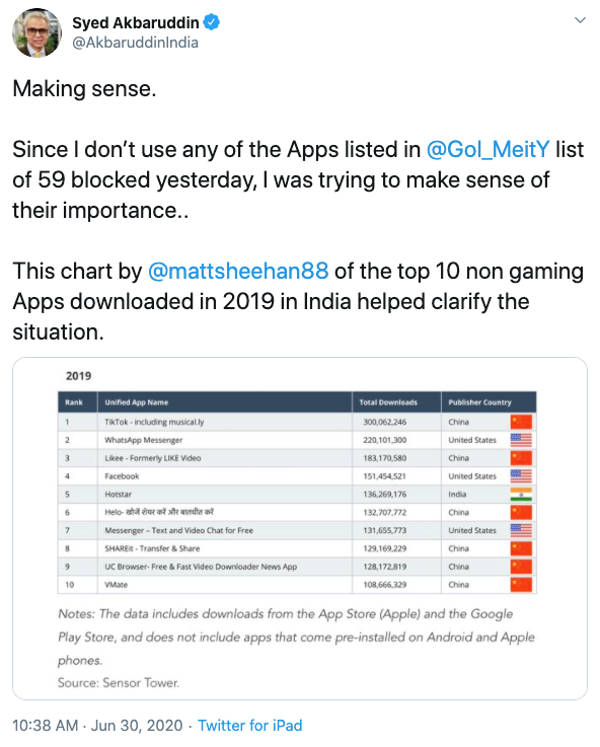 [From Twitter]
The move has sent users scurrying for alternatives. But, how is it likely to play out in the medium to long term? Will it die down after the present newscycle, or is this a turning point for something bigger?
Here are four scenarios
Scenario 1: After the initial excitement, India pulls back the ban, and everything is back to normal. The China lobby is big. People love these apps. And there are unanswered questions—such as what happens to hardware, what happens to Chinese investments in Indian companies? All these might simply mean the ban will be lifted, and sooner than later, we can be watching funny videos on this incident on TikTok.
Scenario 2: The ban extends. Users miss the apps initially, but quickly settle down with existing alternatives. They move from TikTok to Lasso and Instagram Reels, from ShareIt to Files By Google, from UC Browser to Chrome and from CamScanner to Adobe Scan. American companies get stronger. Indian companies try to break into the market. A few capture some niches. But nothing significant.
Scenario 3: The Indian ecosystem quickly builds alternatives—copycats—and floods the market. Some of them become big. With a large number of users, they start thinking of new revenue models. Seeing this, other countries start building their own apps. And, soon, instead of having a few global monopolies, each country has its own app economy leading to winners and losers. Instead of global monopolies, we have national monopolies
Scenario 4: The Indian ecosystem starts building a different kind of tech. Unlike the US model, which is big tech-driven, unlike the Chinese model, which is state-driven, India evolves its own model giving primacy to data ownership by the users and creating services that are in the commons rather than owned by companies. The Swasth app is by no means perfect but it's a good example of how tech can be built through collaboration for societal good.
Which scenario will roll out depends on multiple factors, but there is no doubt that the ban has the potential to change a lot of things in India's internet economy.
The increasing complexity of simple solutions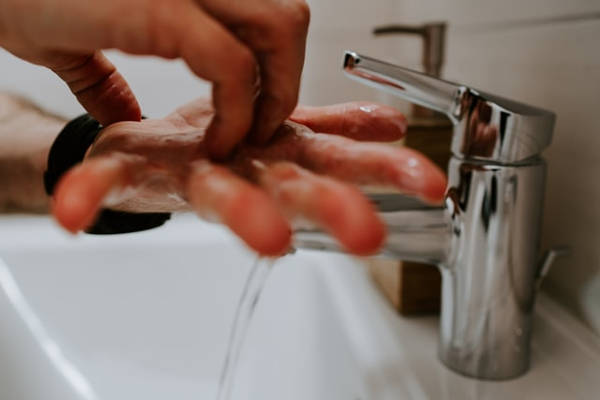 [Photo by CH Claudio Schwarz | @purzlbaum on Unsplash]
There is growing evidence that the most effective weapons against coronavirus are simple rules that we knew almost from day one:
wear a mask
wash your hands
follow physical distancing.
Yet, the fact that the infection has spread so widely shows that often simple rules are hard to follow.
Handwashing can be complicated. Here's the WHO guide to handwashing.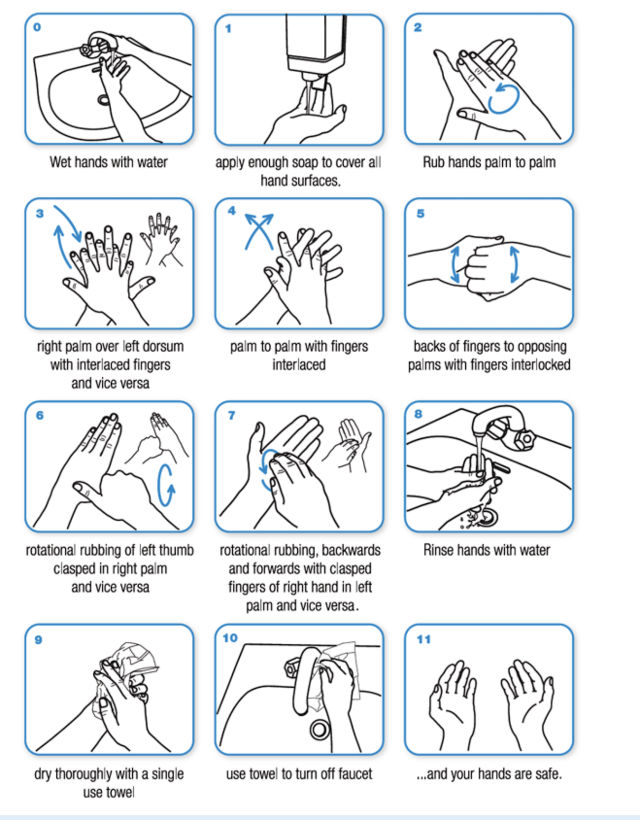 Handwashing is more important in some sectors than others (the food business, for example), and it's impossible (and rude) anywhere to monitor if people are doing it right.
Enter AI. Fujitsu has now launched an AI system that can recognize complex hand movements. More than 2,000 handwashing patterns were used to make the machine learn.
Reuters informs us of a not so hi-tech, but what could turn out to be an effective nudge to make it easy for people to follow the rules. It quotes Genta Suzuki, a researcher: "The AI could be programmed to play Happy Birthday or other music to accompany hand washing, but that would be up to the customers who bought it."
Dialogues and ethics by design
In an interview with MIT Technology Review, Jess Whittlestone at the Leverhulme Centre for the Future of Intelligence at the University of Cambridge, says, "We need to think about ethics differently. It shouldn't be something that happens on the side or afterwards—something that slows you down. It should simply be part of how we build these systems in the first place: ethics by design."
For that technologists and ethicists must work together. However, that's not easy. "Interdisciplinary collaboration is hard, however. People with different areas of expertise often talk about things in different ways. What a machine-learning researcher means by privacy may be very different from what a lawyer means by privacy, and you can end up with people talking past each other."