[Image by Nisha Gill from Pixabay]
In its new format, This Week in Disruptive Tech brings to you five interesting stories that highlight a new development or offer an interesting perspective. Plus, curated set of links to understand how technology is shaping the future, here in India and across the world. If you want to get it delivered to your inbox every week, subscribe here.
What's your WhatsApp strategy?
It's time to come up with one: In Scroll.in, Akhila Ranganna, writes about an interesting trend in Bangalore: Hyperlocal WhatsApp groups competing with food delivery apps such as Swiggy.
The way it works is simple. You like to cook, and you have time. So do some of your neighbours. And, you have other neighbours who are happy to pay for good homemade food once in a while. All you need is a platform to match the demand and supply. It's already there: WhatsApp. You post your menu—say six plates of stuffed paratha and six glasses of lassi. Orders come in. Cook. Deliver it to your customer four floors below. And suddenly your apartment complex—and WhatsApp—has become a thriving marketplace.
Dig deeper:
What to do when a window opens?
Just jump in: In a fascinating conversation with Pranav Srinath, V Ravichandar, a member of Bangalore Agenda Task Force back in 2000-04, shares some of the lessons he learned working with government as an outsider for nearly two decades. He narrates an apocryphal story about late Prime Minister Atal Bihari Vajpayee.
Once Vajpayee was about to make a speech to a group of industrialists. When he went over the draft his staff had prepared, he was not impressed. It lacked punch. People expect me to make some announcements, he said. An official remembered a government report on highways connecting north to south, east to west. On the spur of the moment, he inserted a paragraph that essentially said the government was committed to building the highways. When Vajpayee delivered that paragraph, there was a standing ovation by the audience. When he came off the stage, he said, "You saw what happened out there. I hope you know what that was about." That accidental announcement became the Golden Quadrilateral project, one of the most far reaching infrastructure projects in independent India.
Ravichandar uses the story to highlight how government often works. Windows open and close very fast, and when an opportunity presents itself, you have to grab, run fast and see what good can be done.
Listen to Ravichandar:
Dig deeper:
Will AI eat food tasters?
May be: Three years ago, China rolled out a government-funded artificial intelligence (AI) programme, to test if robots can do the job of a human food taster. It deployed AI-powered robots at ten manufacturers of traditional Chinese food, such as cured pork belly or fine dried noodles. These robots had sensors. They could essentially "see", "smell" and "taste" the food as it was being prepared. They would then make adjustments to the production process. They got some help from human trainers and the rest, they learned from data and algorithms.
The results are out. China National Light Industry Council in a report says the programme was successful and it helped increase these manufacturers' profits by more than 300 million yuan ($44.5 million) since 2015. But then, some say Chinese cuisine is too sophisticated, and can't be standardised. Read more about it in the South China Morning Post report by Stephen Chen.
Dig deeper
How to prevent heart attack
By injecting mutant genes: Meet Dr Sekar Kathiresan. He studied history at the University of Pennsylvania, went on to get an MD from Harvard Medical School and established himself as a top notch cardiologist and genetic scientist. In his most recent job, he was director of the Center for Genomic Medicine at Massachusetts General Hospital.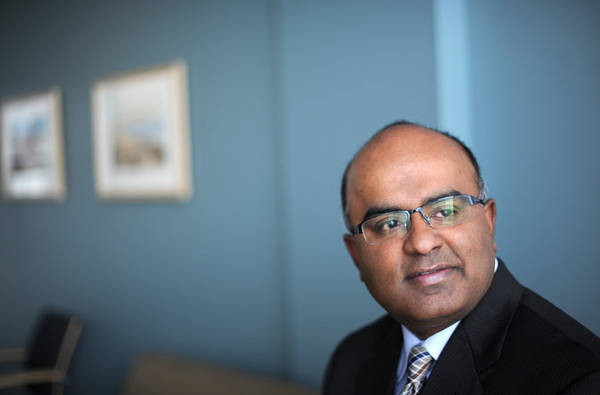 [Source: http://www.kathiresanlab.org/gallery/]
One of his research interests was to find out the link between DNA and heart disease. How is it that some people lead a very unhealthy lifestyle and still stay clear of coronary artery ailments? Kathiresan's own brother died of heart disease at the peak of his career. It turned out they have mutant genes that protect them against heart disease. What if you use CRISPR, the gene editing tool, to treat the problem upstream, at the genetic level? This week, Verve Therapeutics, a company that Kathiresan co-founded, and one that he would join as CEO, came out of stealth mode to announce that it will do precisely that with a $58 million investment led by GV (formerly Google Ventures).
But first, Verve will have to clear a number of scientific, regulatory and ethical hurdles before its product hits the market.
Dig deeper
Who runs the world's radio-tochka today?
Big tech? In Soviet Russia, Joseph Stalin extensively used radio-tochka for his propaganda. As David Remnick described it, "These cheap wood-framed devices were installed in apartments and hallways, on factory floors, in train stations and bus depots; they played in hospitals, nursing homes, and military barracks; they were nailed to poles in the fields of collective farms and blared along the beaches from the Baltic to the Sea of Okhotsk…. If someone in a communal apartment shut off the radio, he was considered suspect, defiant, a potential "enemy of the people."
"Religion is a brake for the five-year-plan.
Down with religious holidays.
All religions equally interfere with socialist construction."
Soviet anti-religion propaganda poster, 1930s pic.twitter.com/CbP0rGnkUe

— Soviet Visuals (@sovietvisuals) May 22, 2018
Radio-tochkas are still a reality in North Korea. Axios' report on Anna Fifield's new book, The Great Successor, has some interesting details. "Every household has a radio attached to the wall that can never be turned off and can never be turned to a different station." And the country has a neighbourhood watch system led by a middle aged lady, who inspects radios in every home to make sure that they haven't tuned in to any other station. "She checks cell phones to make sure they don't contain unauthorised music or photos from the outside world. She also encourages neighbours to report on one another."
If we set aside the intent, and if we set aside the generally accepted principles on which businesses operate, and look at the specific impact on specific issues such as "filter bubbles", "Keeping up with the Joneses" and privacy violations, radio-tochka can well serve as a metaphor for the darker side of Big Tech.
Dig deeper: