Innovation through Human-Centered Design Workshop
Founding Fuel has partnered with the LUMA Institute to offer a two-day intensive workshop on Innovation through Human Centered Design in Mumbai on Dec 7 & 8 2015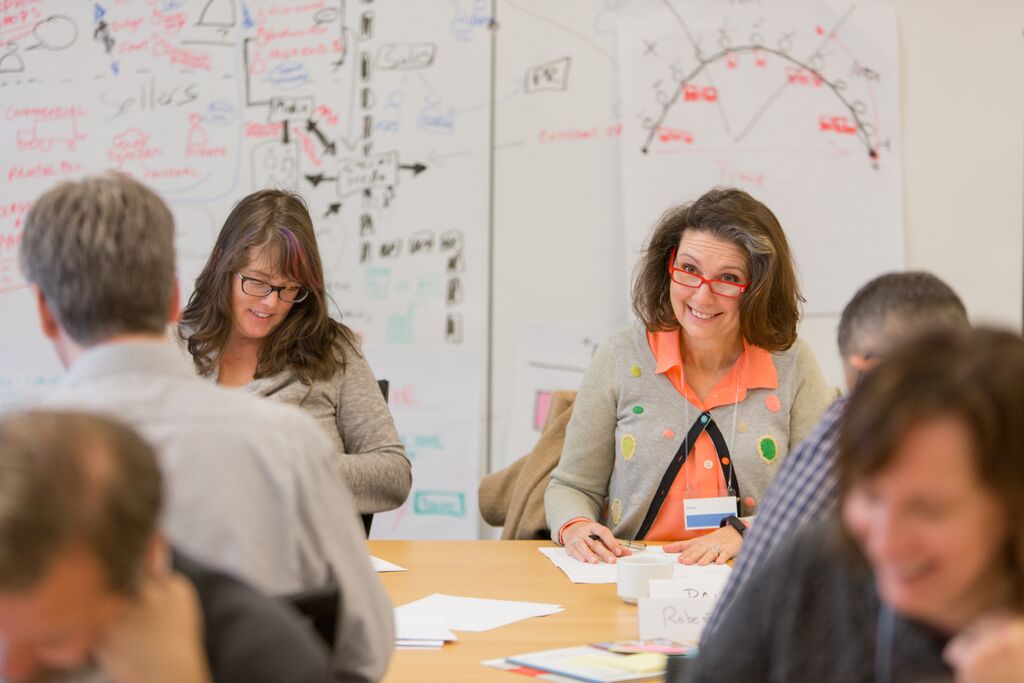 WORKSHOP OVERVIEW
INNOVATION IS CRUCIAL for most organizations, yet few people are equipped to innovate with confidence. Human-Centered Design can help. The discipline of developing solutions in service of people greatly increases the likelihood of truly innovative results.
Whether you're looking to grow a culture of innovation throughout your organization, prepare a team to be innovation catalysts, or just improve your own capabilities, this workshop is a great place to start.
Founding Fuel is committed to bring the finest minds and institutions of our times to a single platform. That is why, in a first in India, Founding Fuel has partnered with the LUMA Institute to offer an intensive workshop on Innovation through Human Centered Design—an idea that is completely altering how organizations across the world are working.
Through a mix of lectures and hands-on activities, this workshop introduces participants to the LUMA System of Innovating for People—a flexible framework for practicing Human-Centered Design. It is intended to:
Provide teams with a repeatable way to innovate
Get more out of your direct customer research
Measure the impact of your product development efforts
Promote productive interdisciplinary collaboration
Learn creative alternatives to traditional brainstorming
KEY BENEFITS
Practicing the LUMA System of Innovation helps individuals, teams, and organizations build key innovation behaviors:
COLLABORATION - Working together, across disciplines and across organizations, to create something new
EMPATHY - Understanding and sharing the feelings of others, in order to know how best to serve them
QUESTIONING - Approaching challenges openly and questioning the question, to make sure you're solving the right problem
VISUALIZATION - Giving form to thoughts and words in order to think, collaborate, and test in ways that others can see
IMAGINATION - Taking a visionary approach to challenges by committing to push past the feasible to create new value
ITERATION - Making improvements rapidly through cyclical prototyping, testing, and refining
WHO SHOULD ATTEND
This workshop is ideal for anyone who seeks to accelerate innovation within their organization, is interested in Human-Centered Design, or who wants to improve their skills in these areas.
Ideal participants are experienced professionals in positions of influence within their organization, who can see the opportunity and aspire to create a culture of innovation.
Because collaboration is a key driver of innovation, we encourage multiple attendees—spanning levels and functions—from any organization.
HOW RECENT ATTENDEES DESCRIBE OUR WORKSHOPS
— "It let me see what innovation looks like and how an innovative organization might behave."
— "The most I've learned in two days in the last 10 years."
— "This experience was a career-defining milestone."
— "This course has the absolute best information on how to rapidly and effectively improve not just the design process, but nearly every process in your team. I will not only recommend this course, but insist upon it! Thank you so much."
— "Having a suite of techniques makes it easier to see how adding them could really improve our products."
ATTENDEE ORGANIZATIONS HAVE INCLUDED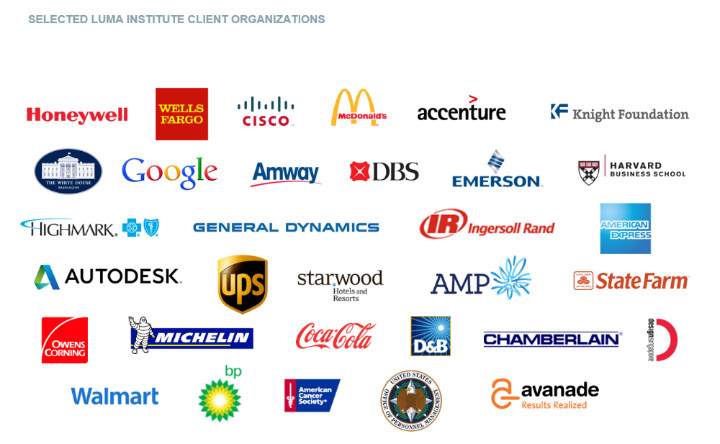 EXAMPLES OF METHODS TYPICALLY COVERED
Rough and Ready Prototyping
Think-Aloud Testing
Stakeholder Mapping
Interviewing
Persona Profile
Contextual Inquiry
Rose, Thorn, Bud
Affinity Clustering
Importance/Difficulty Diagramming
Abstraction Laddering
Round Robin
Visualize-the-Vote
Concept Poster
Video Scenario
Bull's-eye Diagramming
WHAT YOU WILL GET
— LUMA Institute's "Innovating for People: Handbook of Human-Centered Design Methods"
— "Innovating for People: Human-Centered Design Planning Cards" and other planning tools
(If you have any questions mail us at innovation@foundingfuel.com)
Register for this workshop