[From Unsplash]
Good morning,
In his book, Passage Meditation, Eknath Easwaran shares an insight he received from his grandmother, and goes on to explore the world of truth contained in it.
He writes "One day I came home after school with something deeply disturbing on my mind: I had seen, for the first time, a child with elephantiasis. It is a terrifying disease… This little boy's legs had swollen badly. He walked only with great effort and of course he was unable to join in our games. I told my grandmother about him. 'Granny, it must be awful for that boy to have elephantiasis and not to play.'
"Her face became very compassionate. She said, 'Yes, everything in life will be hard for him.' Then she added, 'But only one in a million suffers from elephantiasis of the leg. There is a much more dreadful disease that can afflict every one of us if we don't guard ourselves against it all the time.'
"'What's that, Granny?'
"'Elephantiasis of the ego.'
"The more I have pondered that remark down the years, the more perceptive it seems. Our swollen concern for ourselves, she was saying, constitutes the worst threat in life."
Easwaran goes on to say, the "drive for self-aggrandizement has never led to happiness and never will. We cannot always have what we want; it is childish to think so. No one has the power to regulate this changing world so that he or she can continuously sing, 'Everything's going my way'—if we could do so, it would only stunt our growth.
"We desire, naturally enough, to be happy. But if we put our personal happiness at the top of the list, we only succeed in making ourselves miserable."
It's a paradox worth pondering over.
FF Exclusive: What's new about Tata Neu?
Since the time the Tata Neu super app made its debut, many conversations have been happening around it. In fact, we hosted one on March 31 with Hari Menon, co-founder at BigBasket. He sits on the board of Tata Digital as well and we asked him to help us understand what this super app means to the Tata group. He took us through their thinking and how they are going about it. Menon's arguments sounded very compelling.
Even as Menon was speaking on Twitter Spaces that day, Harsh Vardhan, a strategy consultant to leading brands, including the Tata group, and a faculty member at various business schools, was listening in. He didn't sound convinced about Menon's arguments and told us that in as many words.
Why, we asked him. "To me it sounds more like a coalition or a shared programme and not really a super app except for an additional benefit like unified payments." This sounded most interesting because Harsh has studied loyalty programmes and worked to create them as well. We asked him if he could offer us a more granular perspective. He did because he see's many issues.
"The 'Tata Trust' factor too may not be the same across companies. My associative value with the Taj hotels is vastly different than that of Croma. The two cannot be put in the same bucket at all. One is super premium and the other is a mass brand. Or Titan for that matter. The passion with which Xerxes Desai built a world class premium brand showed in the consumer response to the brand. So great was his passion for building a great watch brand, and which he did with great aplomb, that even the Swiss were worried. I saw that passion when I worked closely with him and his team to launch Insignia (unfortunately ahead of its time). Surely the one that equalled the Swiss watches both in engineering and style. I heard that the Swiss guys once tried their best to keep him away from attending one of the world's largest watch fairs in Geneva.
"The kind of loyalty which the customers show for the Taj hotels and Titan could not be equated with say, Westside or Croma, though they too are strong brands in their own right. Buying behaviour and attitude towards the two sets may not be the same."
Intrigued?
Dig deeper
What's Elon Musk up against?
No, it's not Twitter's poison pill.
The very public cat-and-mouse game between Elon Musk and Twitter is far from over, and far more entertaining than Tom & Jerry for those who are interested in corporate warfare. It's not clear what Musk really wants to do, but one of the things he might want to do is to take over Twitter. It might not be easy. As Shira Ovide pointed out in a New York Times newsletter (behind paywall), "It's fun to imagine what you'd do if you were the boss of Twitter, but it's not so fun actually being the boss of Twitter. Look at Mark Zuckerberg running Facebook. That guy does not seem like he's having fun."
In a long, nuanced Twitter thread, Yishan Wong, founder and CEO of Terraformation and former CEO of Reddit, drew on his own experience to point out why running a social networking platform is no fun.
"There are no real principles. They are just trying to be fair because if they weren't, everyone would yell LOUDER and the problem would be worse.
"What happens is that because of the fundamental structural nature of social networks, it is always possible for a corner case to emerge where people get into an explosive fight and the company running the social network has to step in.
"Because human variability and behaviour is infinite. And when that happens, the social network has to make up a new rule, or 'derive' it from some prior stated principle, and over time it's really just a tortured game of Twister.
"You really want to avoid censorship on social networks? Here is the solution:
"Stop arguing. Play nice. The catch: everyone has to do it at once.
"I guarantee you, if you do that, there will be NO CENSORSHIP OF ANY TOPIC on any social network.
"Because it is not TOPICS that are censored. It is BEHAVIOUR.
"(This is why people on the left and people on the right both think they are being targeted)
"The problem with social networks is the SOCIAL (people) part. Not the NETWORK (company)."
Yishan summed up his argument this way, ending it with an advice for Musk: "If you run a large social network, you will be forced by inexorable circumstance to censor certain things, you will be forced to 'arbitrate' on topics you have an (inevitably) limited understanding of, and it will all be really really shitty.
"(The alternative is just collapse of the platform, so I guess you do always have a choice—but then you're not a social platform anymore)
"The process through which all of that will happen is painful, which is why I don't think Elon should do it. It is not a good use of his time, and I think his time is uniquely valuable and limited."
Dig deeper
Mad at aggregators?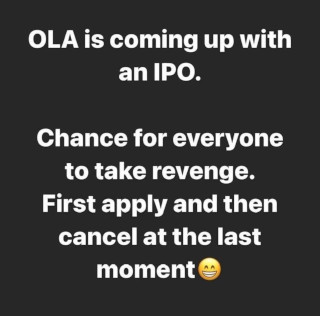 (Via WhatsApp)
Found anything interesting and noteworthy? Send it to us and we will share it through this newsletter.
And if you missed previous editions of this newsletter, they're all archived here.
Warm regards,
Team Founding Fuel
(Note: Founding Fuel may earn commissions for purchases made through the Amazon affiliate links in this article.)