[From Unsplash]
Holiday season chaos. Long queues for security check at the airport. Missed flights. Lost luggage. Soaring ticket prices. Angry Twitter threads. Multiple unsavoury incidents of unruly, inebriated passengers misbehaving with airline crew and other fellow passengers.
The year 2022 didn't exactly end on the right note. So will 2023 be any different for Indian air travellers?
Here's the moot point: After the pandemic, air travel has rebounded strongly around the world and in India as well—and is likely to do so this year too.
Also, the global airline industry is expected to turn the corner and register a small profit for the first time in 2023 after the pandemic. So a combination of congested airports due to soaring traffic, and high prices, triggered by the airline industry's commercial imperatives, provide the backdrop for air travel this year.
Beneath the surface, a number of developments are likely to reshape the air travel experience for business travellers this year. We curated this FF Life story—based on conversation with business travellers, airport developers, airline chiefs and supported by secondary research. It is meant to provide an inside track on the major changes that smart travellers can expect around both domestic and international air travel. Not all these changes are entirely new. There are some emerging trends carried over from last year that are likely to become mainstream.
There are two facets behind most of the changes: one, technology is continually improving the air travel experience—and this year is no different. Two, there is plenty of activity on building out new airport infrastructure—and also upgrading existing ones. This will help cope with both the rising traffic and also deliver a better user experience.
So let's dive straight into the most significant changes.
1. Free wi-fi is here
By all accounts, there's nothing radical that you might find on board, inside the aircraft. Except for say, features like USB-C charging, PDA holders, and screen-based buy-on-board.
But the big one will certainly be free wi-fi. Starting February 1, Delta Airlines has announced that the airline will start offering free wi-fi on almost every domestic flight in the US. More than 700 planes will have the service by the end of the year, and plans call for international and regional aircraft to be equipped by the end of 2024, according to this story from The Washington Post.
It says: "The company says passengers will be able to use the high-speed internet for things like playing shows or movies from streaming services, scrolling social media, using apps, sending emails, searching the web and more. Voice or video calls, however, will still not be allowed because of federal regulations."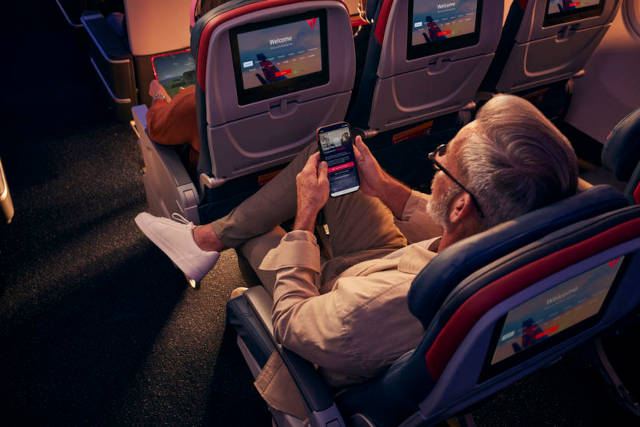 [Free wi-fi. Photo from Delta]
The service, first announced nearly four years ago, will be limited to members of SkyMiles, the airline's frequent-flyer program, to access the free service. This is the first major US airline to roll out free wi-fi. And it could soon force other rivals to follow suit. (For instance, British Airways launched their flat beds for their long haul first class flights, way back in 1995, before extending it to the business class in 2000. It took a few years for it to become table stakes for the airline industry.)
Now, here's the nub: for a lot of business travellers, this could well be a double-edged sword. After all, one of the perks of air travel is the opportunity to relax, grab a few winks, not have to deal with incessant pings on the mobile phone and respond to emails on board.
2. DigiYatra and the paperless, contactless travel phenomenon
Starting December 1, the Indian government introduced facial recognition technology—referred to as DigiYatra. It allows passengers who register on the DigiYatra app to seamlessly walk into the airport terminal and clear security check in a jiffy. Even while the chaos at the airports, especially Delhi's T3, around the holiday season was raging, most passengers weren't aware of DigiYatra. Today, Delhi International Airport Ltd (DIAL) claims there are nearly 1,000 people who are using the service everyday at the T3 terminal. And the chances are that the adoption rates will jump this year, as more people get to know about it.
DigiYatra is currently available at T3 in Delhi, Hyderabad and Varanasi. And will be gradually expanded in the next phase. Deven Pabaru, CEO of Stellar Fulfilment Solutions, a leading integrated logistics player, recently passed through T3 in Delhi on his way back to Mumbai. A regular business traveller, he didn't have any check-in luggage. It took him less than a minute to enter the terminal from the special gate 2A, and then access the dedicated queue for DigiYatra passengers, right next to the one for business class passengers. That too was done at express speed. And he was at the boarding gate in 10-15 minutes from start to finish.
There's already plenty of information available in the public domain, if you're interested in understanding how the DigiYatra process works. Read about it here.
Pabaru said he downloaded the DigiYatra app the previous night, uploaded his picture, authenticated his identity using Aadhaar on his Digilocker app and also scanned his boarding pass. That way, the airport already had all his essential details on their system before he arrived. And at the entry, the machine took a few seconds to match his image with the one he had uploaded the previous night—and he was inside the terminal building.
While the DigiYatra system has been tested for a few years across the Delhi and Hyderabad airports, there have been a few passengers complaints about the app being clunky and the process of loading the boarding pass a tad erratic, as Sanjiv Kapoor, CEO-Designate, Jet Airways, discovered last month. He captures his own user experience last month with DigiYatra through this Twitter thread.
Hopefully, these teething troubles will get sorted out soon. And this contactless travel, supported by biometrics, will gradually become the norm this year.
While Indian airports still don't have it, both Abu Dhabi and Changi airports have recently introduced automated immigration clearance. The system uses biometrics—the same facial recognition and iris scanning technology—to reduce the waiting time. To ensure that security isn't compromised, only specific categories of passengers are eligible—and it needs prior registration. Here is a step-by-step guide on how to navigate the new system at Changi airport in Singapore. And this short explainer video also provides a peek into the new system:
3. Overhauling the legacy airports, building anew
It doesn't take long for airports that once set the benchmark for passengers to fall behind, as new airports leapfrog into the future. For the last few decades, the major US airports—JFK, Dulles, O'Hare, LAX and San Francisco—lagged way behind the spanking, modern airports across Asia (Changi and KL) and in the Middle East (Dubai and Abu Dhabi).
Even as late as last year, the two major airports in New York—JFK and Newark—made it to the list of the top 10 worst airports in the US, based on flight delays and cancellations.
That's now starting to change, as all major airports in the US, including JFK, LaGuardia, San Francisco (SFO) and Los Angeles (LAX) are now getting a major face-lift. As you read this, JFK's 60-year-old Terminal 2 will down its shutters on January 15, as this story in The Points Guy says.
The story says:
"New York's busiest airport is in the midst of a major makeover, and with it comes the demolition of one of the longest-standing relics of a bygone era… By tearing down Terminal 2, airport authorities are making way for the 'New Terminal One,' which replaces the existing Terminal 1 and Terminal 2 spaces. It will also include the vacant site of Terminal 3, fondly remembered as Pan Am's Worldport… Construction on the New Terminal One began in September. The new terminal will measure a whopping 2.4 million square feet, nearly as large as LaGuardia Airport's (LGA) two new terminals combined. Construction is expected to be fully completed in 2030."
Newark also opened its newest terminal A earlier this week, but met with plenty of hiccups, according to this story in The Points Guy.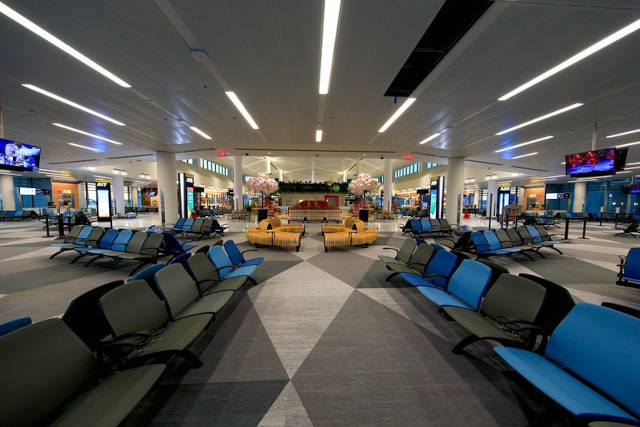 [The new Terminal A at Newark airport. Photo by Port Authority of New York and New Jersey (CC BY-NC-ND 2.0), via Flickr]
At the other end of the transatlantic route, Heathrow, UK and Europe's busiest airport, is also playing catch up. A controversial third runway project is still on the drawing board on account of environmental concerns, as the city of London looks to regain and exceed the pre-pandemic levels of traffic.
Back home, in Delhi, a massive expansion plan is underway. A new fourth runway will be ready this year. An elevated dual taxiway is also expected to be completed soon, which will substantially reduce the taxiing time for any aircraft landing at T3 at the Delhi airport.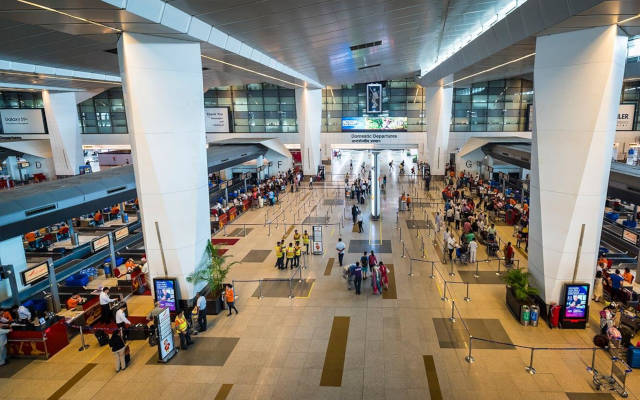 [Delhi airport. Photo from newdelhiairport.in]
The real showpiece will be the massive, new integrated terminal one, which will have domestic arrival and departures under one roof. If there are no unforeseen delays, the new integrated terminal one is likely to open in December this year.
Once the entire airport expansion project is completed next year, Delhi will be able to handle 140 million passengers (airside), up from 69 million in 2019, more than doubling its capacity in about 3-4 years, making it a significant global hub.
However, for Delhi airport to reach truly world class standards, connectivity between the terminals will need to significantly improve. For security reasons, the home ministry at the Centre remains steadfastly opposed to enabling airside connectivity. So the only ray of hope is the proposed Air Train option, that links all the terminals and the AeroCity nearby in Delhi. But so far, the project specs are still being scoped out and it hasn't yet been awarded. Once it is, it might take at least three years to build.
On the anvil at the new T1 terminal is a lavish lounge, a large waiting area inside to receive incoming passengers and a sizeable number of aerobridges, all of it supported by a green terminal building, said a spokesperson from DIAL, part of the GMR group that manages Delhi, and also Hyderabad and now, the new Goa airport at Mopa.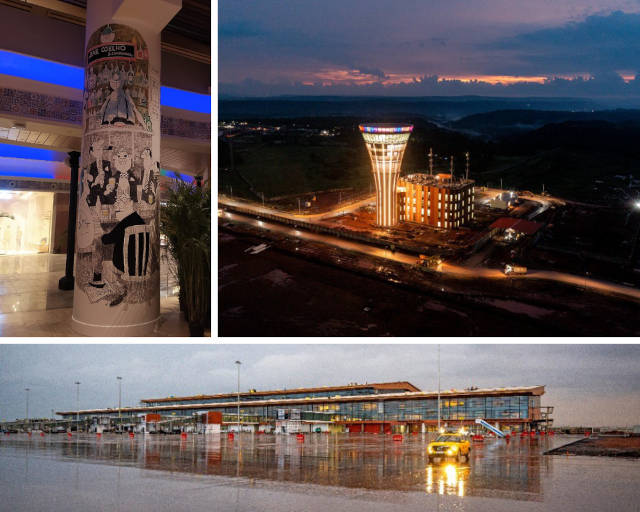 [The Mopa International Airport, Goa; photos from Twitter]
On January 11, Prime Minister Narendra Modi inaugurated the spanking, new airport at Mopa in north Goa. Initially, phase one of the airport will cater to around 4.4 million passengers per annum (MPPA), with a saturation capacity of 33 MPPA. Care has been taken to reflect the local ethos of Goa, with a designated area for a curated flea market where local artisans and craftsmen can display and market their wares. Plus, the food court recreates the charm of a typical Goan cafe, with the walls painted in bright colours and the counters made of tin-glazed blue-and-white Azulejos tiles. Catch a glimpse of the new airport from a Twitter thread that Amith Prabhu, co-founder, Praxis, shared.
Thread: https://twitter.com/amithpr/status/1611894391496642561?s=20&t=71HFEgLBv2eBIte0Rr4Zyw
4. New exclusive lounges
The post pandemic boom in air travel created yet another challenge for airlines: long queues outside lounges and overcrowding inside. To provide a more premium experience for its business class passengers, Delta will be debuting the Delta One Club, its all new lounge concept, at Concourse B at the New York-JFK airport this year. Spread over 36,000 sq ft, the lounge is likely to have artisan cocktails, high-end restaurant-quality food, and private working booths.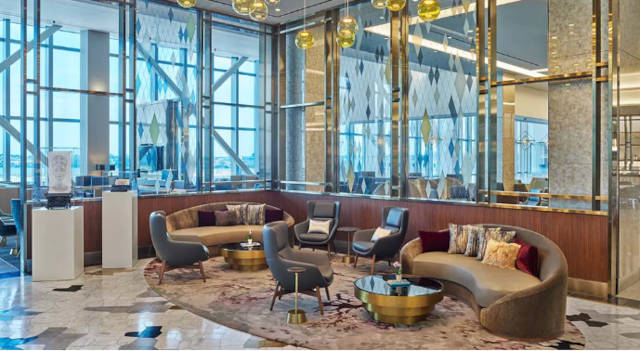 [The new LGA Delta Sky Club will be the largest in its network upon completion. Photo from Delta.com]
This post in Travel + Leisure and this CNN story have some more details.
However, as this CNBC story points out, airlines are also starting to scale back frequent flyer perks and making it harder to earn points.
5. Class wars
More full service airlines—Air India, Emirates, Singapore, American Airlines and Virgin Atlantic, among others—are now looking to expand their premium economy class to offer a better, upgraded experience for economy class passengers. That could mean more legroom, cosier seats, signature meals and cocktails, and dedicated check-in. Albeit at a higher ticket price. This Conde Nast Traveller story from last year provides a better sense of which premium economy options are worth splurging on.
At the same time, there are some unwelcome trends too. The economy class experience is starting to see downgrades: non-recline, narrower seats, no seat pockets, disappearance of individual overhead air vents, compounded by small toilets that are hard to use. The Indian carriers haven't yet followed suit, but it may be a matter of time before they do.
6. AirTags
Nearly half the passenger complaints—like this incident on Friday—in the airline business are linked to lost luggage. Ever since the chaos raged across many European airports last summer, Apple's AirTags, a smart wireless tracking device, has emerged as a great way for passengers to monitor their own luggage—often better and more precisely than the airlines themselves. Armed with the information, passengers are now in a better position to hold airlines accountable, says Jet's Kapoor.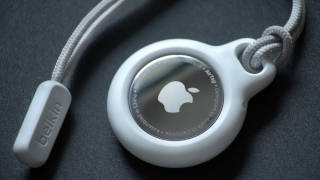 [Apple AirTag. Photo from Unsplash]
This in-depth New York Times story tells you why AirTags could become mainstream this year.
7. Solving the pricing puzzles
This is the question that everyone wants to know: will ticket prices cool off this year? The answer: unlikely. There was a phase when many airlines would drop prices in a bid to fill capacity. Sometimes, it took one bad actor to queer the pitch for the rest of the airline industry. But now, airlines have become more conscious of margins—and become a lot more disciplined. Discounted tickets are likely to be available if you book early. And prices will be steep for last minute travel—and no longer the other way round.