[Photo by adrianna geo on Unsplash (cropped)]
Good morning,
In An Economist in the Real World: The Art of Policymaking in India, Kaushik Basu, Cornell professor and former chief economist, talks about the gated community of the bureaucratic elite, for whom everything—from renewing a driver's license to paying taxes—happens in a jiffy. "For India's top bureaucrats it is easy to begin to think that they live in Singapore, in terms of efficiency," Basu writes.
The problem with living in this ivory tower is that it distorts the way people look at India, and given the outsized influence they have on how the government works, it can have serious consequences.
Basu shares an interesting anecdote: "I remember a heated discussion in June 2010 when we were discussing deregulating petrol and diesel prices. The policymakers spoke angrily about how the rich corporate honchos freely drove around their large sports utility vehicles using subsidized petrol and diesel which the government provided. They argued, rightly, that allowing these prices to rise would make these users of gasoline more cost-conscious and they would use their cars a little less and effect some essential economy for the nation.
"What did not seem to strike any of them is that all of us in that room got our petrol and diesel not at a subsidized price but effectively for free, since having a car with a full gas tank and driver was part of our senior government life. Hence, if we truly wanted demand to be curtailed during times of gasoline shortage, along with letting prices rise, we needed to take away this very expensive perquisite which is a part of life in government bureaucracy."
How do you make sure you are in touch with what's happening on the ground?
In this issue
How to go outside your comfort zone
Tips to be a better listener
An artist looks at the American elections
How to go outside your comfort zone
In our Masterclass: Personal Journeys series, Parmesh Shahani, head of Godrej India Culture Lab, spoke to Charles Assisi about the secret behind his creative genius and his almost superhuman ability to reach out and forge relationships with a wide range of people. However, it didn't come easy.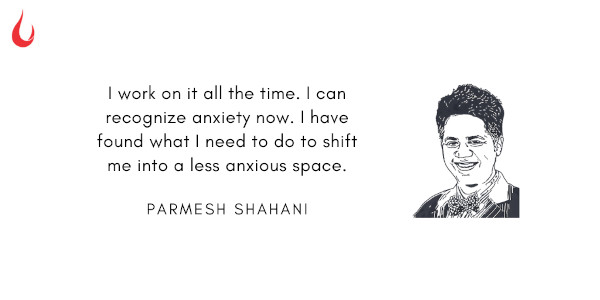 Parmesh said: "I am very much an introvert. I don't like public speaking. In fact, for years I struggled with anxiety and depression. I have been to psychiatrists, as well as counsellors many times. There was a time when I was so afraid of public speaking that I would need medication [for the anxiety].
"But I've always thought in terms of what are the outcomes that I want to achieve. And in the kind of work that I do, which is communication, the outcome that I want to achieve is for people to understand what I'm trying to say, and more importantly, to change their attitudes and behaviours….
"So, whether I'm anxious or I'm depressed, the outcome I want to achieve necessitates that I figured out how to manage these things. And learn how to communicate.
"It's been a process that has involved experts, friends, counsellors, incredible mental health professionals….
"I work on it all the time. I can recognize anxiety now. I have found what I need to do to shift me into a less anxious space."
Dig Deeper
Tips to be a better listener
Prakash Iyer, a leadership trainer, offers ten practical tips to become a better listener in his Facebook series Chai with Pi. Here are three we found interesting.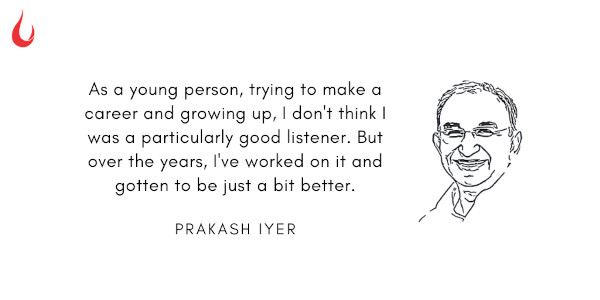 Start with an open mind: The problem for most of us is that we already have a preconceived notion of what's right, what's wrong, our beliefs come in the way of our ability to listen
Be present in the moment: Now this sounds like some Zen advice. But the problem for most of us is that we fancy our ability to multitask. So it's not unusual for us to continue to be on our cell phones, even while we're listening. Don't let your mind wander, just stay in the moment.
Don't interrupt the other person: Even if you have to say something, hold on and let the person finish. Adam Bryant said in a situation like this, it's a good idea to WAIT, and ask yourself, Why Am I Talking.
Dig Deeper
An artist looks at the American elections
Listen to Bruce Springsteen recite a poem on what he doesn't see in the White House these days. Irrespective of what your political preference is, it's a touching poem. Do listen.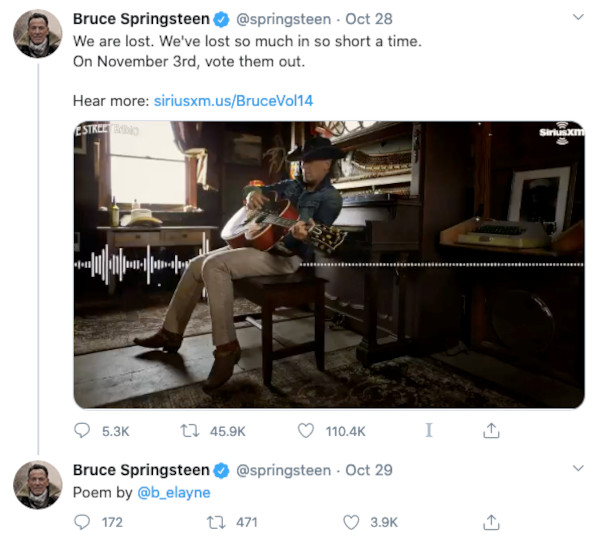 (Twitter)
Tell us what you think and find noteworthy. Head over to our Slack channel.
And if you missed previous editions of this newsletter, they're all archived here.
Bookmark Founding Fuel's special section on Thriving in Volatile Times. All our stories on how individuals and businesses are responding to the pandemic until now are posted there.
Warm regards,
Team Founding Fuel