[Photo by Glenn Carstens-Peters on Unsplash]
By Indrajit Gupta and Jaydeep Shetty
Good morning,
With election results in the US and in Bihar dominating the airwaves, politics is in the air. This weekend, enjoy our specially curated collection of political thrillers. You'll find there's nothing better than to curl up on the sofa with a cup of coffee or a glass of chilled beer and enjoy the edge-of-seat drama and intrigue that these must-watch movies, web/tele series and biopics promise. (Never mind if you've seen some of these classics before. Perhaps it is time for a reprise!).
Borgen
It took Netflix more than a decade to air the English dubbed version of the highly acclaimed Danish political drama globally in September this year. The fictional story centres around the unexpected rise of Birgitte Nyborg, the leader of the centrist party, as Denmark's first woman Prime Minister. Set in Christiansborg Palace, where Denmark's Parliament, Prime Minister's Office and Supreme Court are housed, the narrative extends beyond the heady intersection of politics, media and spin-doctoring into the riveting personal life of the astute, yet vulnerable woman leader. Season 4 is on the cards in 2022.
New Delhi Times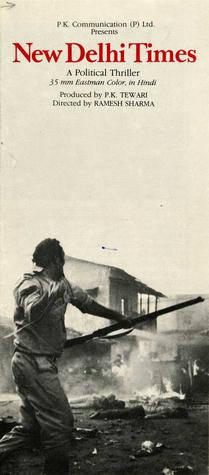 [By Source, Fair use]
This 1986 Hindi film is a hidden gem from Gulzar, who tried his hand at political themes several times, notably Aandhi (1975) and Mere Apne (1971). Conscientious editor Vikas Pande (Shashi Kapoor) attempts to uncover a hooch scandal and clashes with a powerful MLA (Om Puri), only to find he has been played. Ostensibly a movie about a newspaper, the film treads both worlds, a la All the President's Men (1976) or The Post (2017). It is a slow burn with superb performances from Kapoor, Puri, Sharmila Tagore and Kulbhushan Kharbanda. Notable also for the camerawork by Subrata Mitra and art by Nitish Roy.
Shanghai
Director Dibakar Banerjee's 2012 riff on Costa Gavras' iconic political thriller Z followed 30 years after the original, as Shanghai. A sociopolitical activist, protesting an international business park, gets bumped off by a tempo. What ensues is an array of fact brushing, evidence tampering, blackmail between politicos, and arrives at a rather unusual conclusion. Set in the milieu of the Hindi heartland, the movie starring Abhay Doel, Kalki Koechlin, Emraan Hashmi and Prosenjit Chatterjee, is well paced, gripping and has enough turns and performances to keep you on the edge.
A Woman Called Golda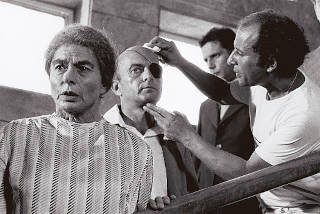 [Yoni S.Hamenachem, CC BY-SA 3.0, via Wikimedia Commons]
This 1982 biopic on one of the greatest women leaders of the 20th century is an absolute must watch. Ingrid Bergman came out of retirement to essay an incredible, award winning role as Golda Meir, the first woman Prime Minister of Israel. Golda, as she was lovingly referred to, arrived from America to a kibbutz in the disputed territory to dedicate her life to the creation of the state of Israel, before moving to Jerusalem to start a family. This two-part teleseries is a brilliant portrayal—some say, a bit slanted—of her leadership, service and diplomacy—of a small country surrounded by aggressive Arab neighbours out to obliterate it from the map.
Available on YouTube: Part I & Part II
Frost/Nixon
This 2011 American slice of time biopic features a disgraced Richard Nixon post-Watergate, and David Frost, famous in these climes more for Lifestyles of the Rich and Famous. This relatively recent entry tells the tale of the famous 1977 interviews which led to Nixon's public admission of guilt and subsequent defaming. Based on a 2006 British play by Peter Morgan, the film retains the original cast of Frank Langella (as Richard Nixon) and Michael Sheen (as David Frost), both of whom put in excellent performances, though the film has been criticized for playing fast and loose with the facts by Nixon chroniclers.
Marseille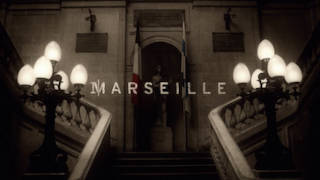 [Source (WP:NFCC#4), Fair use]
This specially commissioned web series was meant to help Netflix break into the European heartland. And it pulled out all stops by casting renowned actor Gerard Depardieu as Robert Taro, the longstanding mayor of Marseille, France's second biggest city. The master politician and his ambitious protege-turned-rival Lucas Barres (Benoit Magimel) are engaged in an intense war for control, even as right wing nationalists seek to take control and an unseemly conspiracy grips the city's much-loved football team. Even though it received a lukewarm response locally, resulting in the show being cancelled after two seasons, it is still worth a watch.
Raajneeti
This 2010 political potboiler, co-written, directed and produced by Prakash Jha, draws from both the Mahabharata and The Godfather to reveal the machinations and intrigue of party politics and fraterical strife. Supported by an ensemble cast of Ranbir Kapoor, Arjun Rampal, Manoj Bajpayee, Ajay Devgn, Katrina Kaif, Nana Patekar and Naseeruddin Shah, the film went on to become a blockbuster, unlike Jha's next political thriller Chakravyuh two years later, set deep inside Naxal territory, which won rave reviews from critics, but wasn't able to grab audiences.
A Very British Coup
This Channel 4 three-part humdinger of a British mini-series poses the hypothetical question: What if a radical socialist came to occupy 10 Downing Street? Played masterfully by Ray McAnally, former steelworker Harry Perkins ends up dissolving the special relationship with the United States, and calls for nuclear disarmament and an end to media monopolies, and real open government. The powers behind the scenes or "Secret State" as the 2012 remake was called, are naturally, not too pleased. They conspire to force Perkins out of office, who fights back and calls for fresh elections. Unlike the book, the film ends on an angry and ambiguous note, hinting only obliquely that a military coup will soon occur.
Available on YouTube and Channel 4 in the UK
Occupied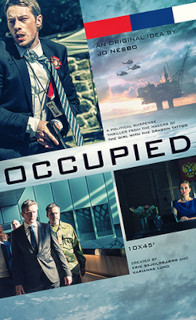 [By Source (WP:NFCC#4), Fair use]
This Scandinavian political thriller depicts a fictional future where Jesper Berg, the Prime Minister of Norway, stops the oil drilling, citing an environmental catastrophe. This sparks off fears of an energy crisis across continental Europe, and allows Russia, with support from the European Union, to plan a silk-glove invasion of Norway, to ostensibly restore its oil and gas production. That sets off a tense, fast-paced plot of kidnappings, assassinations and corruption. With three seasons, the series has done well but understandably, the storyline didn't exactly go down well with the Russians.
Secret City
This Australian political thriller traces the work of senior political journalist Harriet Dunkley (Anna Torv) in uncovering a conspiracy that involves the dark net, cybersecurity, cell phone hacks, and encrypted videos that threatens to endanger her own life and career—and that of innocent Australians. The Cold War may have ended, but the rising geopolitical tensions between the US, China and Russia provide the perfect backdrop to the high-voltage techno drama inside the corridors of power in Canberra. The chances of a new Season 3, however, remain somewhat hazy.
Editor's Note: Tell us what you think of this list. And if you'd like to add to this Top 10 list and recommend any of your personal favourites, please write to us at newsletter@foundingfuel.com
You can revisit past editions of FF Recommends here.
Occupied 2.0