[Joan Baez and Bob Dylan performing at the March on Washington where Martin Luther King Jr delivered his historic "I Have a Dream" speech. Photo by Rowland Scherman - U.S. National Archives and Records Administration, Public Domain]
Dear friend,
Admiral William H. McRaven, famously known for organizing and overseeing the execution of Operation Neptune Spear, which resulted in the death of Osama Bin Laden, shares an interesting anecdote from his training as a Navy Seal.
The ninth week in the programme, he says, is referred to as hell week. It is six days of no sleep with constant physical and mental harassment, and one special day at the mudflats.
The mudflats are an area between San Diego and Tijuana where the water runs off and creates the Tijuana slews, a swampy patch of terrain where the mud will engulf any visitor.
It is on Wednesday of hell week when the Seals paddle down in the mudflats and spend the next 15 hours trying to survive the freezing cold, the howling wind and the incessant pressure to quit from the instructors.
"As the sun began to set that Wednesday evening, my training class, having committed some egregious infraction of the rules, was ordered into the mud. The mud consumed each man till there was nothing visible but our heads. Instructors told us we could leave them out if only five men would quit. Only five men. Just five men and we could get out of the oppressive cold.
"Looking around the mudflat it was apparent that some students were about to give up. It was still over eight hours till the sun came up—eight more hours of bone-chilling cold. The chattering teeth and shivering moans of the trainees were so loud, it was hard to hear anything.
"And then one voice began to echo through the night. One voice raised in song. The song was terribly out of tune. But sung with great enthusiasm. One voice became two, and two became three, and before long, everyone in the class was singing. The instructors threatened us with more time in the mud if we kept up the singing, but the singing persisted. And somehow the mud seemed a little warmer, and the wind a little tamer and the dawn not so far away.
"If I have learned anything, in my time travelling the world, it is the power of hope. The power of one person, a Washington, a Lincoln, King, Mandela, and even a young girl from Pakistan, Malala. One person can change the world by giving people hope. So if you want to change the world, start singing when you're up your neck in mud."
We have something more about music today. Read on.
In this issue
The world in 2021
The joys of music
The power of why
Trends to watch for in 2021
Tom Standage, deputy editor at The Economist, shares ten trends to watch out for in 2021, as a part of the magazine's annual The World In… series.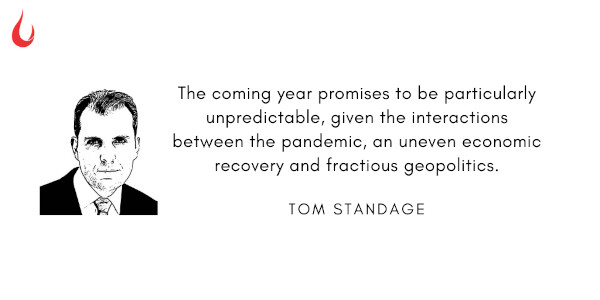 Here are the first three:
Fights over vaccines. As the first vaccines become available in quantity, the focus will shift from the heroic effort of developing them to the equally daunting task of distributing them. Vaccine diplomacy will accompany fights within and between countries over who should get them and when. A wild card: how many people will refuse a vaccine when offered?
A mixed economic recovery. As economies bounce back from the pandemic the recovery will be patchy, as local outbreaks and clampdowns come and go—and governments pivot from keeping companies on life-support to helping workers who have lost their jobs. The gap between strong and weak firms will widen.
Patching up the new world disorder. How much will Joe Biden, newly installed in the White House, be able to patch up a crumbling rules-based international order? The Paris climate treaty and the Iran nuclear deal are obvious places to start. But the crumbling predates Donald Trump, and will outlast his presidency.
You can read the full list here
The Economist, of course, is one of the best places to go to get a view of the world from a Western perspective.
At Founding Fuel, we recognize the need to use an Indian lens to look at the world as it attempts to recover from the devastation of the pandemic. There are a host of critical issues that are starting to surface around global economic growth, the far-reaching implications of the US elections on geopolitics and investment, the US-China trade and tech war, the realignment of forces in the Middle East, the disruption of global supply chains, and a host of other strategic issues.
To discuss this, we have invited Dr Frank-Jurgen Richter, founder and chairman, Horasis : The Global Visions Community and the former Asia director of the World Economic Forum (WEF), and Sundeep Waslekar, president of international think tank Strategic Foresight Group (and a familiar name for our Founding Fuel community) for a special conversation.
We have also invited Niranjan Rajadhyaksha, research director and senior fellow at IDFC Institute and G Venkat Raman, associate professor and a China expert at IIM Indore to be a part of the discussion.
Our conversation will start with a review of 2020, make sense of the emerging geopolitical and economic shifts and discuss what they signal for the world in 2021.
You can sign up for the Masterclass here, and join the Slack channel to participate in the discussions straightaway.
The joys of music
As a part of Episode #6 of Season 2 of our series Talkin' 'Bout My Generation, Shlok Paul, doctoral student at Hybrid Nanomaterial Labs, New York University, talks about how music has been shaping him even when he was in his mother's womb. His mother, Marie Paul, a gospel and jazz singer, used to find strength in the old song 'one day at a time' during her pregnancy. In this extract, he talks about how music is helping him connect with his dad, Josy Paul, chairman and chief creative officer, BBDO India.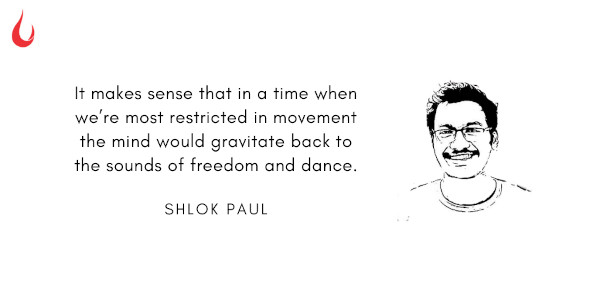 Shlok writes:
"As a scientist, I am far removed from his world of creative advertising and he is far removed from my study of soft matter physics. Still, I can share with him a video of Richard Feynman playing the bongos and he can share with me the many ad jingles incorporated into his work. We can comprehend it and share how it made us feel.
And you can keep your symbols of success
Then I'll pursue my own happiness
And you can keep your clocks and routines
Then I'll go mend all my shattered dreams
Maybe today, yeah
I'll slip away
"Hopefully and quite likely, it is a common joy between you and I. But perhaps why I most want to talk about music is because of how much I regret not playing my bass guitar when I can."
Also listen to Josy Paul's audiogram "Music is not just music, it's also the associations that go with it" at the end of the story.
Dig Deeper
Note: Join Shlok and Josy as they talk about Music and Life on Saturday, November 21, 7:30 pm – 8:00 pm IST. You can register here.
The power of why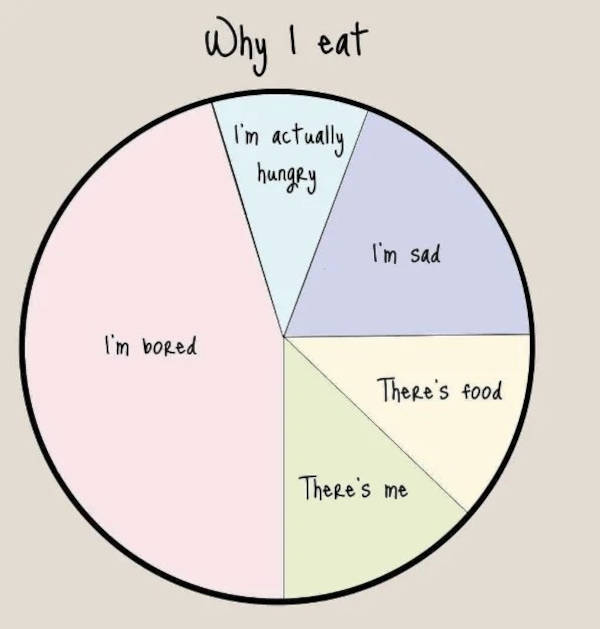 (Via WhatsApp)
Clearly, someone has thought much about why they eat. What are your reasons? Let us know on our Slack channel.
And if you missed previous editions of this newsletter, they're all archived here.
Bookmark Founding Fuel's special section on Thriving in Volatile Times. All our stories on how individuals and businesses are responding to the pandemic until now are posted there.
Warm regards,
Team Founding Fuel