[Image by Tumisu from Pixabay]
Good morning,
The pandemic has made all of us introspect on many things, and one of that is money. In this edition of FF Recommends, we share some of the resources that made a huge impact on how we think about and manage money.
We hope you will find this useful.
Have a great weekend.
Note: Founding Fuel earns commissions for purchases made through the Amazon links in this article.
The three buckets strategy
By Charles Assisi
While the head knew I am at a stage where I must be in control of my personal finances, the heart knew I am not. That is why, very surreptitiously, I finally got a copy of Monika Halan's Let's Talk Money a few months ago.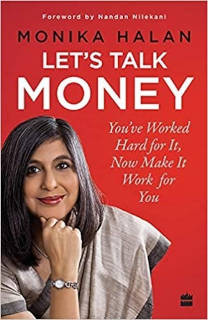 "Think about it: How does the toughest value-for-money kitna-deti-hai person suddenly become stupid when it comes to money?" Now, this sounded like me. I always imagined myself as a poorly paid hack. Until Halan put it bluntly. "Everybody has money to save—from the poor woman who sells veggies to you on the roadside, to the tycoon driving by in his Bimmer—we just don't know how to look for it."
I couldn't argue with that. Anecdotal evidence suggested most of my contemporaries are better off than I am. And it was because I hadn't attempted to save in the past. Just that my attempts had failed. Halan explains that was her experience as well—until she created a Cash Flow System. "My salary account I label 'Income Account'. The second account I call 'Spend-it Account'. The third is called 'Invest-it Account'.
"In three months you'll know what's going on with your money life. If your Invest-it Account is empty, you know you're spending too much."
It's been a few months now since I've started to follow her advice. I wish I had started earlier.
Read the book: Let's Talk Money: You've Worked Hard for It, Now Make It Work for You by Monika Halan
The money ethic of the unsung millionaires
By CS Swaminathan
About 15 years ago, a colleague recommended that I read a book titled The Millionaire Next Door to understand how middle-class Americans created wealth in their lifetimes. The book was well researched and provided a simple yet effective way many Americans became millionaires. Although the book is based on Americans, the principles identified are universal. In summary, the book highlights and explains the seven principles of highly effective wealth creators that are really self-explanatory.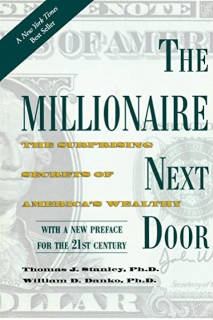 Be Frugal, Frugal, Frugal—live within your means—don't take large mortgages, buy used cars, consume inexpensive drinks, etc. And answering 'yes' to an interesting question: Is your spouse more frugal than you?
Spend time and energy exclusively for wealth creation.
Do not assign importance to high social status—focus instead on financial independence.
Do not expect any 'doles' from parents. If you wait for it, it will be mostly used for spending (and not investing).
Make children financially independent. Don't provide 'economic bailouts' and do not tell them that you are wealthy until they are financially responsible.
Understand market opportunities which you can exploit.
Choose to become business owners and self-employed professionals.
Read the book: The Millionaire Next Door by Thomas J. Stanley, Ph.D. William D. Danko, Ph.D
When comedians talk about personal finance
By Anmol Shrivastava
"(Knock Knock) Anmol, beta, I have a Google Meet meeting. Help me join it."
"Dad, it's the same as joining a Zoom or MS Teams. Didn't we go over this recently? Just click the link."
"Uff! Just help me out na"
While my dad relies on me for 'tech support', the roles are reversed when it comes to personal finance. He is my go-to expert for taxes and investment. (Though I secretly hope he'll stop sending me updates on what he's done with it! There's something about personal finance that turns me off. It's the same for many of my millennial friends.)
Deep down I do understand that sooner or later I'll have to learn to handle it. I'm in my mid-20s, and I realise I can't blindly outsource this to my dad forever.
But it's boring. Perhaps it's to do with how dull and dry the content around personal finance is. Every time something piques my interest and I google it, I end up with jargon and incomprehensible formulae.
So, when I stumbled across comedian Tanmay Bhat's Clueless podcast series on his second YouTube channel Honestly by Tanmay Bhat, it was a breath of fresh air. Five things stood out for me.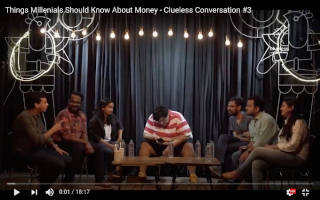 a) Relatability: The episodes usually start with six-eight comedians/creative professionals getting together and talking about real anecdotes from their lives involving money.
What happened when Tanmay's dad was fired? What made Rega Jha cry during her visit to the bank? Why do their parents not let them open the almirah in front of their housemaid?
The anecdotes and observations (a comedian's superpower) make the learning process engaging and fun. Rather than brain numbing financial jargon, they paint a more holistic picture, where money, social structure and psychology combine in an informal, conversational format.
b) Community: The conversations + comments section give me a good sense of where others in my generation are.
What are their aspirations around money? How do they negotiate their salaries? What are their current struggles around plugging the knowledge gap? Issues such as these are addressed head-on in the podcast.
c) Social statement: In Indian society where we often brush conversations about money under the carpet, a group of friends openly talking about it, is an attempt to challenge and address the taboo. Something I love to support ideologically.
d) Micro-content: As my colleagues have pointed out, there are great books available on this theme. But my inertia to read them is too much.
Tanmay's videos are short, with the vibe of entertainment, so they have served as a great entry point for me.
e) Dig Deeper + engage: To address some issues where expert opinion matters, Gaurang Sanghvi (head of digital business, DSP Mutual Funds), popularly known as "#ThatFinanceGuy", joins the podcasts. He does a very good job of making financial issues sound English rather than Greek.
If one wants to dig deeper, they can follow him on his social handles, where he often does AMAs or Instagram lives on specific themes—say, setting up an emergency fund. In addition, along with Tanmay, he anchors a weekly show, STONKS, where they unpack the financial news of the week.
While viewing this podcast series will not end my reliance on my dad to manage my portfolio anytime soon (he owes me for all the tech support), at least, for the first time, I am comfortable to start thinking more deeply about personal finance. I hope it leads to easing my transition to taking over my portfolio soon.
Follow Tanmay Bhat's YouTube Podcast Clueless & Gaurang Sanghvi
Changing the narrative on smart money management
By NS Ramnath
In 2018, Morgan Housel, who writes on finance at Collaborative Fund, published a piece outlining 20 of the most important flaws, biases, and causes of bad behaviour that affect people when they deal with money. It was a hit. More than a million people read it. The book is an expanded version of that piece.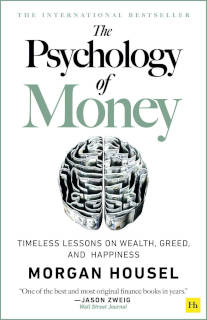 Housel makes what appears to be an extremely commonsensical argument about money—often, how you behave matters more than what you know. Start early. Save. Understand that your needs and goals are different from others, so know your game, and don't try to play others' games. Don't look at how a single stock performed, but pay attention to how your portfolio performs. Be frugal. Be disciplined.
The big question is if all this is so easy and obvious, why is it difficult for us to believe in it, and put those lessons in practice?
Because we get swayed by stories. The narratives of most financial success stories are framed in a way that they don't shine a light on these most important lessons. For example, Housel cites the example of one of the richest men in the world today. Warren Buffett.
"More than 2,000 books are dedicated to how Warren Buffett built his fortune. Many of them are wonderful. But few pay enough attention to the simplest fact: Buffett's fortune isn't due to just being a good investor, but being a good investor since he was literally a child." That's the power of compounding.
After explaining how that works using some memorable examples and stories, Housel writes: "None of the 2,000 books picking apart Buffett's success are titled This Guy Has Been Investing Consistently for Three-Quarters of a Century. But we know that's the key to the majority of his success. It's just hard to wrap your head around that math because it's not intuitive."
One of the ways to strengthen such instincts is to read stories that reinforce them. Housel offers a powerful bunch of such stories.
Read the book: The Psychology of Money by Morgan Housel
Building cushions
By Vijay Bhat and Shravan Bhat
In the fifth episode of the first season of Talkin' 'Bout My Generation, a show in which Founding Fuel brings together a parent and a child to discuss things that are important for these times, ad industry veteran Vijay Bhat and his son Shravan spoke about managing money. At one point during the conversation, Vijay said he fell off the financial cliff thrice during his career, and yet he had built three cushions, so his family didn't feel the impact. In fact, the revelation came as a surprise to Shravan.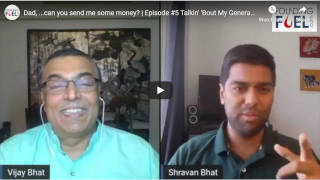 Vijay said:
"The first cushion is 'savings'. We had built up savings over time and had set aside money for the big things that mattered like your education and my health care.
"The second cushion is 'the goodwill' cushion. Many people don't value the goodwill cushion. But I do. That really helped us because people gave us work opportunities. People did a lot of things for us, surely on the goodwill I had accumulated.
"The third cushion, I call it the cushion of 'enough point' and that really helped us." It's about the willingness to cut back expenses and make do with less.
Watch the full episode: Dad… Can you send me some money?
The Backbenchers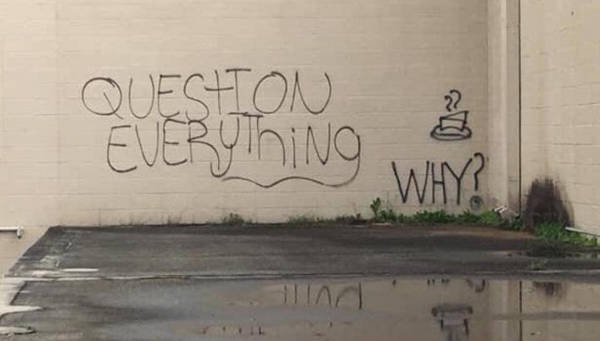 (Via WhatsApp)
Got interesting questions on your mind? Tell us on our Slack channel.
And if you missed previous editions of this newsletter, they're all archived here.
Bookmark Founding Fuel's special section on Thriving in Volatile Times. All our stories on how individuals and businesses are responding to the pandemic until now are posted there.
Warm regards,
Team Founding Fuel