Good morning,
In the very compelling Curious: The Desire to Know and Why Your Future Depends On It, Ian Leslie tells some fascinating stories and offers much to think about. He begins with a story about 10-year-old Brian Smith and his brother Paul who discover a gun in their parents' bedroom. Curiosity compels Brian to pull the trigger. Both survive to tell the story. But why did Brian pull the trigger? Leslie describes this as diverse curiosity.
"Diversive curiosity is where the hunt for knowledge begins; in the desire for new information, sensations, experiences and challenges… In our digital world, diversive curiosity is constantly stimulated by ever-present streams of texts, emails, tweets, reminders and news alerts that stimulate our hunger for novelty."
Leslie has it that Brian grows up to become a police officer. "Brian Smith's desire to explore them (guns) was dangerous; but then again, without a desire to explore he might not have accumulated the expertise that he did. Epistemic curiosity represents the deepening of a simple seeking of newness into a directed attempt to build understanding. It's what happens when diversive curiosity grows up."
Leslie then talks about 38-year-old Alexander Arguelles "who concluded, regretfully, that he knew too many languages." Turns out, "It was 2001 and he had just returned to South Korea after a month's stay in St Petersburg, where he had taken one-on-one lessons in Russian with a private tutor for six hours a day. By the time he left St Petersburg he felt able to hold his own with natives of the Russian tongue. But… his grasp of the Russian vocabulary was insufficient to appreciate the greatest works of that language. A painful choice confronted him… he would have to abandon many of the languages he had begun to learn, in order to go deeper into the ones he already knew."
But just why did Arguellus get as curious? "Knowing stuff was always important to the survival of humans and their forebears, particularly because they were physically weaker than some of their adversaries, and at some point in their evolution humans evolved capacious memories, which meant they could afford to make speculative investments in knowledge."
Stay curious.
In this issue
Bill Gates on the post-Covid world
How to think about focus
The babies book market
Have a great week ahead!
Note: Founding Fuel earns commissions for purchases made through the Amazon links in this article.
Bill Gates on the post-Covid world
For his new podcast, Bill Gates has teamed up with Rashida Jones. "I already knew she was a talented actor, but I was impressed by her thoughtful perspective on the world," Gates writes. In the first episode, Jones sets herself up as a pessimist, while we all know Gates is an optimist. Their guest is Dr. Anthony Fauci, director of the US National Institute of Allergy and Infectious Diseases, who is leading America's fight against coronavirus. Fauci offers his perspective on the pandemic, vaccines, therapies and tests, and reiterates the simple things we have to do till most of us are vaccinated. Wear masks, maintain physical distancing. We also found Gates' views on the post-pandemic world quite interesting. Here's an excerpt from the podcast.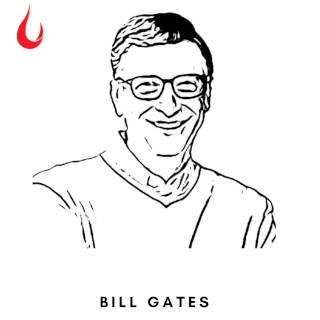 "I'm hopeful that next year, as the year goes on, we'll get closer to normal."
Gates tells Jones: "I think just like World War II brought women into the workforce and a lot of that stayed, this idea of, 'Do I need to go there physically?' we're now allowed to ask that. If a salesperson is going to a customer, if they said, 'Oh, I just want to stay at home today so I'll be on your screen,' you would have thought, 'Hey they don't really care about connecting with me.'
"And so, for the first time, the idea of learning or having a doctor's appointment or a sales call where it's just screen-based with something like Zoom, or Microsoft makes Teams, which competes with Zoom… I think that will change dramatically. I think people will go to the office less. You could even share offices with a company that has its employees coming in on different days than your employees are coming in…
"And of course, the software was kind of clunky when this all started, but now [laughs] people are using it so much people will be surprised by how quickly we'll innovate with the software."
Dig Deeper
How to think about focus
In a recent HBR IdeaCast, Sunil Gupta, Harvard Business School professor, explains how Jeff Bezos created one of the world's most valuable companies by his own fresh approach to strategy. Amazon, for example, has diversified into multiple products serving many end users, defying the traditional wisdom that an organisation should have focus. But does diversification mean a lack of focus?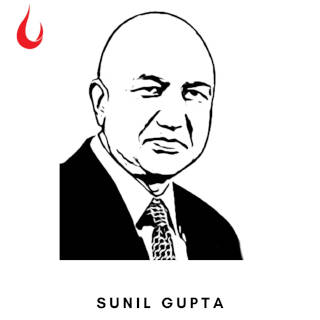 "And Jeff Bezos says, we are not competitor-focused. We are not product-focused. We are not technology-focused. We are customer-focused."
Gupta explains: "Most of us, when we define focus, we sort of define focus by traditional industry boundaries, that I'm an online retailer, therefore going into some other business is lack of focus. The way Amazon thinks about it is, focus on capabilities.
"So if you look at it from that point of view, I would argue that Amazon had three fundamental core capabilities. Number one, it's highly customer-focused, not only in its culture, but also in its capability in terms of how it can actually handle data and leverage data to get customer insight. The second core capability of Amazon is logistics. So it's now a world class logistics player. It uses really frontier technology, whether it's keyword, robotics, computer vision, in its warehouse to make it much more efficient.
"And the third part of Amazon's skill or the capability is its technology. And a good example of that is Amazon Web Services, or AWS. And I think if you look at these three core capabilities, customer focus and the data insight that it gets from that, the logistics capability, and the technology, everything that Amazon is doing is some way or the other connected to it. In that sense, Amazon, and there's no lack of focus, in my judgment on Amazon."
Dig Deeper
The babies book market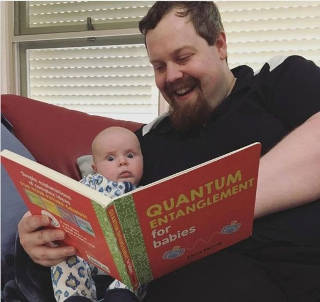 (Via WhatsApp)
Going by the expression on the kid's face, we won't recommend the book to anyone. What books do you recommend for babies? Let us know on our Slack channel.
And if you missed previous editions of this newsletter, they're all archived here.
Bookmark Founding Fuel's special section on Thriving in Volatile Times. All our stories on how individuals and businesses are responding to the pandemic until now are posted there.
Warm regards,
Team Founding Fuel