[Image by Gerd Altmann from Pixabay]
Good morning,
Every sight we see, every sound we hear, there's a little bit of history. But it either goes untold or is forgotten. When excavated, that sight or sound acquires an altogether new meaning. "We Shall Overcome", for instance, is a song most of us have heard. But there's much history to why it became iconic. The legendary journalist Robert Caro explains it in his magnificent book, Working.
"'We Shall Overcome' began to be sung a lot more at the beginning of the Sixties because in a way 'We Shall Overcome' is the 1960s… The young, neatly dressed blacks, sworn to nonviolence, sitting on the counter stools were taunted in attempts to make them relinquish their seats… Police arrived, arrested them and flung them into paddy wagons. But they got their breath back, and as the wagons drove off, from their barred windows could be heard: 'Deep in my heart / I do believe / We shall overcome some day.'...
"So during the next years, as I wrote, the hymn was sung in a thousand sit-ins, during a hundred Freedom Rides. A new verse, 'We'll walk hand in hand,' was added. Civil rights workers would cross their arms and with each hand, clasp the hand of the persons standing next to them, and sway rhythmically as they sang. Black hands were more and more clasping white, and there was another verse: 'Black and white together.'...
"As I'm writing these books, I'm always watching newsreels to try and get a feel for what happened at certain moments… One you may remember is when a black church was bombed in Birmingham, and four little black girls were killed. The newsreel cameras weren't allowed inside the church; they're outside. Watching the film, you see the crowd outside the church, and one of the things you see is that this is quite a large crowd… what you see, what you hear, what you feel, is the absolute silence of this crowd. And then the pallbearers start to bring out the four little coffins. They bring them out into that silence. And then a woman—one woman—begins to sing 'We Shall Overcome.' And other people join in. And, as I wrote, 'over the sobs of mothers rose up the words: 'We shall overcome some day.'"
In this issue
How to 'remember' everything
The Al Bundy Effect
The upside of marriage
Have a great day!
(Note: Founding Fuel may earn commissions for purchases made through the Amazon links in this article.)
How to 'remember' everything you learn and find connections
By Rahul Matthan
Even though the human brain is a tremendously powerful computational device, it is quite inept at even the most rudimentary search and retrieval functions. People who demonstrate prodigious feats of recall are the exception not the rule and most of us ordinary folk have to rely on mnemonics and other coping strategies to get by. On the other hand, when it comes to making connections between disparate pieces of information our brains are absolutely marvellous, performing feats of brilliance that even the most powerful artificial intelligence technologies struggle to match.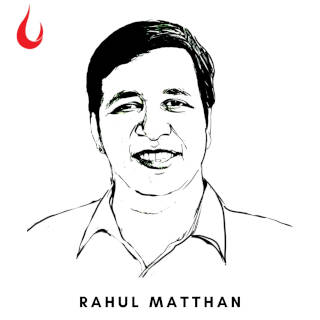 "Since my note-taking is almost entirely digital there is no limit to the size of the canvas."
I have come to realise that understanding the strengths and weaknesses of the human brain are core to achieving optimal learning outcomes. I now know better than to rely on my brain to remember everything that I read. Instead, I try to offload knowledge as soon as possible into my notes—making sure to restate, in my own words, the concepts contained in the book or the article so that not only do I understand it better, I can re-frame it in the context of my current state of knowledge on the subject.
This results in piles of freestanding notes on the full range of diverse subjects that lie within my areas of interest. Since my note-taking is almost entirely digital there is no limit to the size of the canvas on which I can spread these notes to get a birds-eye view of the various nodes in my knowledge graph. With the right digital tools (my current favourite is Roam Research) I find I am able to make connections between utterly unrelated thoughts in ways that might otherwise have escaped my notice. And which, no computational technology I know of, can hope to match.
(Rahul Matthan is the author of Privacy 3.0 and partner at Trilegal)
This evening we have a special learning session with D Shivakumar (Shiv), President (Corporate Strategy and Business Development) at Aditya Birla Group, in conversation with R Sriram, Co-Founder, Next Practice Retail, as a part of The Best Business Books of 2020. You can read Shiv's list here. In the special conversation, Shiv will also share how he manages to keep learning through books amidst his busy schedule.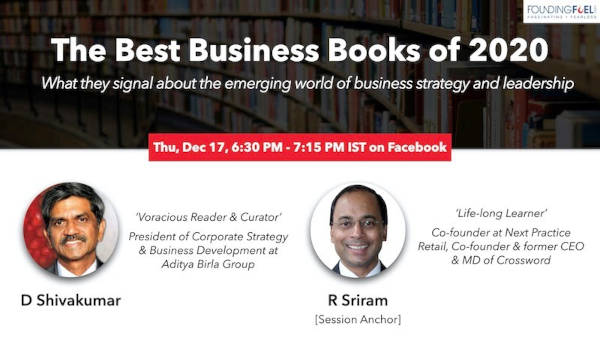 It's from 6:30 PM to 7:15 PM IST today on Facebook.
Want to be a part of the learning session? Register here: https://bit.ly/Books2020FF
The Al Bundy Effect
Noah Galloway is a former US Army veteran, motivational speaker and extreme sports enthusiast. When deployed in Iraq, the vehicle he was in ran over a bomb. When he woke up, the then 21-year-old did not know where he was. But what he could make out was that he had lost his left arm, left leg, and career in the military. He fell into depression, drinking, and his marriage fell apart as well. Until he figured he was suffering from the "Al Bundy Effect".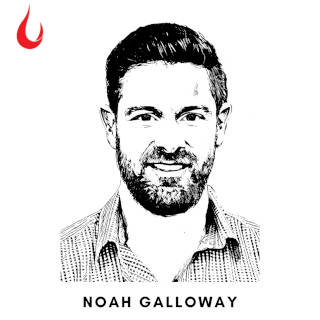 "It doesn't matter how old you are, you can start over. You can start a new thing."
"Al Bundy, from Married With Children, is a depressed shoe salesman that is unhappy with life in general. The only time he gets excited is when he talks about scoring four touchdowns in a single football game back in high school. It's the only time he gets excited.
"I see a lot of veterans—and other people do it—but I point out to veterans that you can't live in the past because you'll never be satisfied with what you're doing now. You'll never progress and challenge yourself again because you've peaked too soon. But you only peak when you decide you've peaked. So Al Bundy chose to peak in high school and never did anything else.
"As a veteran, I served in the military, loved wearing the uniform, proud that I had that American flag patch on my arm, but it was a chapter in my life. One chapter.
"The last couple of years, after being on Men's Health, Dancing With the Stars, and American Grit, I've traveled all over, people were excited to meet me, speeches everywhere, made all kinds of stupid money, and then everything stops. Well, what do we do now? Well, it's time to start another chapter."
So, that's what he did. He shook the Al Bundy Effect away and started writing other chapters in his life.
"I've tried to show my kids that. Hey, guess what? This Christmas isn't going to be as big as the other Christmases because dad took an 80% pay cut when everything stopped. But you know what? We're doing great, and it's OK. We're going to figure out what we're doing next."
Dig Deeper
The upside of marriage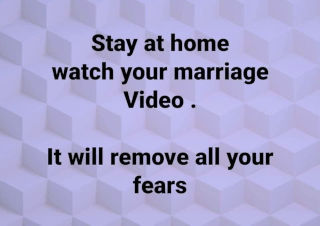 (Via WhatsApp)
Tell us what you think and find noteworthy. Head over to our our Slack channel.
And if you missed previous editions of this newsletter, they're all archived here.
Bookmark Founding Fuel's special section on Thriving in Volatile Times. All our stories on how individuals and businesses are responding to the pandemic until now are posted there.
Warm regards,
Team Founding Fuel