Good morning,
Once upon a time, public speaking was only for executives in the C-Suite. But since the time the pandemic struck, most people have been compelled to change how they interact professionally. A lot of communication now happens on video calls. This mode insists everyone acquire some basic skills on how to make their presence felt and get their point across. But just how do you do it right?
We have witnessed first hand three people who do this very well—Vijay Bhat, Kavi Arasu and Ashish Vidyarthi.
Bhat is Founder-Director of Cancer Awakens. Arasu is Director, Learning and Change at Founding Fuel and a leadership coach. Vidyarthi is an actor and motivational speaker. We thought their learnings were most useful. And if you may have pointers to share, please do.
Have a good weekend!
Seek to illuminate, not communicate
- Vijay Bhat
I'll address this in two parts. The first is on the basics of effective presentations. The second is what happens in an online setting.
Presentation basics stay the same, whether offline or online.
1. Fear of public speaking is very common. Every senior executive grapples. The key is to find your own centered or anchored state of 'presence'. Different people have their own ways of doing this
2. A piece of advice I received early on in my advertising career was, "Seek to illuminate, not communicate". In other words, your job is to throw new light on a subject. So the audience must feel, 'Aah! I didn't think of that earlier.'
3. Most people can only take away three key points from a session, irrespective of the theme or the length of time. So editing and reinforcing your three key messages is crucial.
4. Finally, I like to use narrative tools such as storytelling to reinforce my points as opposed to standard left-brained presentations. (There are too many of these!)
Besides these, in an online setting, a few things are worth keeping in mind.
1. It takes more work to truly 'connect' with your audience. That is why on Zoom for instance, I prefer the "Meeting Mode" to the "Webinar Mode".
2. We know that 70% of all communication is non-verbal. In a virtual setting, since physical posture and other body language are not available, I use other workarounds to put the at ease
Facial expressions. I tend to smile a lot. The more complex the theme, the more I smile. It relaxes all of us. It may seem fake initially. But very soon, it becomes natural and the audience comes along.
Voice intonation conveys emotion and drama, so one can engage the audience.
Slow-down my speech by half a second. I know this sounds counterintuitive. But a pause gives a little more time to absorb and digest what I am saying.
3. I cannot underscore enough how important it is to prepare for an online talk. I make notes, highlight the key messages, and rehearse with a timer.
4. Like everyone else, I'm also nervous about internet connectivity or other technical issues. I make an upfront disclaimer and ask the audience to be patient if anything goes awry. That way the audience is prepared, I am calmer and can focus on getting back on track.
One big advantage of online sessions is the chat box, where your audience can type in questions and comments as they come up. I think of it as live feedback about what's on their mind. But to stay present in the moment and handle it simultaneously requires practice. To draw an analogy, it is like driving. You have to keep your eye on the road of course, and you also have to be alert to other drivers at the same time!
The velcro effect
- Ashish Vidyarthi
Ashish Vidyarthi shared a voice note on how to engage with an audience. May we urge you to listen to it? Here's a summary of what he has to say:
Look into the camera: Public speaking is a conversation where I am speaking to many people. When speaking online, you are speaking to many people. But the many actually don't exist in front of you. You are speaking into a camera that is watching you all the time. So, the first point I make when conducting workshops on how to engage with people online is to gaze into the camera lens and not look at your own image on the laptop.
Imagine yourself as a hook: The second thing is to keep capturing the attention of the audience that you are speaking to. We call it the "Velcro Effect". Imagine Velcro as a series of hooks on one side and loops on the other side. The communicator has to be the hook. What is interesting about the hook is that the hook can move. But the loop cannot. So, if the loop is the listener, the communicator has a series of moving hooks available that can be modified during the session to capture the attention of the audience.
The camera creates a world: The third part of this is to keep it engaging. Now, engaging is not just in terms of how you appear, but how you speak as well. So, think about your voice and other gestures. If there are no variations, the voice becomes a hum.
How do you avoid that? This is where the art lies. Because every camera has a frame. The camera chooses to show what it chooses to show. It creates a world. And that is what people see. So, there must be gestures. You may use expressions so people don't see a visual version of a hum or buzz and get bored. It must be broken and variations must appear.
Ashish Vidyarthi conducts a communict 16:9 Impact and is on reachus@ashishvidyarthi.com
Authenticity trumps perfection
- Kavi Arasu
Engaging with groups online is not quite the same as public speaking in person. Pursuing it over the years has taught me a few important lessons. Of course, accentuated by the past year. I group it into three broad heads.
1. Reimagine for the screen: Marshall Mcluhan wrote, "the medium is the message". That's an expression that has stood tall in the Covid times. The online medium significantly interferes with the message that I want to share, if I don't reimagine the content for online delivery. The most significant mistake of my early years of online delivery was to prepare for the real world and deliver online. As though the screen happens to be one more place where I speak. It couldn't be farther than the truth.
2. Authenticity > Perfection: The online world is one where the real competes with the make-believe in real-time. The times that I have let myself and my vulnerabilities stay on the screen, my messages have gone a distance. Far more than the times when the delivery was to script and everything was perfect.
3. Accept the audience: Every member of the audience is just a small square. Boxed in looking askance. From inviting content from minimised windows to noisy kids, cats, dogs and mobile phones, I compete for their attention. I have learnt over time to accept the fact that I am in their world. Just because they signed up to listen to me does not give me any right to expect they will actually listen. That in itself calms me and helps me imagine their presence and speak into the camera.
State of the media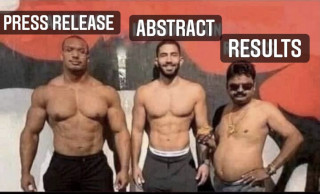 (Via WhatsApp)
Tell us what you think and find noteworthy. Head over to our our Slack channel.
And if you missed previous editions of this newsletter, they're all archived here.
Bookmark Founding Fuel's special section on Thriving in Volatile Times. All our stories on how individuals and businesses are responding to the pandemic until now are posted there.
Warm regards,
Team Founding Fuel