[Photo by CHUTTERSNAP on Unsplash]
Good morning,
One of the most provocative reads we have come across recently is How Design Makes the World by Scott Berkun. We thought it pertinent to grab some passages out of there and share it here so you may get a glimpse of why it has our attention.
"We rarely think of it this way, but the leaders of organizations are designers too. Organizational designers. By choosing the strategy, the budget, the culture and who they hire, they have more impact on whether good work is possible than anyone. CEO Alfred Sloan, who made good design central to his strategy for cars at General Motors in the 1930s, would never have called himself a designer. But his choices redefined how we think of a good car, as well as what the words design and designer mean for the world.
"Melvin Conway, a computer programmer, expresses this idea in a law that is named after him: 'Organizations… are constrained to produce designs which are copies of the communication structures of these organizations.' In other words, the limitations of an organization's politics are expressed in the design of the things they produce. When one landowner, or executive, doesn't get along with another, the battle lines between them show up in the product itself, to the detriment of everyone.
"This often surfaces in websites for large organizations, like government agencies or universities. Websites should focus on the most frequent things that people who visit need to do. Yet, leaders often assume that the view inside an organization is the best one to share with the world. But that's like forcing someone who wants to watch a movie to think mostly about how it was made, the movie sets, the cameras, the lights and the producers, instead of experiencing the movie itself. Good movies work because of suspension of disbelief: they are crafted to make you forget about what went on behind the scenes, or that there were scenes, or sets, or lights, at all."
Design percolates the domain that is geopolitics as well. "Many wonder why the Middle East seems to always be in trouble. Or the borders between India and Pakistan, Israel and Palestine, or Nigeria and Cameroon. While there are many factors, one compelling lens is that people in power, often foreigners, chose the borders to be where they are. And powerful nations exert their influence on other countries for their own reasons, without understanding the history of why those efforts often fail."
Fascinating, isn't it? Have a good day!
In this issue
Reviewing what matters, until now
What next for the J&J vaccine?
The naan clock
Reviewing what matters, until now
What developments in the world matter most right now and how do they impact India? This was a question we had asked our panel of experts, led by Sundeep Waslekar, Frank Richter, Niranjan Rajadhyaksha and G Venkat Raman, at our Masterclass on The World in 2021, just a few days after Joe Biden was elected as President of the United Stated in November 2020.
We later decided that it would be a good idea to review the key developments across the world, from an Indian lens, at the end of each quarter. In early April, our co-founder Indrajit Gupta engaged with Sundeep Waslekar, president of the Strategic Foresight Group, in a sense making exercise.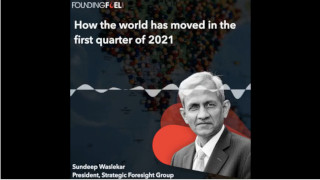 "The global geostrategic game is also mirrored in international pandemics politics. You have a very clear schism developing between the US and China."
The pace has been frenetic. And there's clearly a lot that has changed over the last three months. You can listen to the special podcast with Waslekar and read the synopsis on our site. Here are some key themes that came up for discussion:
We are beginning to see the world dividing in two camps, led by the US and China. And that has dangerous implications.
Multilateralism seems to have a new champion in the European Union, led by Germany under Angela Merkel.
However, even though the New START treaty (the Strategic Arms Reduction Treaty) was a positive move, Britain has decided to remove its caps on nuclear weapons and deployment.
There is a pivot to Asia in America's policy to contain China. And this is reflected in the recent naval exercises by the Quad (the Quadrilateral Security Dialogue, an informal strategic dialogue between the US, Japan, Australia and India). But the RCEP (the Regional Comprehensive Economic Partnership, a trade deal between ASEAN nations) continues to pose a threat to US's economic leadership in the world.
Meanwhile, the pandemic politics continues to rage and mirrors the world-in-two-camps. While the US and China are focused on who did wrong last time, the EU has come out with a proposal to make sure how everybody gets it right next time.
The other surprising, but positive, development is the India-Pakistan ceasefire, which no one saw coming.
Dig deeper
What next for the Johnson & Johnson vaccine?
Even as we were calling it a night on Tuesday after closing this newsletter for dispatch, The Wall Street Journal put out a story that said "Scientists are racing to gain a better understanding of a rare blood-clotting disorder that affected six recipients of Johnson & Johnson's Covid-19 vaccine and led health authorities on Tuesday to recommend a pause in its use." This happened a few hours after it was reported that Indian authorities had invited a few entities such as "Pfizer, Moderna and Johnson & Johnson to seek emergency use approval of their vaccine as early as possible," Bloomberg-Quint reported.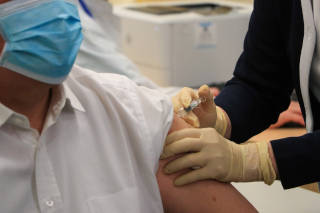 [Photo by Macau Photo Agency on Unsplash]
Does this mean the end of the road for this much-anticipated single-shot vaccine? Katherine Wu, writing in The Atlantic offered a much-needed perspective. "In similar situations, other vaccines have been subject to the same scrutiny; it's not that uncommon for products to hit roadblocks after initial clearance."
She goes on to explain that this is a pause and such hiccups are not extraordinary events. "If researchers establish that there is a risk relationship, they'll next need to determine its extent, and weigh it against the relative risk of remaining unvaccinated. Since the start of the pandemic, the coronavirus has killed nearly 3 million people around the globe, and saddled many thousands of others with lasting, debilitating symptoms. Contracting the coronavirus, too, has been linked to blood clots, which appear, by some estimates, in about 20% of Covid-19 patients, and 31% of patients who end up in intensive care. Several experts told me that they'd need to see many, many more clotting events to even consider pulling an otherwise highly successful and effective vaccine from the global market, especially while many countries struggle to acquire, store, and administer vaccines."
Dig deeper
Still curious?
Sundeep Waslekar talks to Indrajit Gupta about a growing global phenomenon: the resurgence of the right. What does it mean and how will it shape our world? Listen to Technology, nostalgia, and the rise of radical nationalism
The amazing ability of living systems to respond to the abstract might help scientists find vaccines for coronavirus faster than before. Read Picasso and the race to develop the coronavirus vaccine by NS Ramnath
The naan clock
Japanese designer Yukiko Morita uses real naan bread to make this 'Naan Time' clock inspired by Spanish surreal artist Salvador Dali.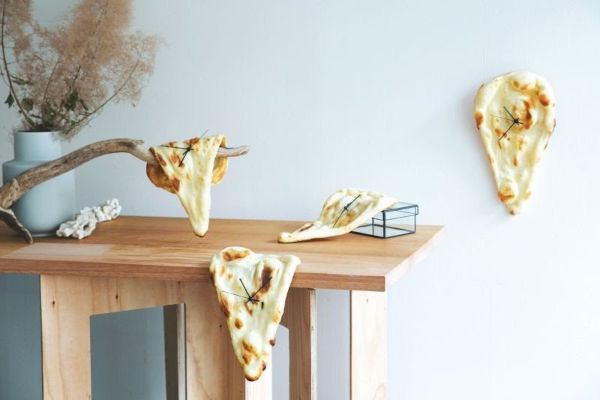 (Via R Sriram on LinkedIn)
Tell us what you think and find noteworthy.
And if you missed previous editions of this newsletter, they're all archived here.
Bookmark Founding Fuel's special section on Thriving in Volatile Times. All our stories on how individuals and businesses are responding to the pandemic until now are posted there.
Warm regards,
Team Founding Fuel
(Note: Founding Fuel may earn commissions for purchases made through the Amazon affiliate links in this article.)