[Image by Dariusz Sankowski from Pixabay]
Good morning,
Good writing happens like magic. It is something Stephen King, one of the finest teachers of the subject in the English language, delves into in the chapter 'What Writing Is', in his book On Writing—a book we recommend highly. "Telepathy, of course," he begins. ("A)ll the arts depend upon telepathy to some degree, but I believe that writing offers the purest distillation."
He then places that in perspective. "Look—here's a table covered with a red cloth. On it is a cage the size of a small fish aquarium. In the cage is a white rabbit with a pink nose and pink-rimmed eyes. In its front paws is a carrot-stub upon which it is contentedly munching. On its back, clearly marked in blue ink, is the numeral 8.
"Do we see the same thing? We'd have to get together and compare notes to make absolutely sure, but I think we do. There will be necessary variations, of course: some receivers will see a cloth which is turkey red, some will see one that's scarlet, while others may see still other shades.
"Likewise, the matter of the cage leaves quite a lot of room for individual interpretation. For one thing, it is described in terms of rough comparison, which is useful only if you and I see the world and measure the things in it with similar eyes. It's easy to become careless when making rough comparisons, but the alternative is a prissy attention to detail that takes all the fun out of writing. What am I going to say, 'on the table is a cage three feet, six inches in length, two feet in width, and fourteen inches high'? That's not prose, that's an instruction manual. The paragraph also doesn't tell us what sort of material the cage is made of—wire mesh? steel rods? Glass?—but does it really matter? We all understand the cage is a see-through medium; beyond that, we don't care. The most interesting thing here isn't even the carrot-munching rabbit in the cage, but the number on its back. Not a six, not a four, not nineteen-point-five. It's an eight. This is what we're looking at, and we all see it. I didn't tell you. You didn't ask me. I never opened my mouth and you never opened yours. We're not even in the same year together, let alone the same room… except we are together.
"We're close.
"We're having a meeting of the minds.
"I sent you a table with a red cloth on it, a cage, a rabbit, and the number eight in blue ink. You got them all, especially that blue eight. We've engaged in an act of telepathy."
Stay safe and have a good day!
In this issue
Why aren't you changing jobs?
Overcoming vaccine hesitancy
The right diet
Why aren't you changing jobs?
Over the weekend, we read an excerpt from Lucy Kellaway's book Re-educated published in The Guardian. A celebrated columnist at the Financial Times, she gave it all up in her 50s and took to a new career—as a primary school teacher. While getting up to speed in her new avatar has been an uphill task, it has given her new purpose, she writes.
"I was teaching an economics class about inflation the other day and a student put up her hand and asked: 'Miss, does the existence of inflation prove that capitalism doesn't work?' I gave an inadequate, off-the-cuff answer about how some inflation helps capitalist producers, but then had to move to the next stage of the curriculum. Back in the staffroom I admiringly repeated this to my colleagues, adding: 'I bloody love this job. The students make me think about economics more deeply than my university professors ever did.' On hearing this, one of my young teacher friends piped up: 'Don't you wish you'd become a teacher earlier?' What I think she was saying was: given your age (I am the oldest person in my school by two decades) you won't be able to go on for much longer.
"I put the question back to her and asked how many more years she thought she'd teach for. 'Not sure,' she said. 'Maybe another five. Then I want to do something less exhausting.' Well, in that case, I replied, I'd be at it for much longer, as I plan to teach until I'm 75. She looked at me sceptically. Partly it was my bravado talking, though if my health holds out, I don't see why I shouldn't.
"I don't wish I had switched careers earlier. But what I do wish is that someone had told me long ago that my working life would probably last at least 50 years, and I would need to have multiple careers. I wish the government and employers were thinking about this, too, and helping us along. I wish that everyone was taught at the outset that it was normal for their income to rise and fall precipitously over their working lives, and to plan for that. I wish that my story was so commonplace that there would be no point in my writing it.
"Instead, it took a decade and two parental deaths to make me confront something that was staring me in the face. It is the same thing that is staring all of us in the face. We need to think about how many decades we really want to be retired for."
Now, we can't wait to read her book.
Dig deeper
Overcoming vaccine hesitancy
In The Indian Express, Mithali Sethi, who is assistant collector and project officer at Dharni, Amravati, Maharashtra, shares how her team found success in vaccinating people in Melghat, "nestled within a forest, a core tiger reserve and home to the Korku tribals".
The key lesson is not to go with assumptions, understand the community and involve them in the project. Here are two insightful paragraphs from her column.
"In Melghat, our strategy was multifold. Language is the centrepiece of every culture. So the priority was to have a mode of communication which belonged to the people. Our discussions led to us shooting episodes of a serial we called Corona haarativa, Melghat jitauva (Corona will lose, Melghat will win), which was broadcast on YouTube. The tribal residents of Melghat acted in the serial, it was in their language, it had them asking questions and answering those questions. This kind of communication allowed us to engage with people much more than just dialogue could."
Sethi and her team found that many people had scheduled their lives around livelihood programmes such MGNREGA. She writes, "We tailored our camps to these schedules. We moved vaccination centres to open spaces in villages. That way, people could see others taking the vaccine. Villagers set up small but beautiful pandals at these places, usually close to a tree where people could sit and get monitored by the medical team after vaccination. We clapped for the first set of vaccinations and made sure the camp felt like a festival in the village, sometimes using music or our videos."
Dig deeper
The right diet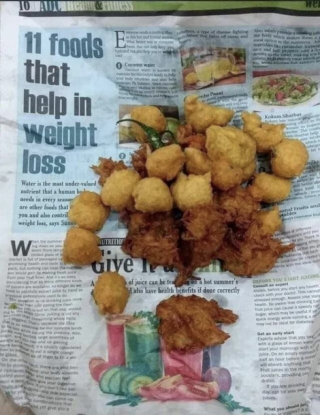 (Via WhatsApp)
Found anything interesting and noteworthy? Send it to us and we will share it through this newsletter.
And if you missed previous editions of this newsletter, they're all archived here.
Bookmark Founding Fuel's special section on Thriving in Volatile Times. All our stories on how individuals and businesses are responding to the pandemic until now are posted there.
Warm regards,
Team Founding Fuel
(Note: Founding Fuel may earn commissions for purchases made through the Amazon affiliate links in this article.)