[Photo by Riccardo Annandale on Unsplash]
Good morning,
How to Think Like an Entrepreneur by Philip Broughton Delves is an attempt to investigate that question. There are many stories he uses to do that and one that had our attention is from the life of Ewing Kauffman.
"In the early 1990s, a multibillionaire from Kansas City named Ewing Kauffman was looking to establish a foundation, but struggling to find a purpose. He hired advisors and sent them out to study the work of other great American foundations, named after Ford, Rockefeller and Carnegie, which focused on public health, education and world peace. After much consideration, Kauffman decided that his foundation should address the two factors which he felt had transformed his own life: education and entrepreneurship. He had grown up poor and socially disadvantaged. But thanks to a sound education and the opportunity to create his own business he had become one of the most influential men in the American Midwest. He built a pharmaceuticals business named Marion Labs, which he sold for several billion dollars, and owned the Kansas City Royals baseball team. Dozens of his employees became millionaires and they in turn had changed the face of their city, investing in more businesses and donating to schools, hospitals and cultural institutions.
"The central question for Kauffman's foundation became this: how can one expose more people to the transformational opportunities of entrepreneurship? It is a question that requires consideration of regulations and taxation, the availability of credit and education, intellectual property rights and social mobility. But it also requires a basic understanding of people, of those willing to assume an entrepreneurial challenge, and those not. It forces us to ask what in the character of an entrepreneur is born, and what is made, what is nature and what nurture. We need to think about the risks entrepreneurs must manage, and whether these should be mitigated to encourage more people to become entrepreneurs, or accentuated to haze out the likely failures sooner rather than later. We need to work hard to understand what it means to think and act like an entrepreneur, because the word contains multitudes."
Stay safe and have a good day!
In this issue
Covid strikes education
The line between failure and fraud
Divine signs
Covid strikes education
Covid compelled schools to shut down and think up ways to deliver education online. Since then, the more prominent questions being discussed in the public domain include: What is the impact it is having on children? What about those who do not have access to smartphones or laptops to access schools? How are teachers coping?
Data suggests children are dropping out of school because parents and caregivers are being driven to the brink of poverty. Business Insider (India) reports that the second order outcomes of these are being felt by private schools that are "struggling to pay their bills and loan dues to banks and other lenders due to poor student turnout amid the pandemic. Many of them fear that a third wave of Covid-19 infections, and a subsequent lockdown, if any, may even force them to shut down forever.
"The worst-hit have been those that focus on pre-primary to middle-level education, and cater to low-income families in rural and semi-urban areas. Aside from causing a disastrous loss in the form of lack of access to education for children, this could lead to a lot of unpaid loans for banks and other lenders, and loss of livelihood for teachers and support staff."
The report goes on to point out that "Not just schools, but specialized non-bank lenders catering to the school segment have also seen their asset quality deteriorate during the pandemic."
Clearly, time to hit the panic button. There is much going awry.
Dig deeper
Elizabeth Holmes and the line between failure and fraud
The criminal jury trial of Elizabeth Holmes, the founder of Theranos, a blood testing startup that is being prosecuted for deceiving investors and users by making false claims, began last week.
In New York Magazine, Ankush Khardori points out that such prosecutions have mostly ended badly for the accused, even though some high profile cases turned the other way. "About 85% of all federal criminal cases—and about 90% in the subset of fraud cases—result in a conviction, though the Justice Department has fared worse in its highest-profile prosecutions. A recent analysis by the Journal put the conviction rate in Wall Street cases at about 80%. When things go wrong, they tend to do so in rather spectacular fashion—still, in any given federal criminal trial, the likely outcome is a conviction," he writes.
Wired provides another perspective. "Over the next few months, Holmes' defense will argue that every tech company goes through a cycle of trying, failing, trying, and failing more, before finally becoming great. Theranos, they will say, was simply in one of those middle stages, caught between vision and execution. 'Failure is not a crime,' said Lance Wade, who is representing Holmes, in his opening statement. 'Trying your hardest and coming up short is not a crime.'
The outcome of Holmes' trial will set straight what the industry tolerates as 'trying your hardest,' and what it considers deceit."
Dig deeper
Divine signs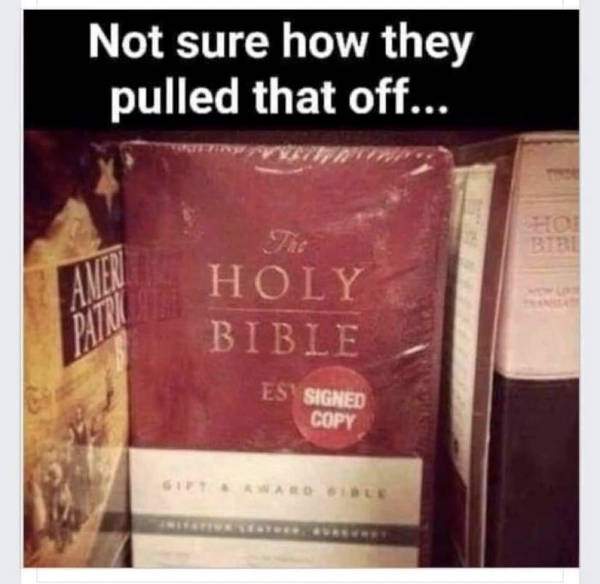 (Via WhatsApp)
Found anything interesting and noteworthy? Send it to us and we will share it through this newsletter.
And if you missed previous editions of this newsletter, they're all archived here.
Bookmark Founding Fuel's special section on Thriving in Volatile Times. All our stories on how individuals and businesses are responding to the pandemic until now are posted there.
Warm regards,
Team Founding Fuel
(Note: Founding Fuel may earn commissions for purchases made through the Amazon affiliate links in this article.)