[Photo by Lukas Blazek on Unsplash]
Good morning,
We wish you a very productive Monday.
In his book, Profitable Growth Is Everyone's Business: 10 Tools You Can Use Monday Morning, management guru Ram Charan highlights why growth is not just an entry in your financial statement.
Towards the end of the book, he writes, "With growth, the organization expands and people can build a career and a future. Growth enables a business to get the best people and retain them. People who see personal growth opportunities have more energy, better morale, and enhanced self-confidence. Growing companies expand into new markets and market segments, new regions, and even new countries. Not only does all that create wonderful opportunities for talented people, but also the growth taps into all the latent psychological energy that is buried inside of employees, and the release of all that previously contained power fuels the organization to even greater growth.
"The contrast to a company that isn't growing is stark… When there is no growth, a negative psychology permeates the organization. The best people spend a significant part of their time looking for a job, and they leave once they find one. Those that remain make macabre jokes about what form the next round of corporate cost-cutting will take and devote a large part of their days to infighting to make sure that theirs will not be the next head to roll when the cost-cutting ax falls again, as it inevitably will."
Earlier in the book he points out not all kinds of growth are equal. There is good growth, and there is bad growth.
He writes, "Good growth, however, not only increases revenues but correspondingly improves profits and is sustainable over time. It is primarily organically (internally) generated from the ongoing operations and business of the company and is based on differentiated products and services that meet new or previously unmet consumer needs. Good growth—that is, growth that is profitable, organic, differentiated, and sustainable—builds shareholder value over time. In contrast, bad growth destroys shareholder value."
Have a profitable week ahead!
In this issue
The woes of the Congress
Is the pandemic over?
Deploying optionality
The woes of the Congress
It appears, the Congress will have to brace and deal with more than what meets the eye in the aftermath of Capt Amrinder Singh's departure in Punjab. Early indicators have it that if things continue the way they are, the party stands to lose Punjab as well at the hustings next year because it doesn't have the money muscle to fight any longer, report Nikhil Rampal and Fatima Khan in The Print.
"The corporate sector is the biggest donor to political parties; in 2019-20, more than 90% funding to the BJP and Congress came from big donors…
"'The gap between the Congress and the BJP has widened majorly because donors provide more funds to the party that wins the elections. Post-2014, the BJP has won state after state and retained power at the Centre. If the Congress manages to win in more states, it is likely to get more funds,' said political analyst Sanjay Kumar, professor at the Centre for the Study of Developing Societies (CSDS).
"Kumar added that the Congress' already gruesome financial situation could get worse if it fails to win the seven state elections coming in 2022—UP, Uttarakhand, Punjab, Goa and Manipur in February-March, and Himachal Pradesh and Gujarat towards the end of the year."
What impact does this have on the ability of candidates in a party to win elections? Much, apparently. "Congress candidates have increasingly been asked to curb their expenditure while campaigning. This has also forced the party to give tickets to wealthy candidates, who can self-finance campaigns and also put some money in the party's coffers. In the 2019 Lok Sabha elections, more than 83% of Congress candidates were crorepatis."
Dig deeper
Is the pandemic over?
While many are bracing for the third wave, there is another school of thought arguing that the pandemic is over. This perspective has started gaining traction in various quarters and The Washington Post focused its attention on the debate as seen by epidemiologists from the US.
"Despite the disparities in experts' opinions, there is a consensus bottom line about the biggest question: Pandemics do end, sort of. (Though there are exceptions, such as malaria.) Only smallpox has been effectively eradicated by human intervention. But many pandemics become endemic, meaning they morph into something that is no longer an emergency, but rather an annoyance, an ugly, even painful fact of life that people simply learn to cope with, like the flu or common cold.
"The question is when and how we get to that point.
"Some of the nation's most prominent epidemiologists and public health experts say we are already there—for different reasons.
"'The emergency phase of the disease is over,' said Jay Bhattacharya, a professor of medicine and health economist at Stanford University. 'Now, we need to work very hard to undo the sense of emergency. We should be treating covid as one of 200 diseases that affect people.'...
"The virus will continue to mutate and there will continue to be outbreaks, both seasonal and in geographic clusters, but 'panicking over case numbers is a recipe for continuing unwarranted panic,' Bhattacharya added.
Dig deeper
Deploying optionality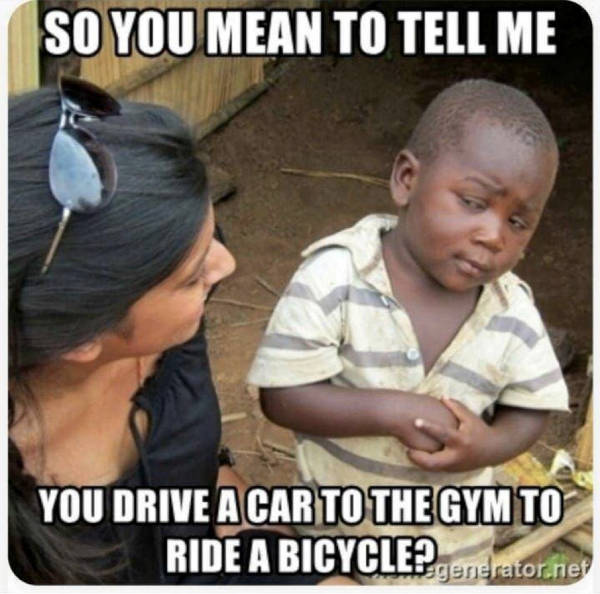 (Via WhatsApp)
Found anything interesting and noteworthy? Send it to us and we will share it through this newsletter.
And if you missed previous editions of this newsletter, they're all archived here.
Bookmark Founding Fuel's special section on Thriving in Volatile Times. All our stories on how individuals and businesses are responding to the pandemic until now are posted there.
Warm regards,
Team Founding Fuel
(Note: Founding Fuel may earn commissions for purchases made through the Amazon affiliate links in this article.)